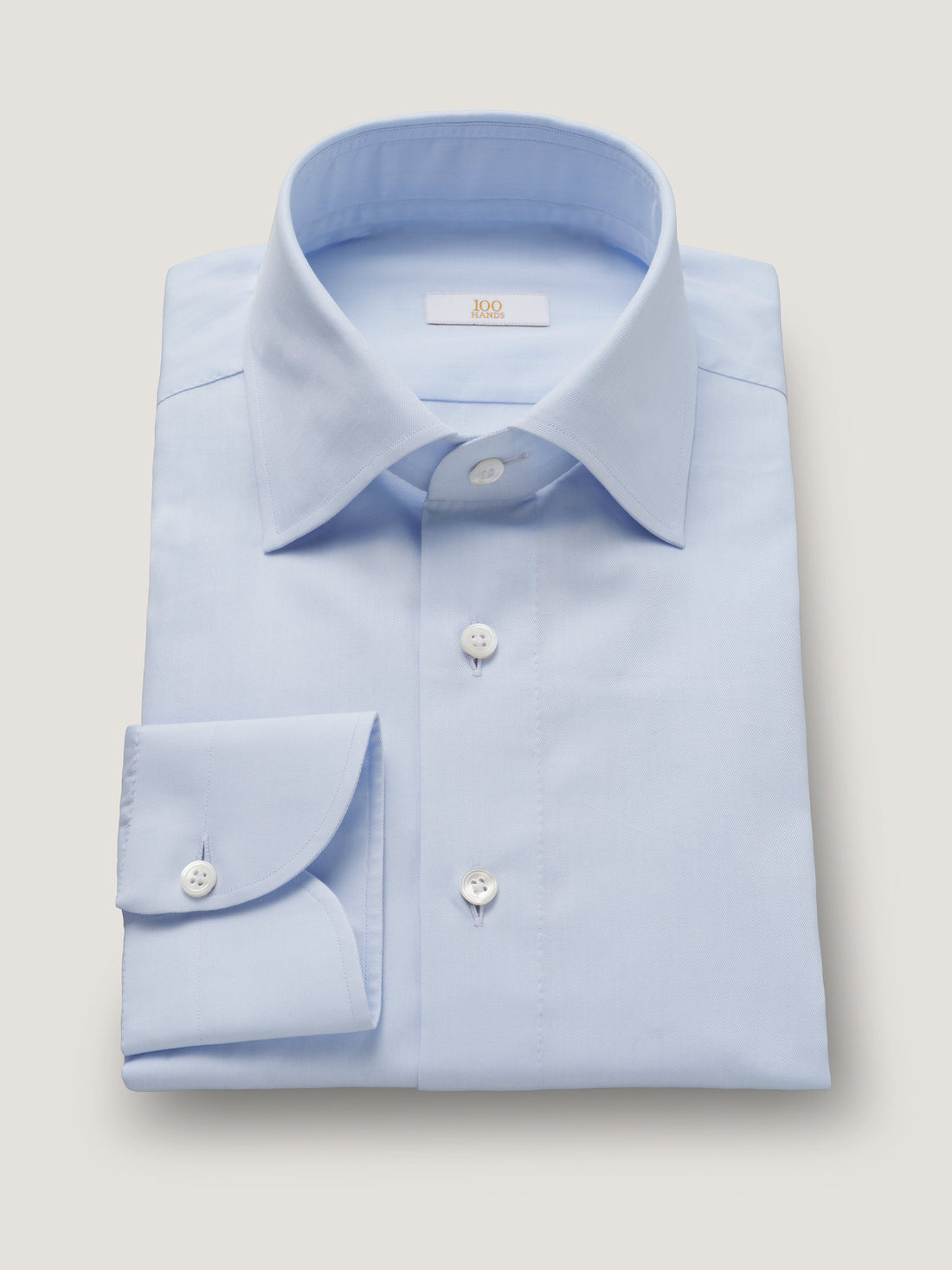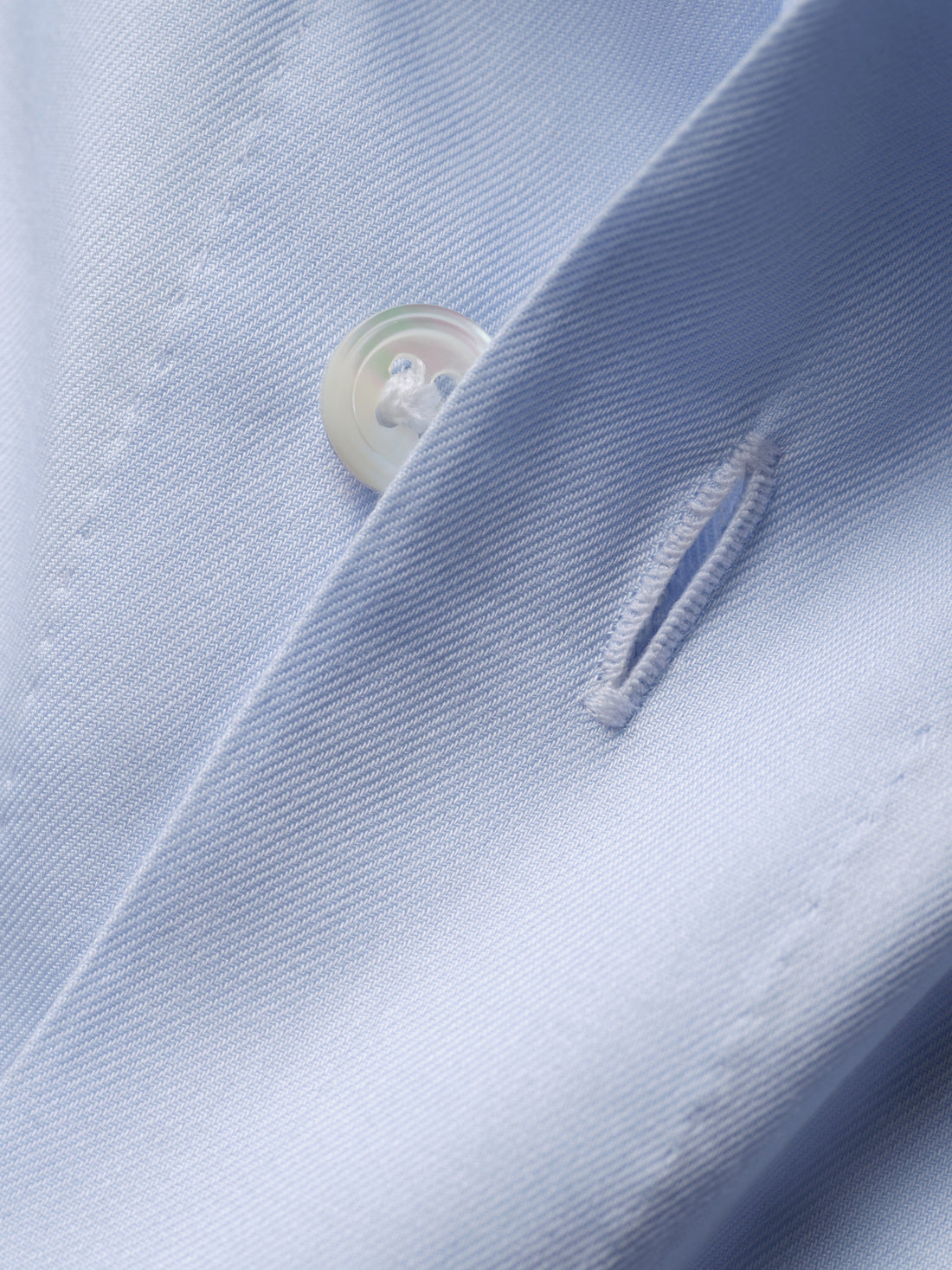 Luxury Gold Line - Best Blue Shirt
Overview
Perhaps you have already tried Gold Line White Shirt. Since it is one of the most sold shirts, we decided to add the light blue version of this shirt.
The shirt is made out of 170/2 superfine fabric from Alumo, Switzerland who is known for the finest shirt fabric finishing in the world. One could classify it as the very best. The shirt will retain its richness after 50 washes as well. 

With our Gold Line construction for this Luxury Light blue shirt, It is difficult to get better than this. 
Style & Workmanship
Medium Cut Away Collar and Single Rounded Cuff
This shirt has one of our most sold collars, medium cut away along with a rounded cuff to keep the look modern, yet versatile. 
Signature Gold Line Workmanship
Each Luxury Gold Line Blue Shirt reflects around 34 hours of painstaking handwork, making it the peak of our craftsmanship:

In Gold Line, every panel of the shirt is hand attached, including the front, collars, body and cuffs. It also adds to some additional comfort as hand sewing is always little more flexbile than the rigid machine sewing.
Each buttonhole is

 

expertly hand embroidered

 

to ensure a high quality end result.
One of the interesting area to see is the bottom hem and how its beautifully hand rolled to perfection.
To ensure the best possible fit, each shirt is made using a template that is designed by hand and then cut out by hand.
The side seams and sleeve plackets are also hand-sewn to guarantee their longevity and quality.
Exclusive Fabric
170/2 Twill 100% Giza45 Cotton
Our Luxury Gold Line Blue Shirt is cut from 170/2 Twill constructed from one of the finest level of Egyptian cottons: Giza45 Cotton. This fabric is known for its rich feel and longevity thanks to its combination of softness, durability, and breathability.

Sizing Options
This luxury cotton shirt is available in the following sizes:
In CMS (European Sizing (EU))
EU 37
EU 38
EU 39
EU 40
EU 41
EU 42
EU 43
EU 44
EU 45
EU 46
EU 47
In Inches (United Kingdom / United States Sizing (UK/US))
UK/US 14.5
UK/US 15.0
UK/US 15.5
UK/US 15.75
UK/US 16.0
UK/US 16.5
UK/US 17.0
UK/US 17.5
UK/US 18.0
UK/US 18.25
UK/US 18.5
If you are in between sizes, we advise going with the larger size for the best fit.
Made to Order
This shirt is Made to Order. This means we produce the shirt on order in the standard size you select and dispatch within 2 weeks time. We can also do Custom Made for a small surcharge of 25%, whereby you can request change of all the measurements of the shirt. 
CARE
SHIPPING, EXCHANGES AND RETURNS
Title
Shirt: Wash at 30 degrees celsius (86 degree Fahrenheit). No Tumble Dryer
Jacket: Dry Clean Only
Shipping
Shipping is FREE when 2 shirts (or more) or just 1 Jacket is selected. So anything above EUR 500 value involves free shipping. We use Fedex/DHL/DPD based on the location you are based. 
Refunds and Exchanges
100Hands accept refund or exchange of goods within 14 days of the receipt of the order. Shipping costs are non-refundable. 
Made to Order / Custom: We want to ensue we provide the best service so in case you are not happy with the fit of the product, we would be happy to provide free alteration or remake the whole product at our cost.
Add extra product information, such as size guides or technical data.