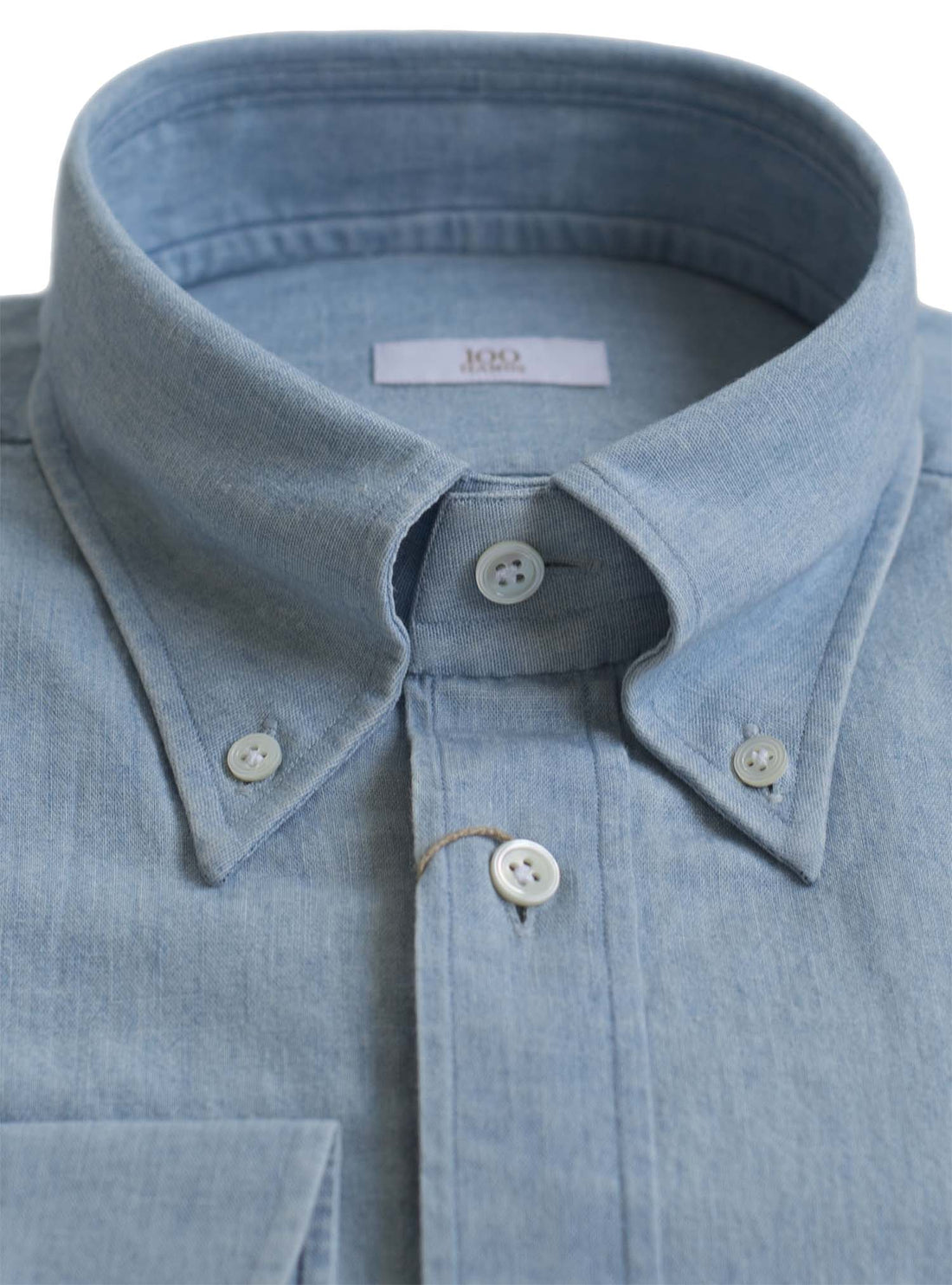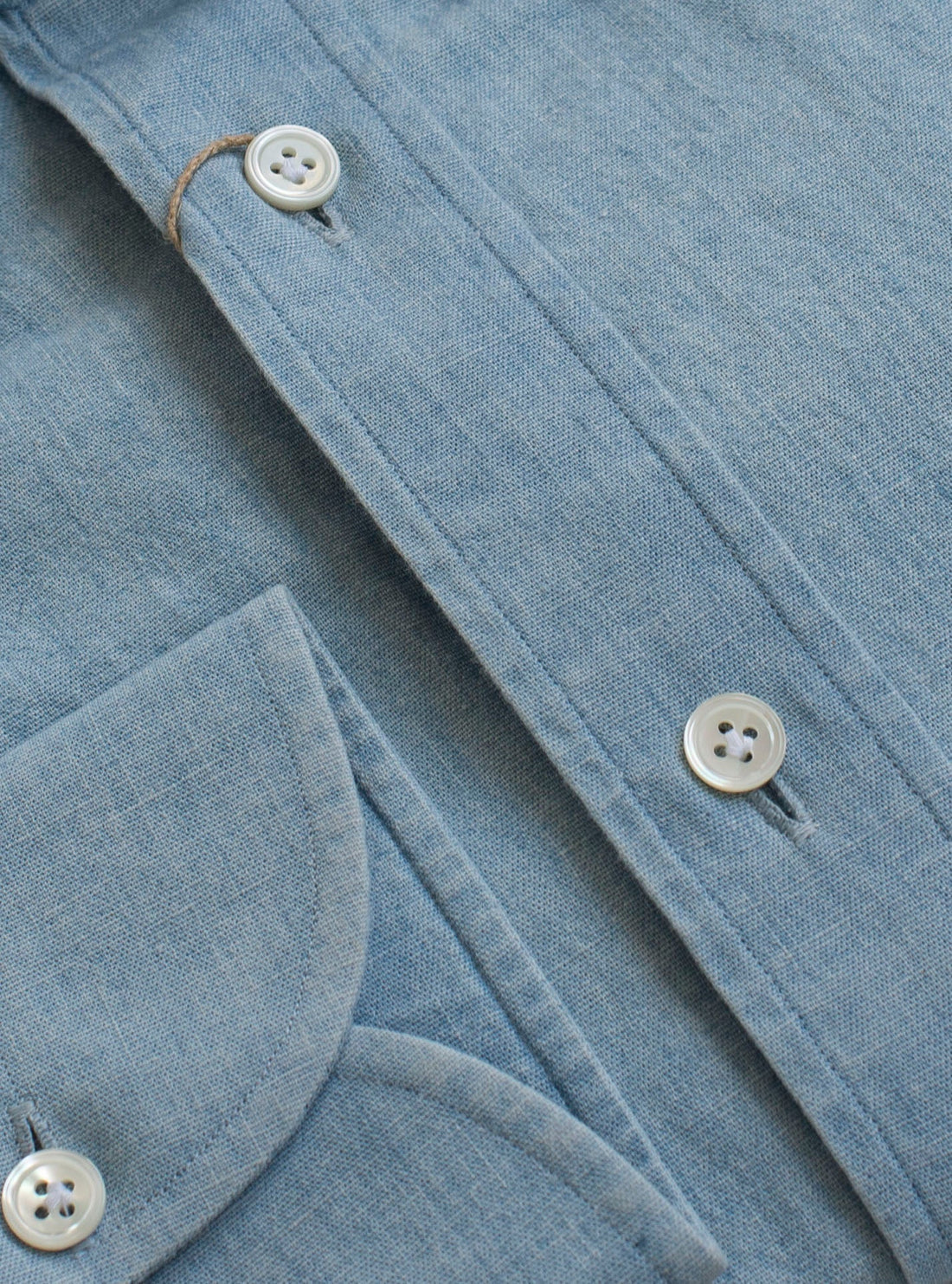 Ice Washed Japanese Chambray Shirt
A Royal Button Down Shirt in Ice Color Chambray
We're proud to present a shirt in our Gold Line that's been made with the utmost precision and care. The raw fabric for this garment is a deep blue, but after being washed in our denim atelier, it takes on a sophisticated ice hue. This chambray shirt's understated design and seamless pairing with suit jackets, travel coats, and sweaters make it a versatile wardrobe staple.

Style
This shirt features our Signature Royal Button Down with a generous collar roll, reflecting timeless elegance and charm.
Workmanship
The exceptional quality of our Signature Gold Line is evident in this shirt. It involves 34 hours of handwork, ensuring an unparalleled level of detail and quality.
Special house cut for the best fit
Individually hand-cut from hand-drawn patterns
Hand-embroidered buttonholes
Hand-rolled bottom hems
Hand-sewn side seams and sleeve placket
Both fronts and sleeves are hand-sewn
Collar sewn by hand, both inside and outside
And much more! Contact us to know more about the craftsmanship involved in creating this masterpiece.
Fabric
Our exclusive Japanese Chambray, made from 100% cotton, lends this made-to-order shirt a lightweight and breathable feel.
Sizes Available
EU37 | 14.5 UK/US
EU38 | 15.0 UK/US
EU39 | 15.5 UK/US
EU40 | 15.75 UK/US
EU41 | 16.0 UK/US
EU42 | 16.5 UK/US
EU43 | 17 UK/US
EU44 | 17.5 UK/US
EU45 | 18.0 UK/US
EU46 | 18.25 UK/US
EU47 | 18.5 UK/US
Made to Order
Every piece is made to order, ensuring environmentally sustainable practices by minimizing unnecessary inventory. With just a 25% surcharge, you can avail of our custom-made service where we can adjust all sizes and design details according to your preference.
CARE
SHIPPING, EXCHANGES AND RETURNS
Title
Shirt: Wash at 30 degrees celsius (86 degree Fahrenheit). No Tumble Dryer
Jacket: Dry Clean Only
Shipping
Shipping is FREE when 2 shirts (or more) or just 1 Jacket is selected. So anything above EUR 500 value involves free shipping. We use Fedex/DHL/DPD based on the location you are based. 
Refunds and Exchanges
100Hands accept refund or exchange of goods within 14 days of the receipt of the order. Shipping costs are non-refundable. 
Made to Order / Custom: We want to ensue we provide the best service so in case you are not happy with the fit of the product, we would be happy to provide free alteration or remake the whole product at our cost.
Add extra product information, such as size guides or technical data.