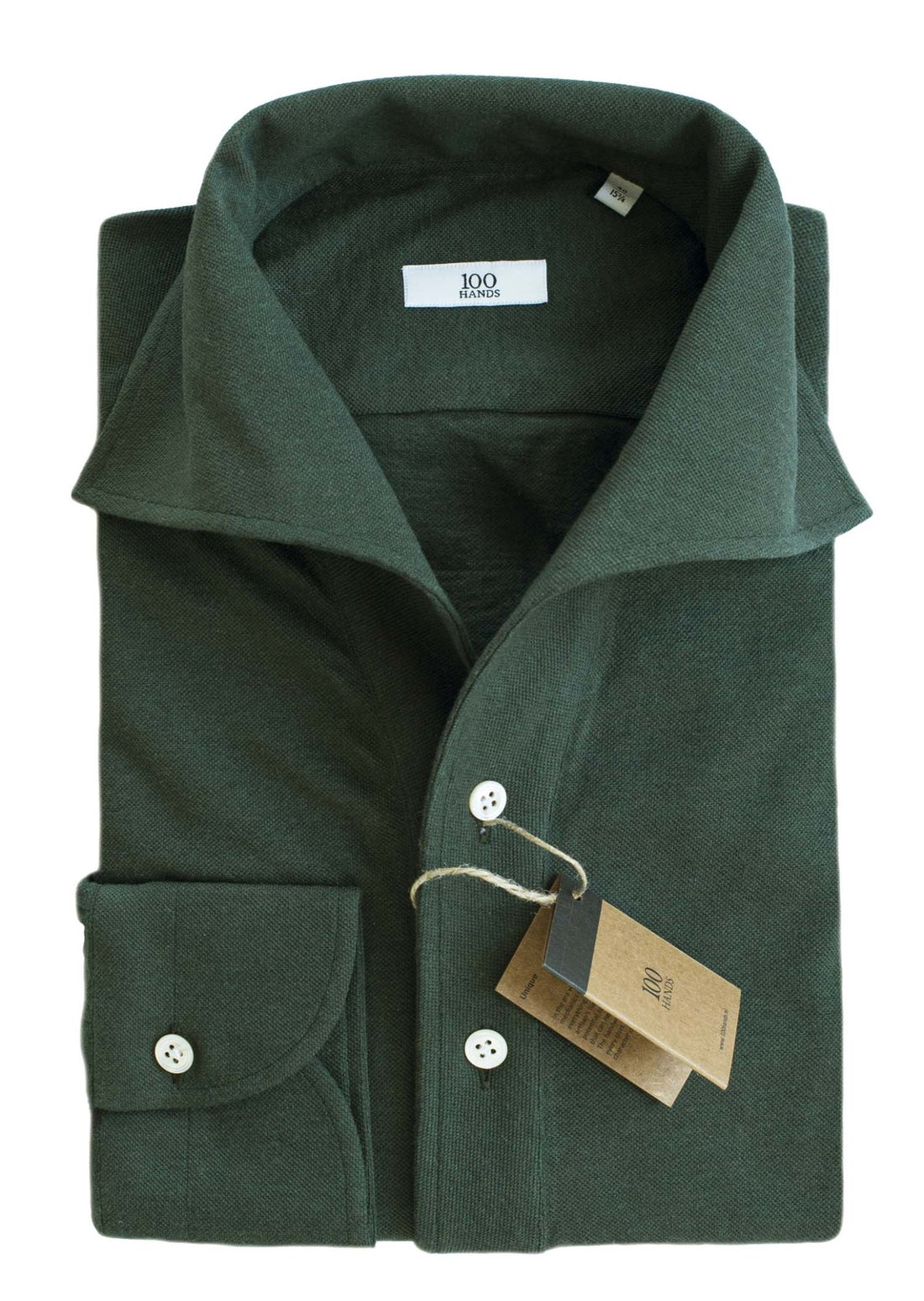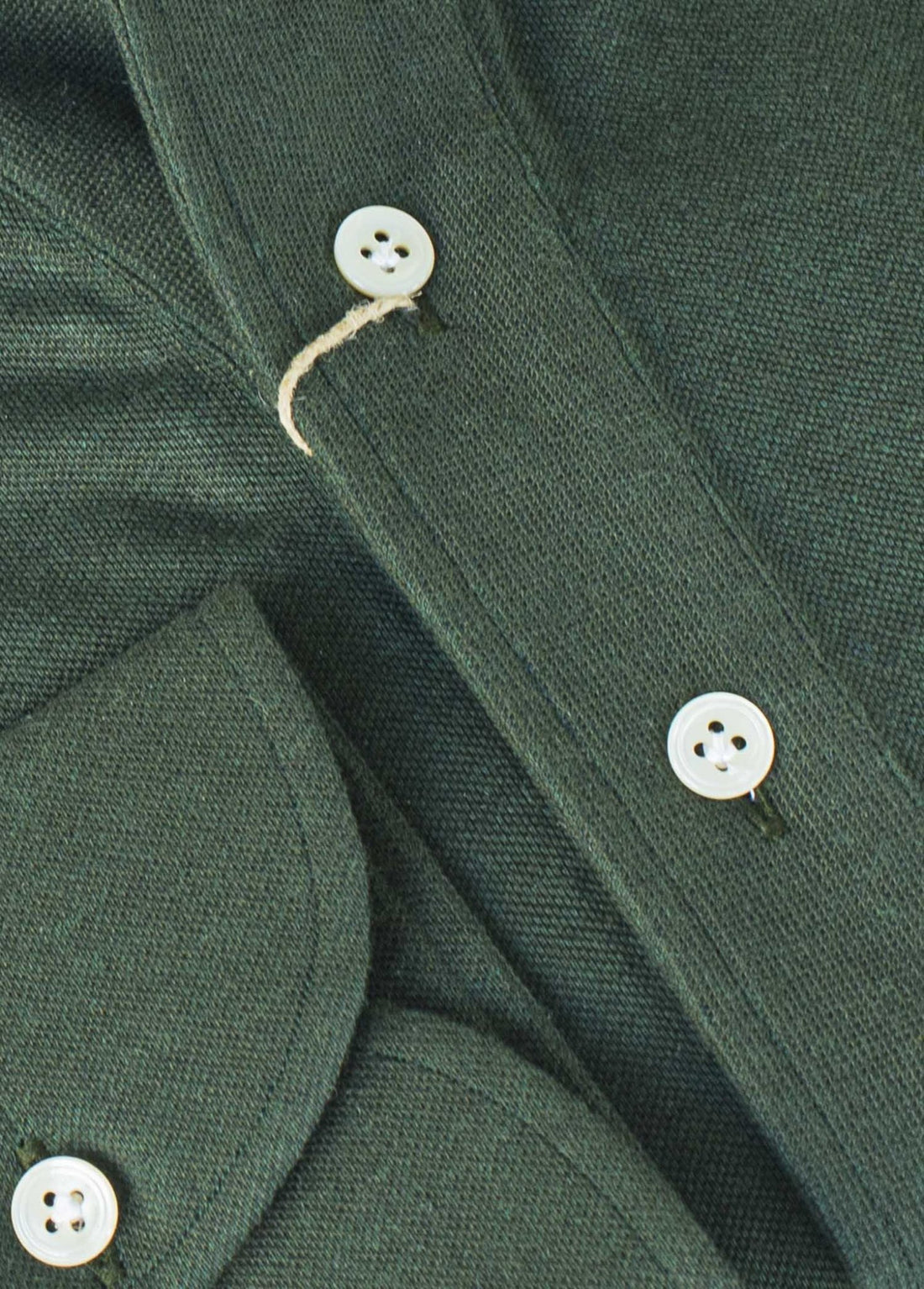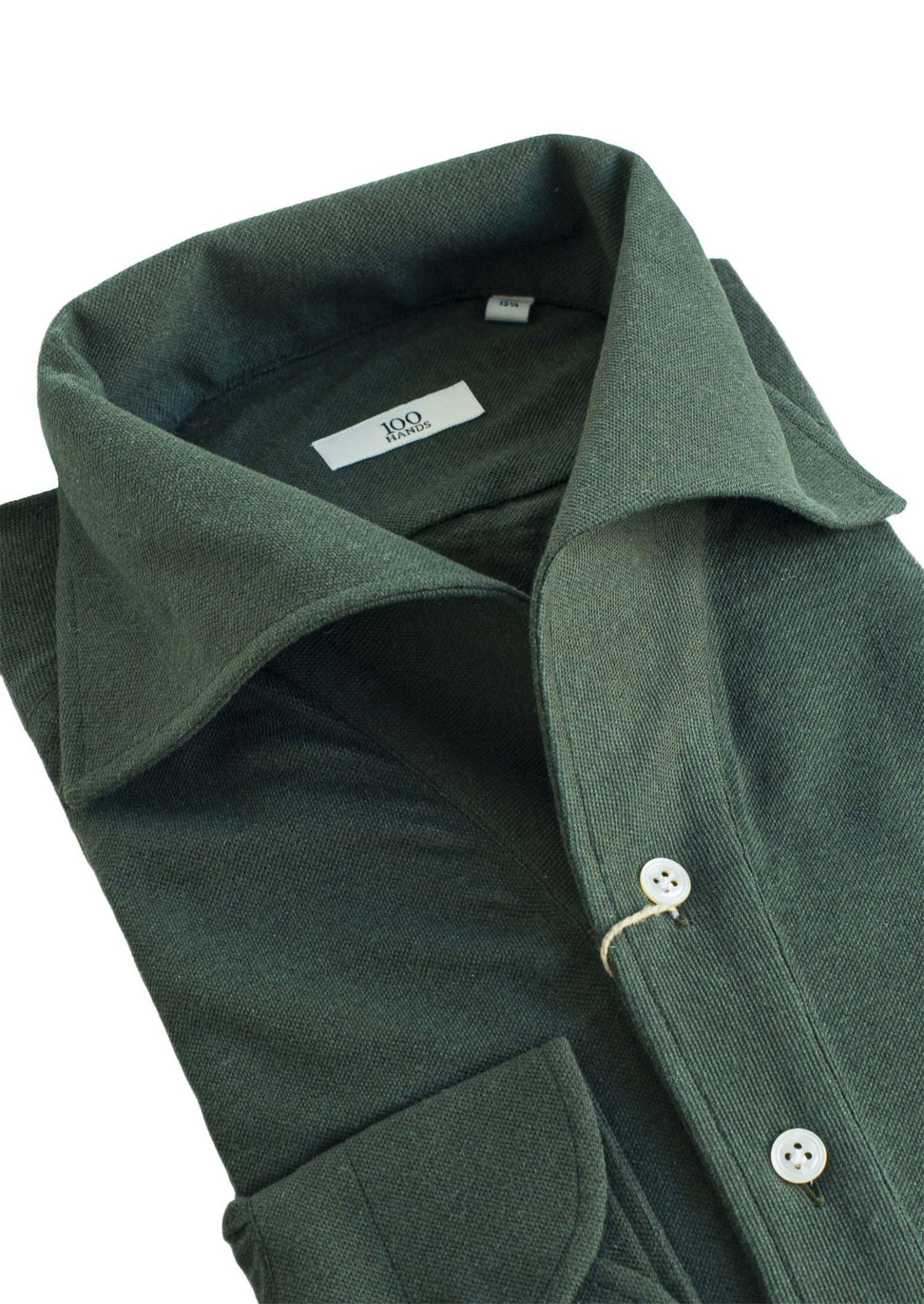 Emerald Green One Piece Polo Shirt
Overview
Our Emerald Green One-Piece Polo Shirt is a favorite among discerning clients for its eye-catching hue and high quality construction. Crafted in our signature house style with a medium-weight fabric, this polo shirt is designed to offer versatile wearability across all seasons. The unique curve of the front placket around the collar makes a strong style statement that is further elevated when adorned with a sweater, jacket, or outerwear.
Style & Workmanship
Signature One-Piece Polo with Three Buttons
This polo shirt is a one-piece creation based on our characteristic style, and it has a placket with three buttons. It celebrates the timeless elegance of classic design while incorporating contemporary elements.

Black Line Workmanship
Our Black Line Workmanship process takes about 16 hours of careful handwork and is a testament to the superior handcraftsmanship that goes into each garment.

Special House Cut for Best Fit: Our special house cut ensures a flattering fit that enhances your silhouette.
Hand Cut: Each shirt is individually cut by hand.
Hand-Sewn Fronts: Both fronts of the shirt are hand-sewn, adding to the uniqueness and quality of each piece.
Hand-Sewn and Attached Sleeves: The sleeves are hand-sewn and attached, once again ensuring a perfect fit and maximum comfort.
Hand-Sewn Collar: The collar is hand-sewn both inside and outside, adding to the shirt's durability and aesthetic appeal.
Hand-Sewn Gusset: The gusset is hand-sewn, providing an additional layer of strength and reinforcement.
Fabric
Green Pique Jersey 100% Cotton
Green Pique Jersey, known for its superior softness, durability, and breathability, was used to create this shirt. This shirt's 100% cotton fabric provides a winning combination of softness and durability, making it as pleasant to wear as it is to look at. The emerald shade is the ideal accent to the wardrobe of any gentleman.
Sizing Options
To ensure an unparalleled fit, our cotton shirt is available in a wide range of sizes. Here are the available size options:
European Sizing (EU)
EU 38
EU 39
EU 40
EU 41
EU 42
EU 43
EU 44
EU 45
United Kingdom / United States Sizing (UK/US)
UK/US 15
UK/US 15.5
UK/US 15.75
UK/US 16.0
UK/US 16.5
UK/US 17.0
UK/US 17.5
UK/US 18.0
Please note that our shirts are designed to offer a comfortable fit. If you are between sizes, we recommend ordering the larger size for the best fit.
Made-to-Order
This shirt is made on a "Made-to-Order" basis, which shows our commitment to sustainability by keeping us from stocking up on too much. We have a Custom Made choice for people who want a higher level of customization. This means that all sizes and design features can be changed for a small fee of 25%, so your shirt will fit your style perfectly. 
CARE
SHIPPING, EXCHANGES AND RETURNS
Title
Shirt: Wash at 30 degrees celsius (86 degree Fahrenheit). No Tumble Dryer
Jacket: Dry Clean Only
Shipping
Shipping is FREE when 2 shirts (or more) or just 1 Jacket is selected. So anything above EUR 500 value involves free shipping. We use Fedex/DHL/DPD based on the location you are based. 
Refunds and Exchanges
100Hands accept refund or exchange of goods within 14 days of the receipt of the order. Shipping costs are non-refundable. 
Made to Order / Custom: We want to ensue we provide the best service so in case you are not happy with the fit of the product, we would be happy to provide free alteration or remake the whole product at our cost.
Add extra product information, such as size guides or technical data.