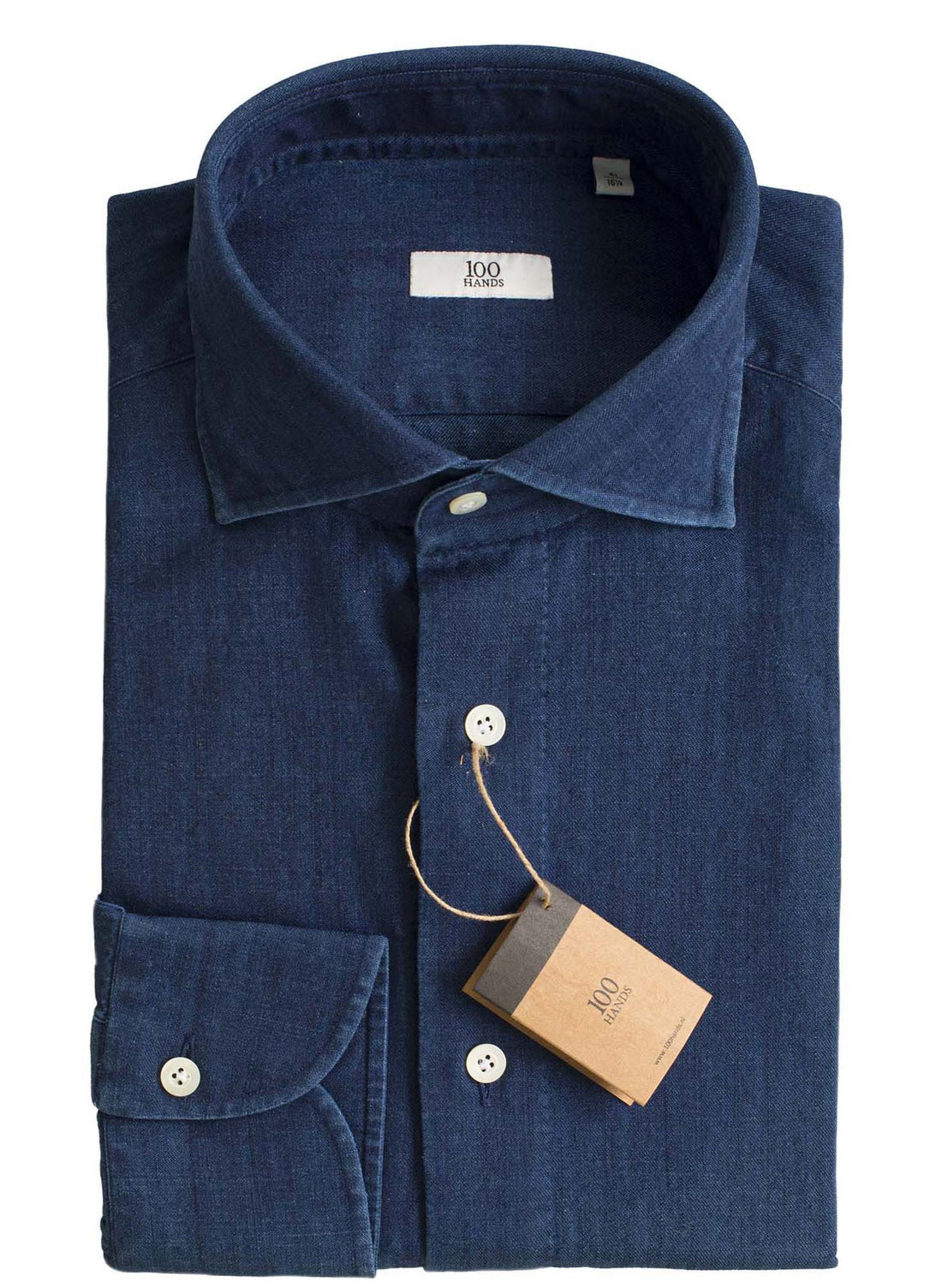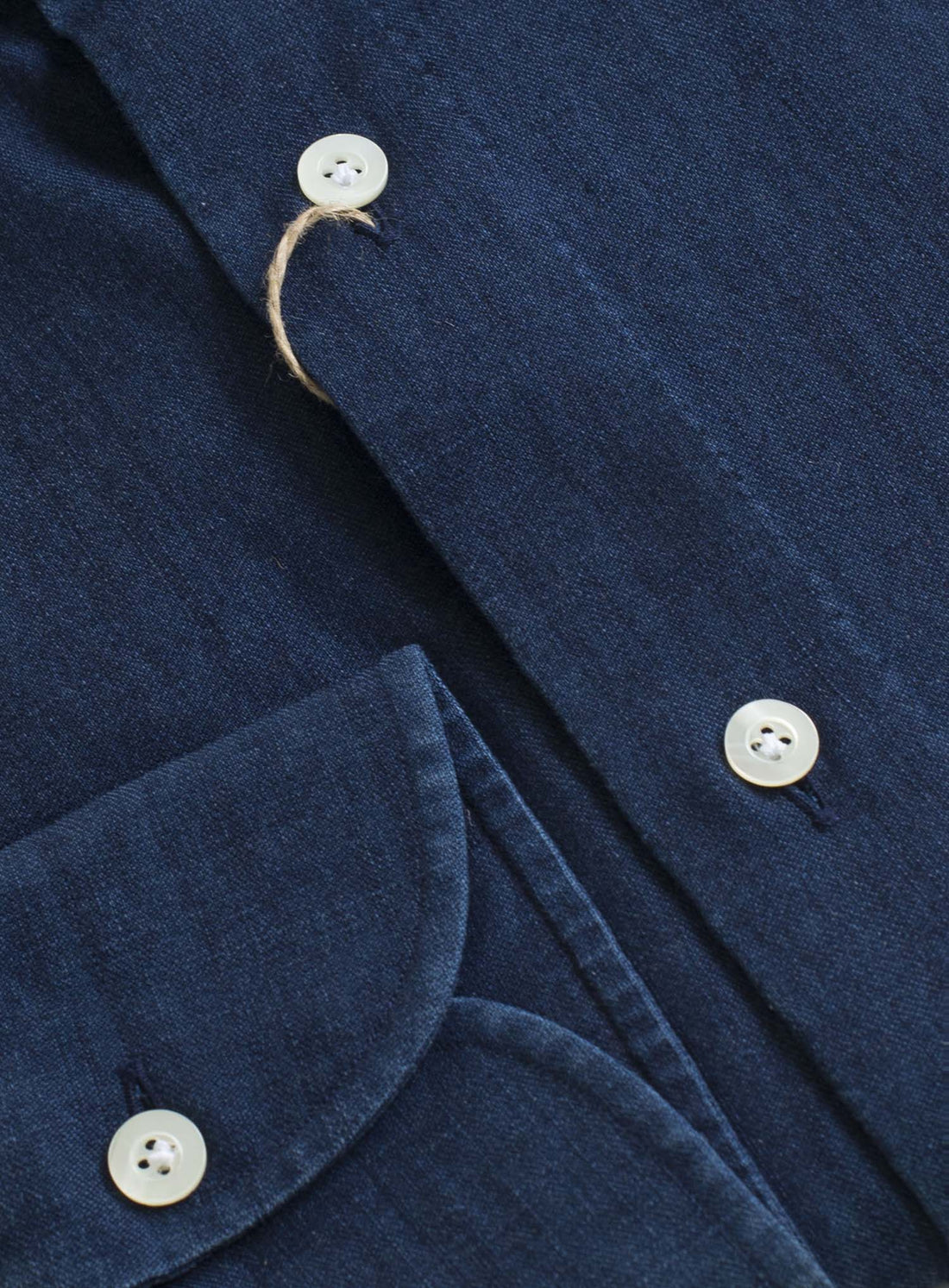 Deep Structured Indigo Shirt
5
Overview
Incorporating a deeper chambray fabric, our Deep Structured Indigo Shirt is a polished addition to any wardrobe. We make the structured shirts from raw cloth and then wash them to get the desired fading and effects all over, but especially in the neckline and sleeve openings.

Style & Workmanship
Medium Cut-Away Collar with White Mother of Pearl Buttons
This shirt has a medium cutaway collar, which is both current and classic. The white mother-of-pearl buttons create a classy contrast to the indigo fabric and add an air of refinement.

Black Line Workmanship
Reflecting our dedication to meticulous craftsmanship, our Black Line Workmanship includes approximately 16 hours of handwork in every piece:
Each shirt is made using our signature house cut to guarantee a perfect fit.

The fabric is cut by hand for each garment to guarantee a perfect fit.

The shirt's hand-sewn fronts are an added durability and style feature.

The collar is hand-sewn on both the inside and the outside for increased durability and aesthetic value.

The gussets are hand-sewn, which adds a layer of support and makes the product last longer.
Exclusive Fabric
Japanese Dark Chambray, 100% Cotton
The Japanese Dark Chambray used to make the Deep Structured Indigo Shirt is known for being a durable and comfortable fabric. Because it is made of 100% cotton, it allows your skin to breathe and has a pleasant, smooth texture that makes it ideal for all-day use.

Sizing Options
This cotton shirt is available in the following sizes:
European Sizing (EU)
EU 37
EU 38
EU 39
EU 40
EU 41
EU 42
EU 43
EU 44
EU 45
EU 46
EU 47
United Kingdom / United States Sizing (UK/US)
UK/US 14.5
UK/US 15
UK/US 15.5
UK/US 15.75
UK/US 16.0
UK/US 16.5
UK/US 17.0
UK/US 17.5
UK/US 18.0
UK/US 18.25
UK/US 18.5
For the best fit, we recommend selecting the larger size if you fall between two sizes.
Made-to-Order
The Made-to-Order production method used to create this shirt exemplifies our dedication to sustainability by preventing the accumulation of surplus stock. We have a Custom Made option for individuals who would like a higher degree of customization. For an additional 25%, you can have your shirt customized to fit your body and express your personal style. 
CARE
SHIPPING, EXCHANGES AND RETURNS
Title
Shirt: Wash at 30 degrees celsius (86 degree Fahrenheit). No Tumble Dryer
Jacket: Dry Clean Only
Shipping
Shipping is FREE when 2 shirts (or more) or just 1 Jacket is selected. So anything above EUR 500 value involves free shipping. We use Fedex/DHL/DPD based on the location you are based. 
Refunds and Exchanges
100Hands accept refund or exchange of goods within 14 days of the receipt of the order. Shipping costs are non-refundable. 
Made to Order / Custom: We want to ensue we provide the best service so in case you are not happy with the fit of the product, we would be happy to provide free alteration or remake the whole product at our cost.
Add extra product information, such as size guides or technical data.