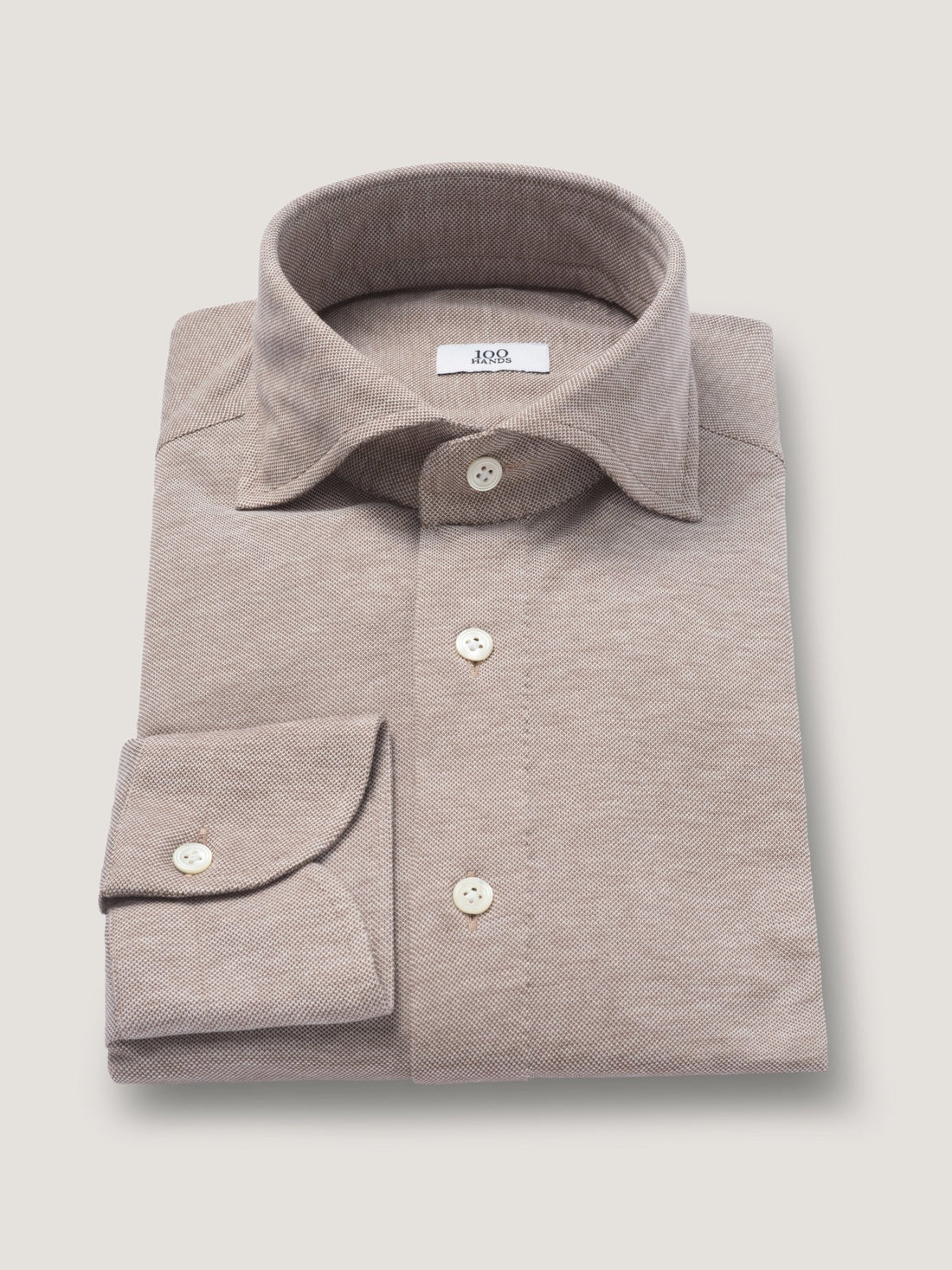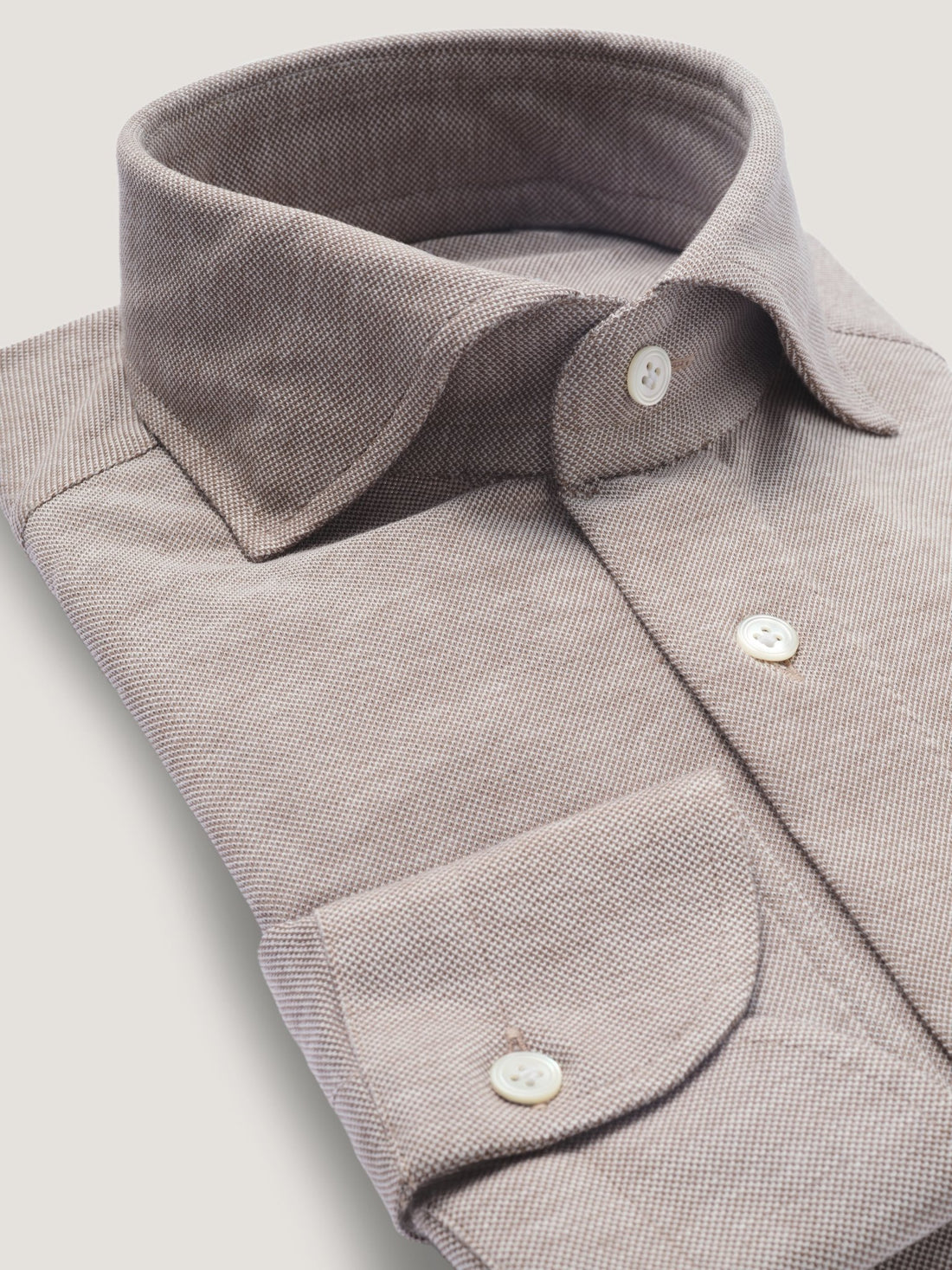 Beige-Brown Jersey Shirt
Our collection continues to evolve, and we are thrilled to introduce our Beige-Brown Jersey Shirt — a testament to understated elegance and unparalleled craftsmanship.
Seasonal Versatility
This jersey shirt is perfect for any season. Its warm beige-brown tone is stunning year-round, but it really comes into its own in the summer. When worn with lighter bottoms, such as chinos or pants, it radiates a timeless, earthy vibe. Fabricated from 80/2 piqué jersey, its weight is just right, providing substance without being too heavy, an attribute crucial for those warmer days.

Style
Fashioned with a Medium Cut Away Collar, it's no wonder this particular collar design is among the most cherished in sartorial circles. Its versatile nature ensures it's apt for a variety of occasions, be it a casual brunch or a formal evening gathering.
Workmanship
Embodied within the Black Line, this cotton shirt stands as a testimony to our commitment to detail and artisanal prowess, with approximately 16 hours of meticulous handwork involved in its creation.
Beginning with our signature house cut, it ensures the shirt drapes flawlessly, exuding an impeccable fit.
Each shirt's journey commences with a hand-drawn pattern, subsequently hand-cut to guarantee precision.
Fronts of the shirt receive the artisan's touch, being hand-sewn with utmost care.
Sleeves, hand-sewn at first, are then skillfully attached to ensure mobility and comfort.
The collar, a pivotal aspect of any shirt, undergoes hand-sewing both on its inside and outside, emphasizing its structural integrity and aesthetic appeal.
The gusset, an often-overlooked detail, is also hand-sewn, reinforcing the shirt's durability.
Exclusive Fabric
Fabric can make or break a shirt. In this case, it unequivocally makes it. Composed of 100% cotton, it ensures breathability, comfort, and longevity — what more can you ask for in a jersey shirt?
Available Sizes:
EU37 | UK/US 14.5
EU38 | UK/US 15
EU39 | UK/US 15.5
EU40 | UK/US 15.75
EU41 | UK/US 16.0
EU42 | UK/US 16.5
EU43 | UK/US 17.0
EU44 | UK/US 17.5
EU45 | UK/US 18.0
EU46 | UK/US 18.25
EU47 | UK/US 18.5
Made to Order
The Beige-Brown Jersey Shirt is a made-to-order item, reflecting our dedication to sustainable practices. This method helps people become more environmentally and socially responsible shoppers. For a 25% upcharge, we also offer a custom-making service for those who want their purchase to be uniquely theirs in every way imaginable.
CARE
SHIPPING, EXCHANGES AND RETURNS
Title
Shirt: Wash at 30 degrees celsius (86 degree Fahrenheit). No Tumble Dryer
Jacket: Dry Clean Only
Shipping
Shipping is FREE when 2 shirts (or more) or just 1 Jacket is selected. So anything above EUR 500 value involves free shipping. We use Fedex/DHL/DPD based on the location you are based. 
Refunds and Exchanges
100Hands accept refund or exchange of goods within 14 days of the receipt of the order. Shipping costs are non-refundable. 
Made to Order / Custom: We want to ensue we provide the best service so in case you are not happy with the fit of the product, we would be happy to provide free alteration or remake the whole product at our cost.
Add extra product information, such as size guides or technical data.