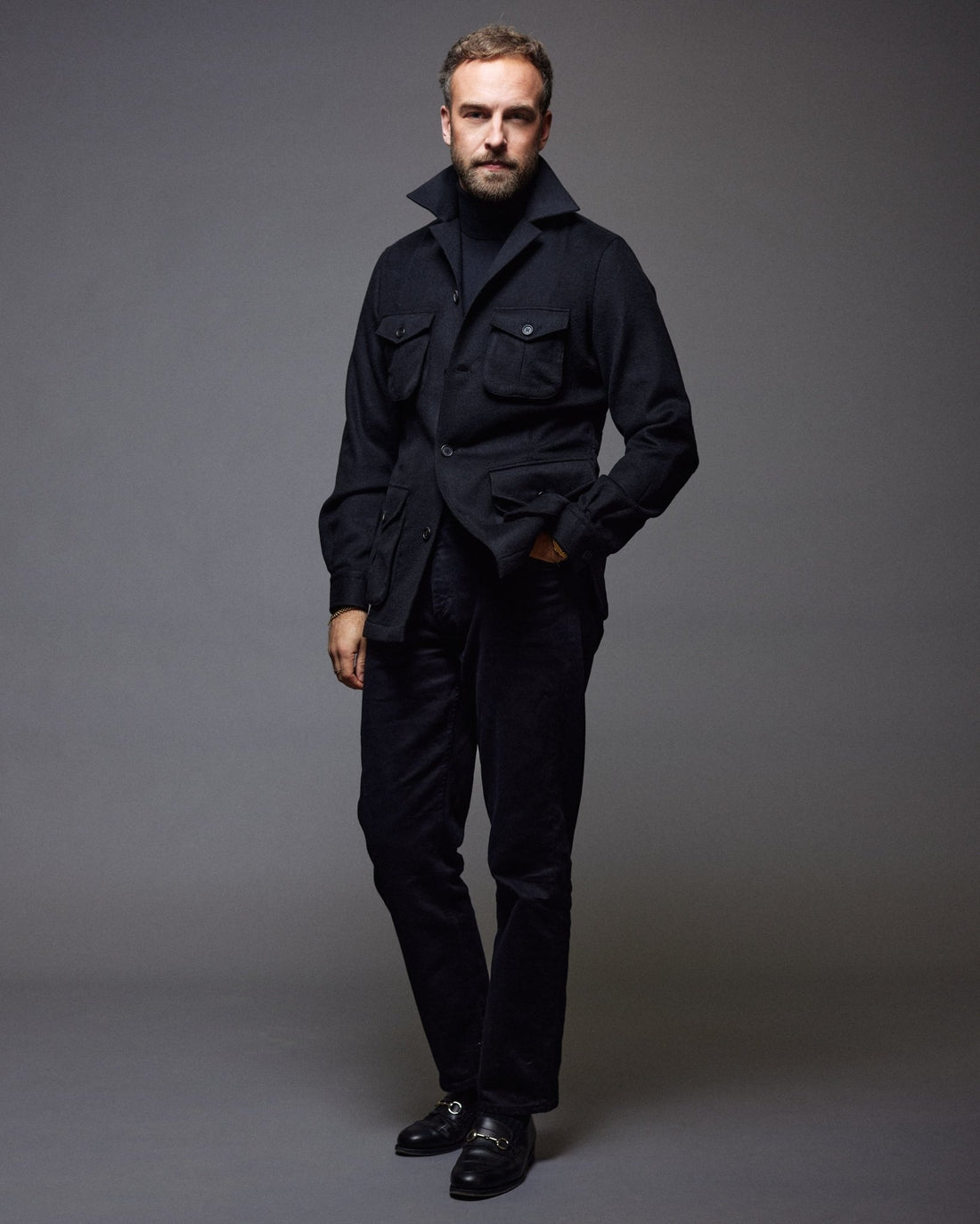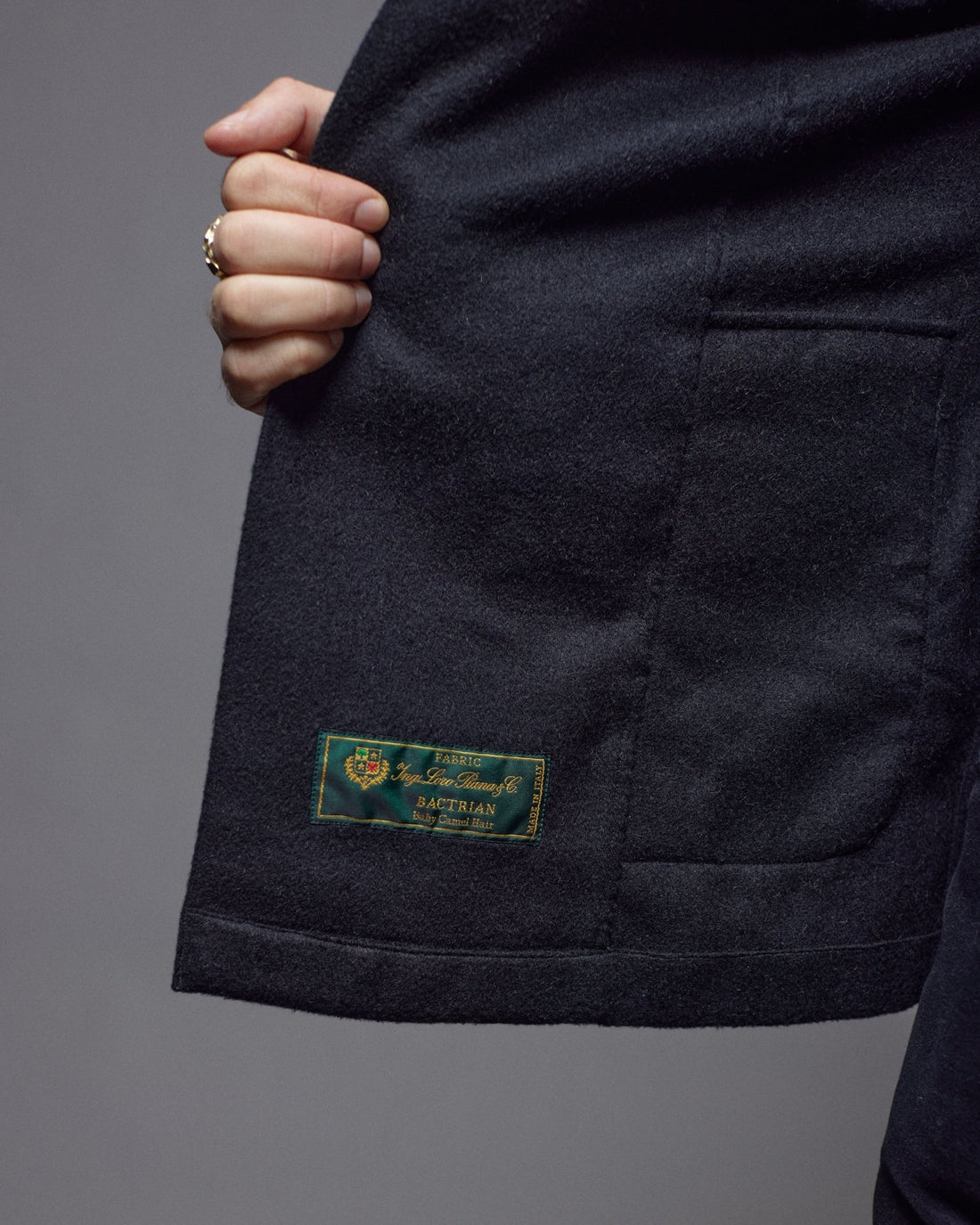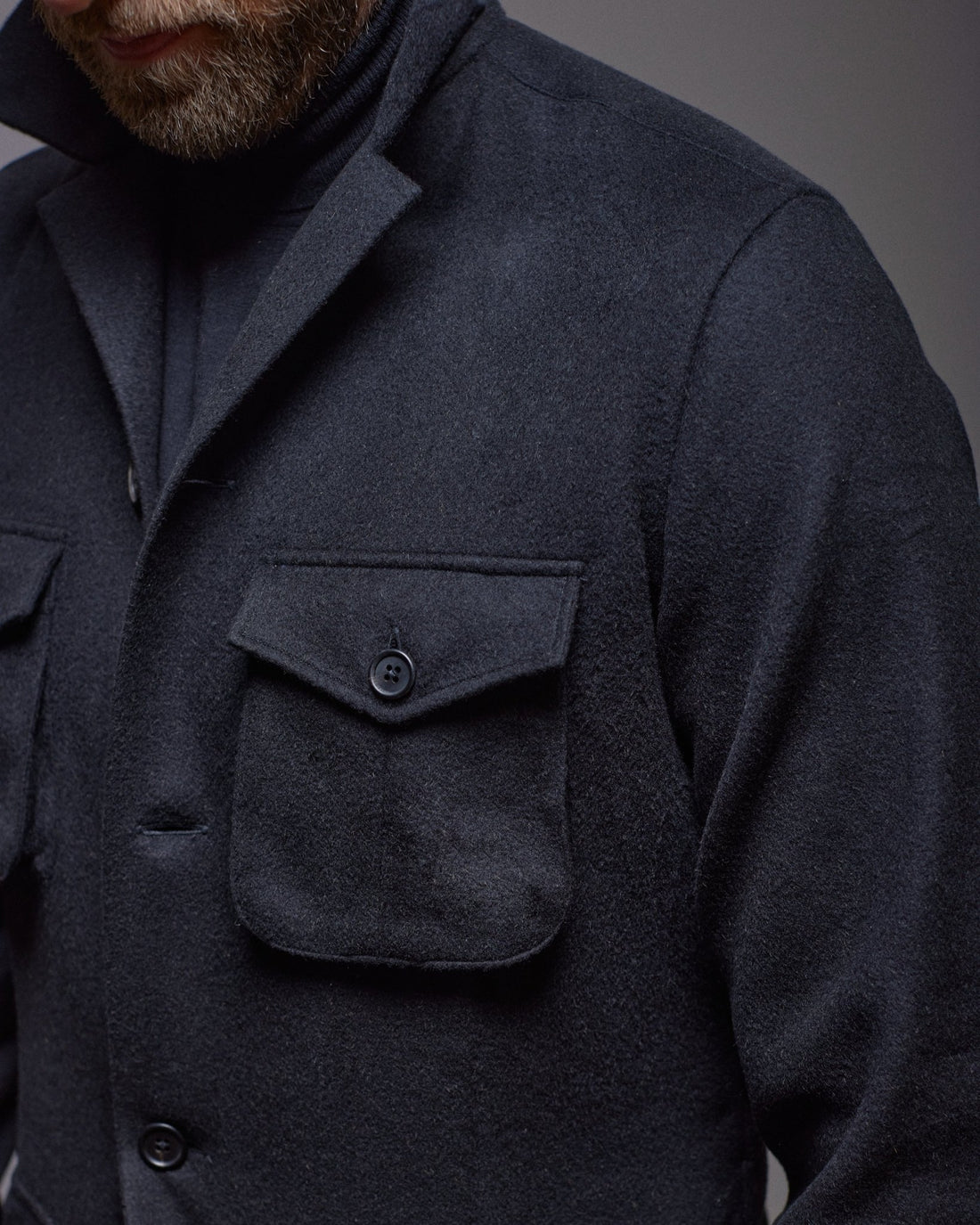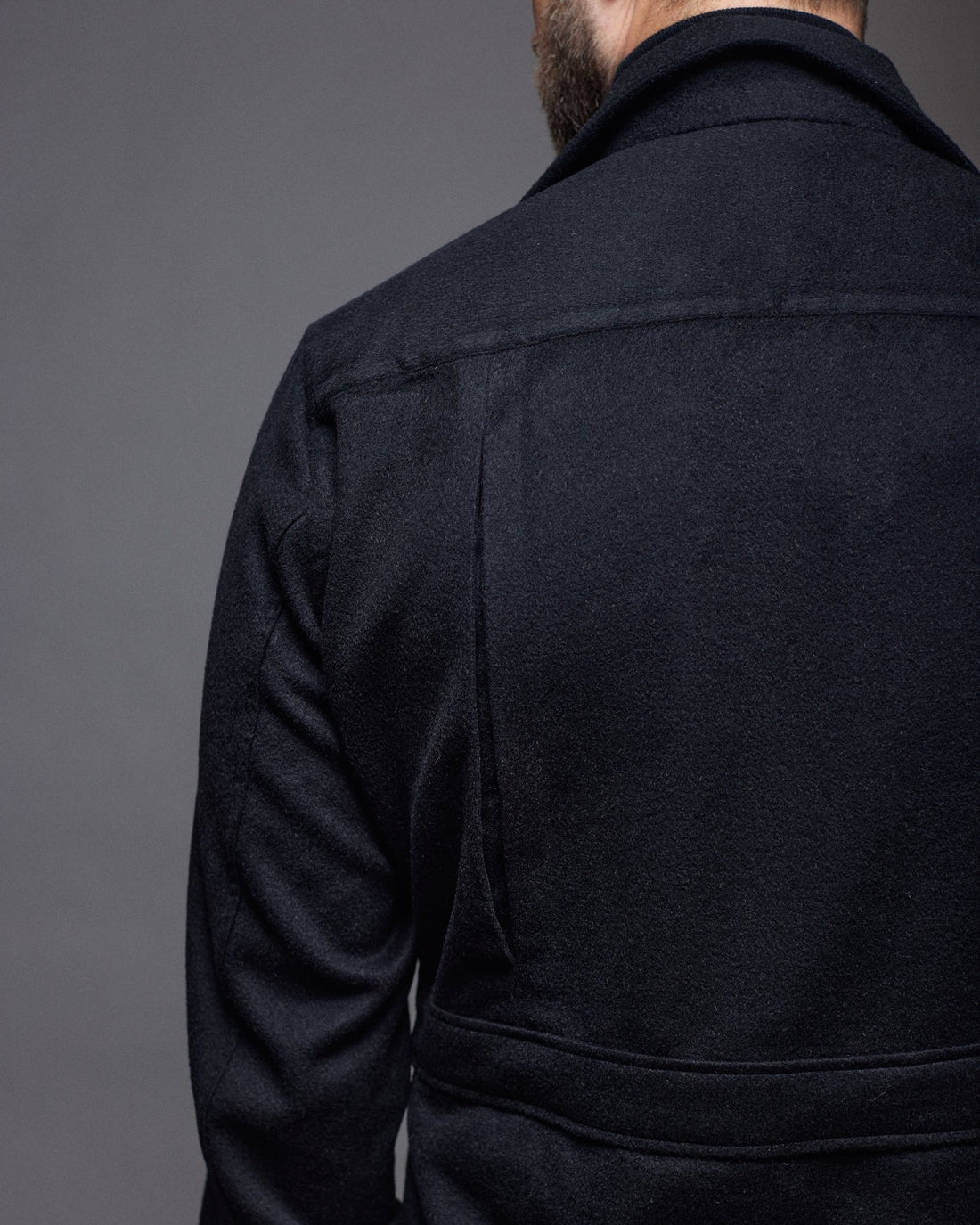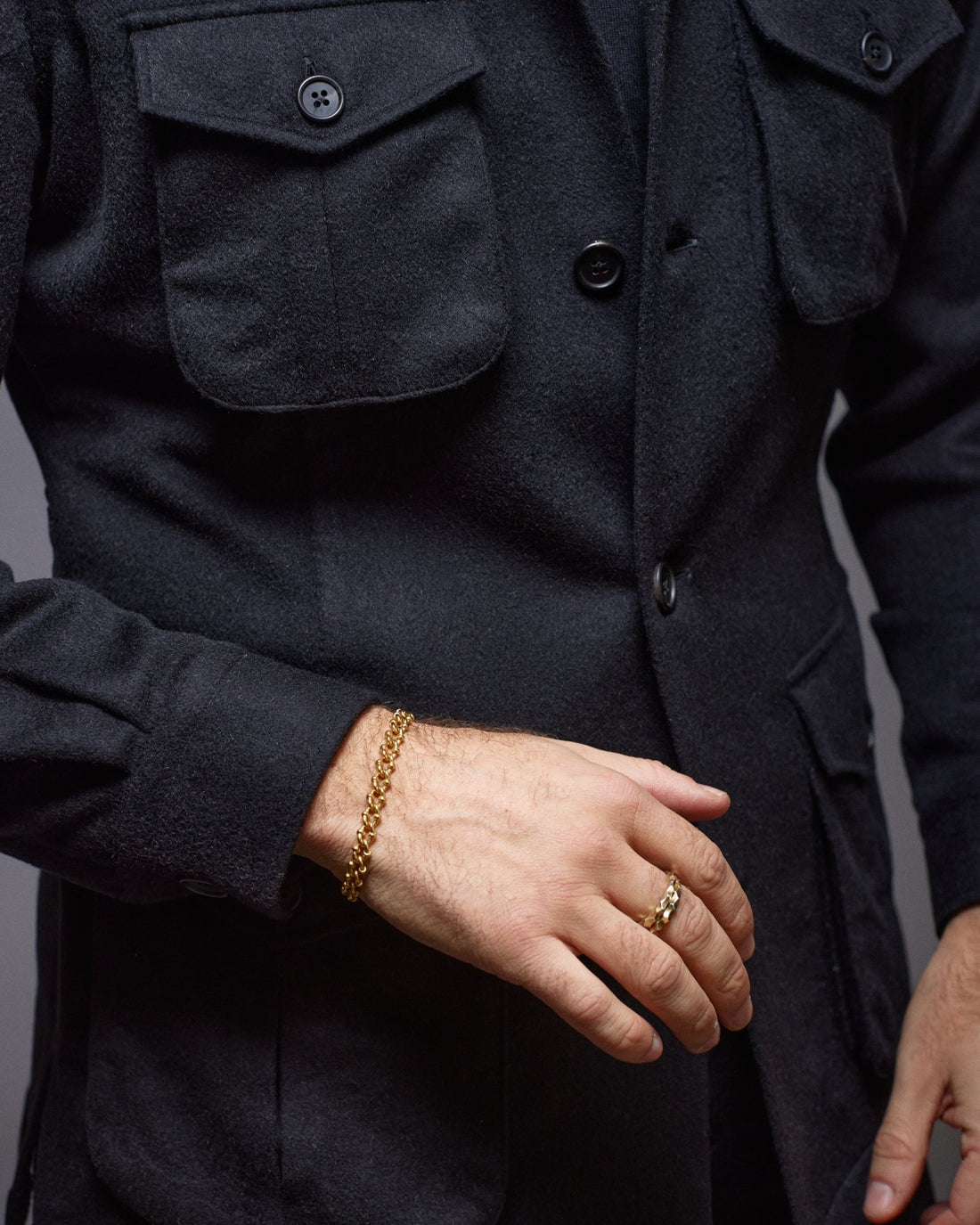 Jet Black 100% Baby Camel Andreas Weinas Loro Piana Jacket
Black is back in style, and it's more alluring than ever. This elegant black camel jacket is the result of a partnership between Andreas Weinas and Loro Piana, and it promises an irresistible addition to your wardrobe.

Style
This unadorned jacket is ideal for any event, and it goes well with the corresponding black denim. The Baby Camel fabric from Loro Piana is the secret to its sophistication; it has a beautiful drape and provides extra warmth thanks to the 500-gram overcoat weight, which is significantly heavier than the more common 360-gram Baby Camel.

Comfort
Combining the classiness of a dinner jacket with the coziness of a cashmere sweater and the functionality of an M65, this jacket is a perfect example of a marriage of seemingly disparate elements. This makes it an adaptable piece of clothing, appropriate for both professional and casual settings.

Workmanship
This piece showcases over 40 hours of hand craftsmanship, bringing you the finest finishing and quality.
Key Features
This jacket has such a great fit that it may be worn by people of different sizes.

Each jacket's front is carefully hand-turned and stitched together.

The sleeves are stitched on by hand.

This jacket is unlined and unconstructed for comfort.

Additional storage is provided by four round inverted bellow pockets.
There is one internal pocket for valuables like a phone or wallet.
Fabric
This custom jacket is made from Loro Piana's luxurious black baby Bactrian camel fabric, boasting a generous weight of 500 grams per meter.
Sizes Available
EU46 | US/UK 36
EU48 | US/UK 38
EU50 | US/UK 40
EU52 | US/UK 42
EU54 | US/UK 44
EU56 | US/UK 46
Loro Piana fabrics are highly sought after by high-end designers and discerning consumers because of their esthetic appeal and exceptional comfort.
Made-to-Order
Because it is Made-to-Order, this product is produced in a manner that ensures a sustainable approach by doing away with the requirement for surplus inventory. We are glad to provide a Custom Made option, which enables you to personalize all sizing and design aspects for an additional cost that is just 25% higher than the standard price.
CARE
SHIPPING, EXCHANGES AND RETURNS
Title
Shirt: Wash at 30 degrees celsius (86 degree Fahrenheit). No Tumble Dryer
Jacket: Dry Clean Only
Shipping
Shipping is FREE when 2 shirts (or more) or just 1 Jacket is selected. So anything above EUR 500 value involves free shipping. We use Fedex/DHL/DPD based on the location you are based. 
Refunds and Exchanges
100Hands accept refund or exchange of goods within 14 days of the receipt of the order. Shipping costs are non-refundable. 
Made to Order / Custom: We want to ensue we provide the best service so in case you are not happy with the fit of the product, we would be happy to provide free alteration or remake the whole product at our cost.
Add extra product information, such as size guides or technical data.