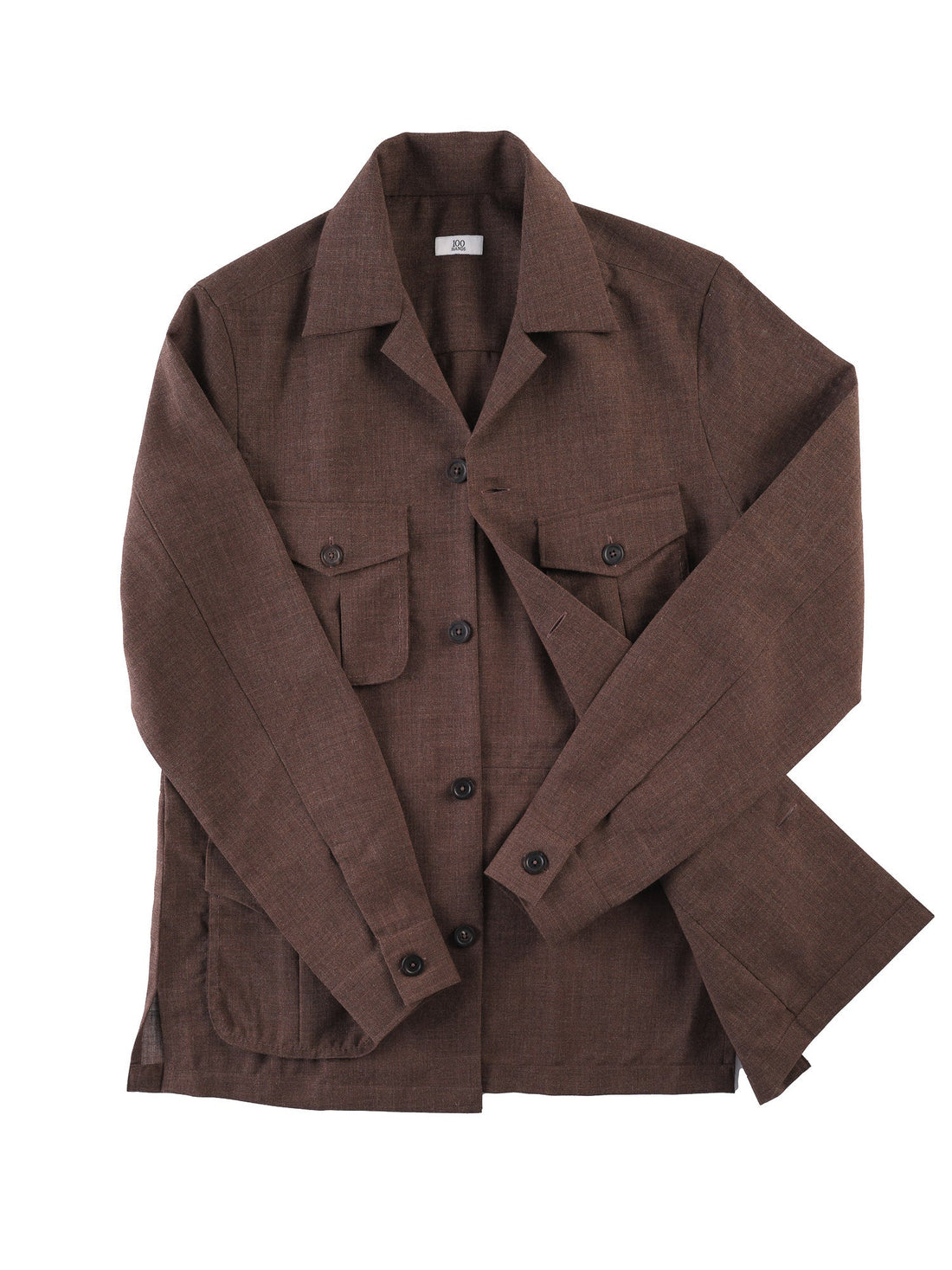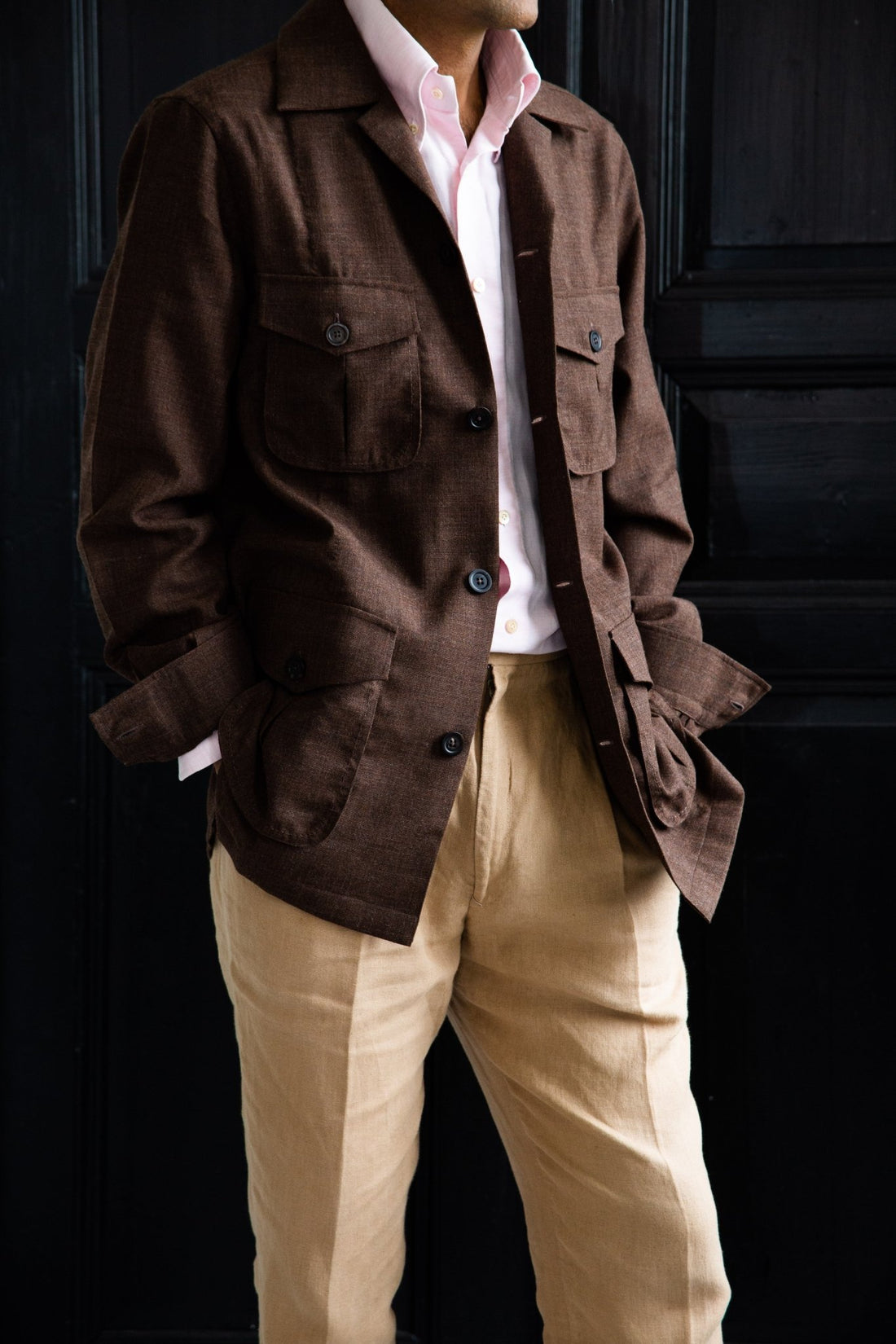 Model 101 Jacket in Fox Brothers Summer Wool
Presenting The Fox Brothers Summer Wool Jacket in Timeless Brown
Brown is the hue we can't get enough of. After the huge popularity of our signature brown color in the Loro Piana Cashmere-Wool jacket, we've given much thought to introducing a similar color in a Summer Wool version. As of right now, there is no longer any need to hold your breath.

Welcome to one of our most beloved models, the Fox Brothers Summer Wool Jacket in a rich brown shade.

Fabric Excellence
This jacket was made with fabric from the famous English mill Fox Brothers. This high-quality cloth is made using an open weave construction and a substantial amount of twist. This provides the wearer of high breathability even in extreme heat, as well as a wrinkle-free appearance.

Even though it's called a "Summer Wool jacket," the 100% wool it's made from will keep you warm even when the mercury drops. You may get nine months of wear out of one piece of clothing, with the caveat that you might need to layer up for the colder months.

Comfort and Style
This jacket's design is a stunning example of how the sophistication of a traditional jacket, the coziness and comfort of a cashmere sweater, and the functionality of an M65 can be harmoniously combined. Because of this, it may be worn to both formal and casual events, making it a versatile piece of clothing.
Exquisite Workmanship
Each of these wool jackets is the result of over 40 hours of meticulous handcrafting. Our dedication to delivering the finest finishing and quality is evident in the exquisite details:
The jacket is so well-fitted that it may be worn by people of different sizes.

Each jacket has a hand-turned and sewed front.

The sleeves are affixed and stitched on by hand.

The pockets are embroidered by hand as well.

Hand sewing is used on all body sides.

The jacket is unlined and unconstructed throughout for your convenience.

For added storage, it has four bellow-style inverted pockets, and the interior has a hidden compartment for valuables.
Fabric
Fox Brothers, England 100% Summer Wool, weighing a comfortable 340 grams.
Size Availability:
EU44 | US/UK 34
EU46 | US/UK 36
EU48 | US/UK 38
EU50 | US/UK 40
EU52 | US/UK 42
EU54 | US/UK 44
EU56 | US/UK 46
EU58 | US/UK 48
Made to Order
In keeping with our dedication to environmental sustainability, this jacket is offered on a made-to-order basis. For a modest 25% upcharge, we can provide a custom-made service for individuals who want even more specific dimensions.
CARE
SHIPPING, EXCHANGES AND RETURNS
Title
Shirt: Wash at 30 degrees celsius (86 degree Fahrenheit). No Tumble Dryer
Jacket: Dry Clean Only
Shipping
Shipping is FREE when 2 shirts (or more) or just 1 Jacket is selected. So anything above EUR 500 value involves free shipping. We use Fedex/DHL/DPD based on the location you are based. 
Refunds and Exchanges
100Hands accept refund or exchange of goods within 14 days of the receipt of the order. Shipping costs are non-refundable. 
Made to Order / Custom: We want to ensue we provide the best service so in case you are not happy with the fit of the product, we would be happy to provide free alteration or remake the whole product at our cost.
Add extra product information, such as size guides or technical data.