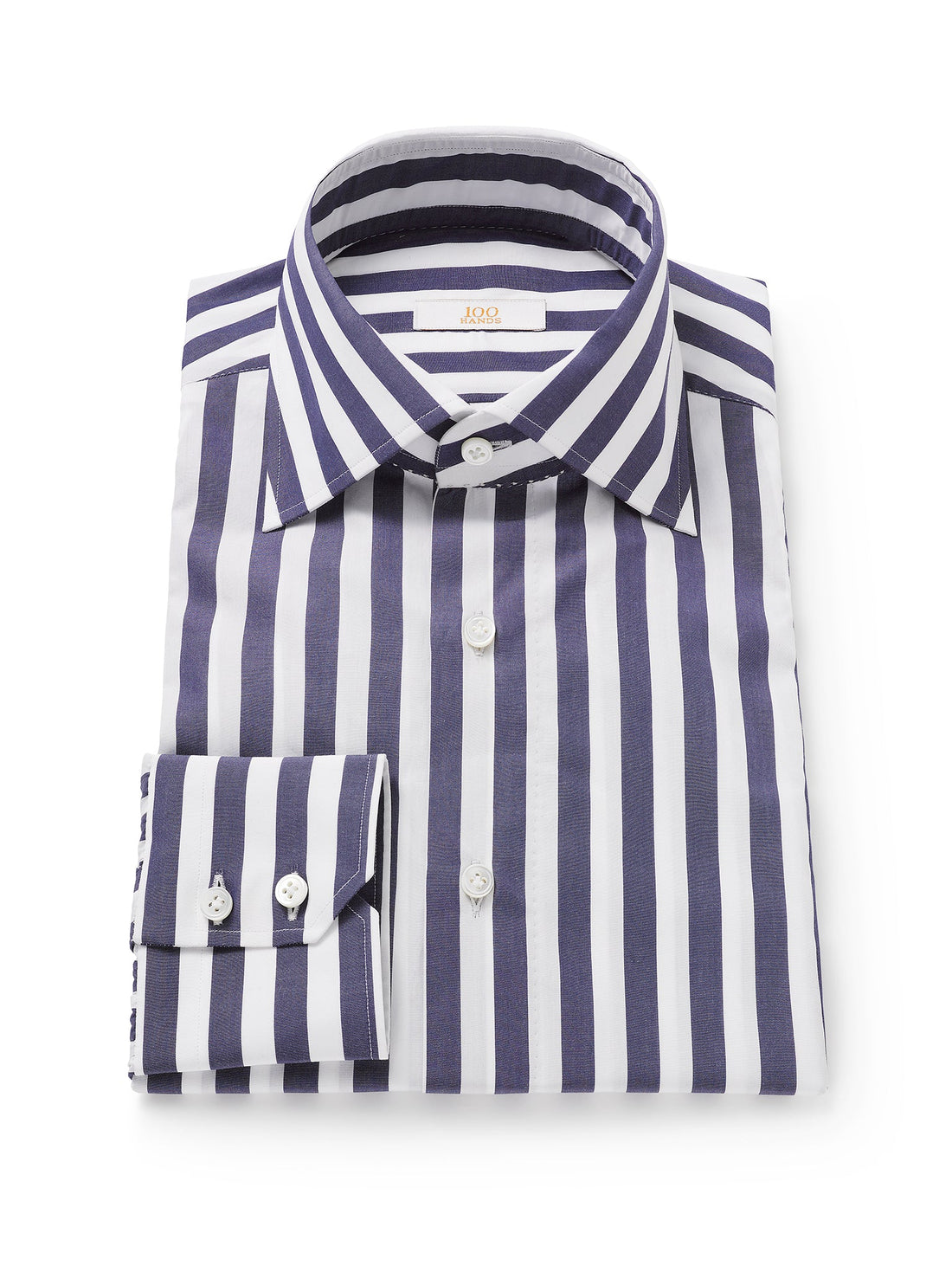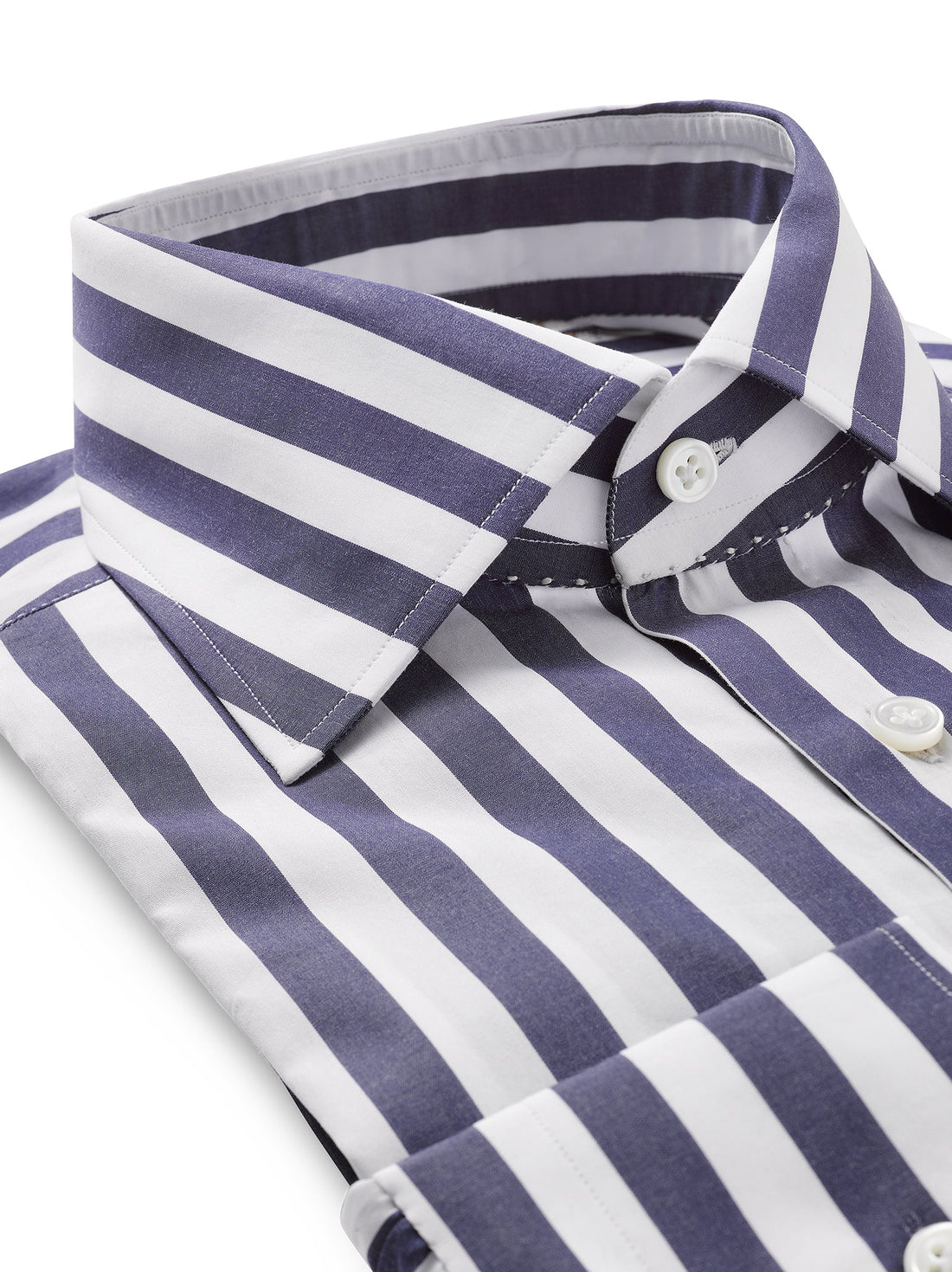 Wide Navy Stripe Supima Poplin Gold Line
Those that are bold, outgoing, and not afraid to make a proclamation will feel at home here. Navy striped shirts go well with a wide variety of suits and coats, but the bold breadth of these stripes adds a touch of bravado. The audacity, however, is not only skin deep; it is also in the message it makes.
Having a distinct personality and confidently displaying it is key. Feel free to get in touch if you ever have any questions about the piece's adaptability; we've worn it in many different ways over the years and would be happy to share our thoughts.

Style
A meticulously tailored shirt, it comes with a Classic Cut Away Collar, further complemented by a Single Rounded Cuff. This ensures the shirt retains its versatility, making it apt for both formal gatherings and casual outings.
Workmanship
Our Gold Line is a testimony to our commitment to quality and craftsmanship, boasting an impressive 34 hours of dedicated handwork.
Starting with our special house cut, ensuring a perfect fit every time.
The journey of creation initiates with a hand-drawn pattern that is then hand-cut, ensuring precision.
The buttonholes aren't just functional, they are hand embroidered, reflecting a touch of finesse.
The bottom hems are hand-rolled, ensuring durability while enhancing aesthetics.
Side seams are painstakingly hand sewn, reinforcing structure and longevity.
The sleeve placket receives intricate hand sewing, ensuring every detail is perfect.
As with all our pieces, both fronts are hand sewn, reinforcing our commitment to tradition.
Sleeves are first sewn and then meticulously attached by hand.
Both the inside and outside of the collar experience the touch of our artisans with hand sewing.
And the list of our craftsmanship doesn't end here. To delve deeper into what makes our shirts unique, do not hesitate to get in touch.
Exclusive Fabric
This cotton shirt is birthed from the luxurious 140/2 Poplin 100% Supima Cotton. Renowned for its purity, Supima (or Pima Cotton) is known for an exceptionally low level of contamination, ensuring you wear nothing but the best.
Sizes:
EU37 | 14.5 UK/US
EU38 | 15.0 UK/US
EU39 | 15.5 UK/US
EU40 | 15.75 UK/US
EU41 | 16.0 UK/US
EU42 | 16.5 UK/US
EU43 | 17 UK/US
EU44 | 17.5 UK/US
EU45 | 18.0 UK/US
EU46 | 18.25 UK/US
EU47 | 18.5 UK/US
Made to Order
The Wide Navy Stripe Supima Poplin Gold Line Shirt is a custom-made option in keeping with our commitment to environmental responsibility. This not only reduces garbage, but also promotes thrifty habits. We also provide a tailoring service for those who have a keen eye for fashion yet want to add their own unique touch.
For an extra 25%, you can get sizing and design tweaks according to your specifications. Not simply a transaction, but an opportunity to collaborate on the creation of something uniquely crafted for you.
CARE
SHIPPING, EXCHANGES AND RETURNS
Title
Shirt: Wash at 30 degrees celsius (86 degree Fahrenheit). No Tumble Dryer
Jacket: Dry Clean Only
Shipping
Shipping is FREE when 2 shirts (or more) or just 1 Jacket is selected. So anything above EUR 500 value involves free shipping. We use Fedex/DHL/DPD based on the location you are based. 
Refunds and Exchanges
100Hands accept refund or exchange of goods within 14 days of the receipt of the order. Shipping costs are non-refundable. 
Made to Order / Custom: We want to ensue we provide the best service so in case you are not happy with the fit of the product, we would be happy to provide free alteration or remake the whole product at our cost.
Add extra product information, such as size guides or technical data.