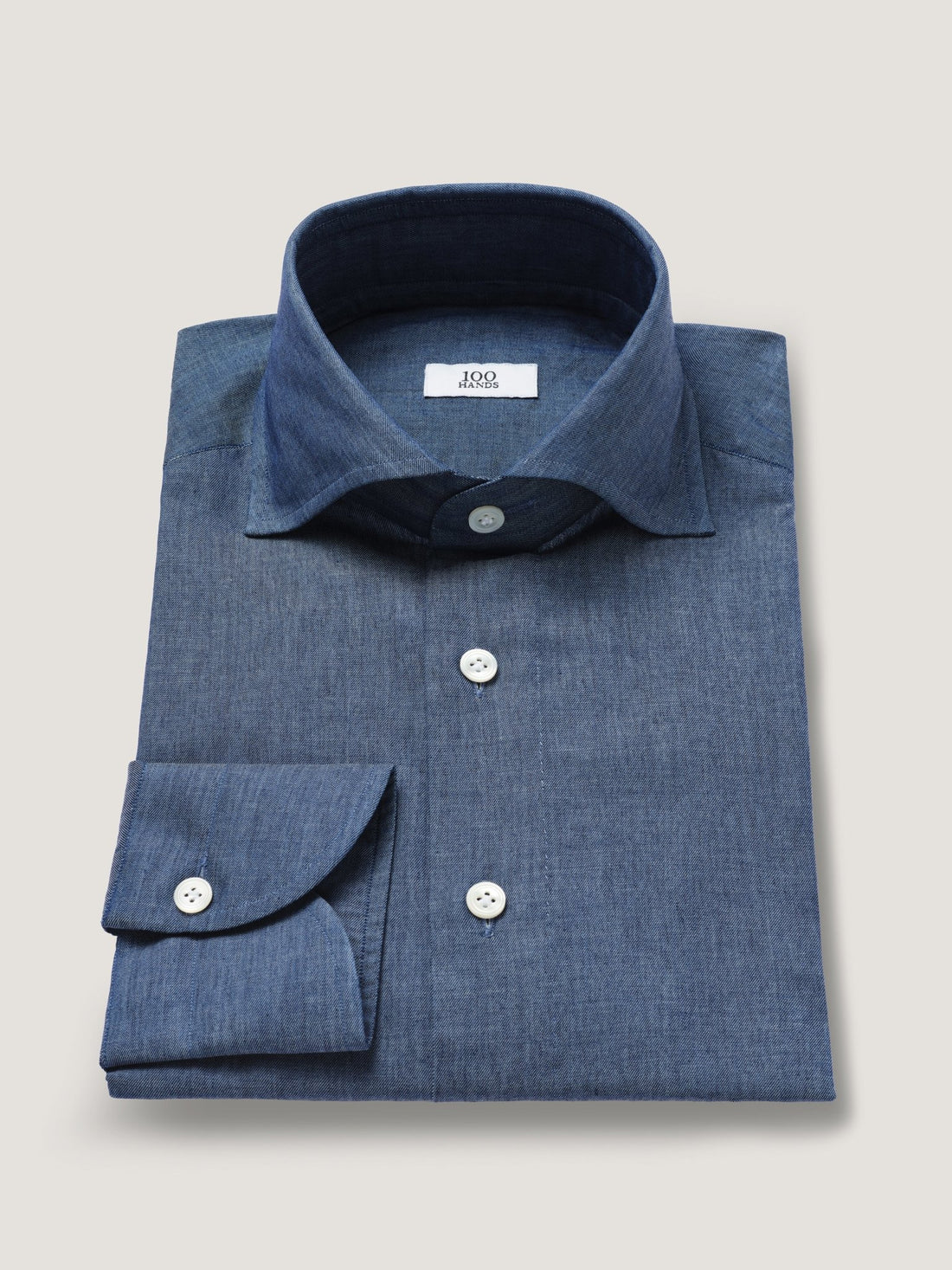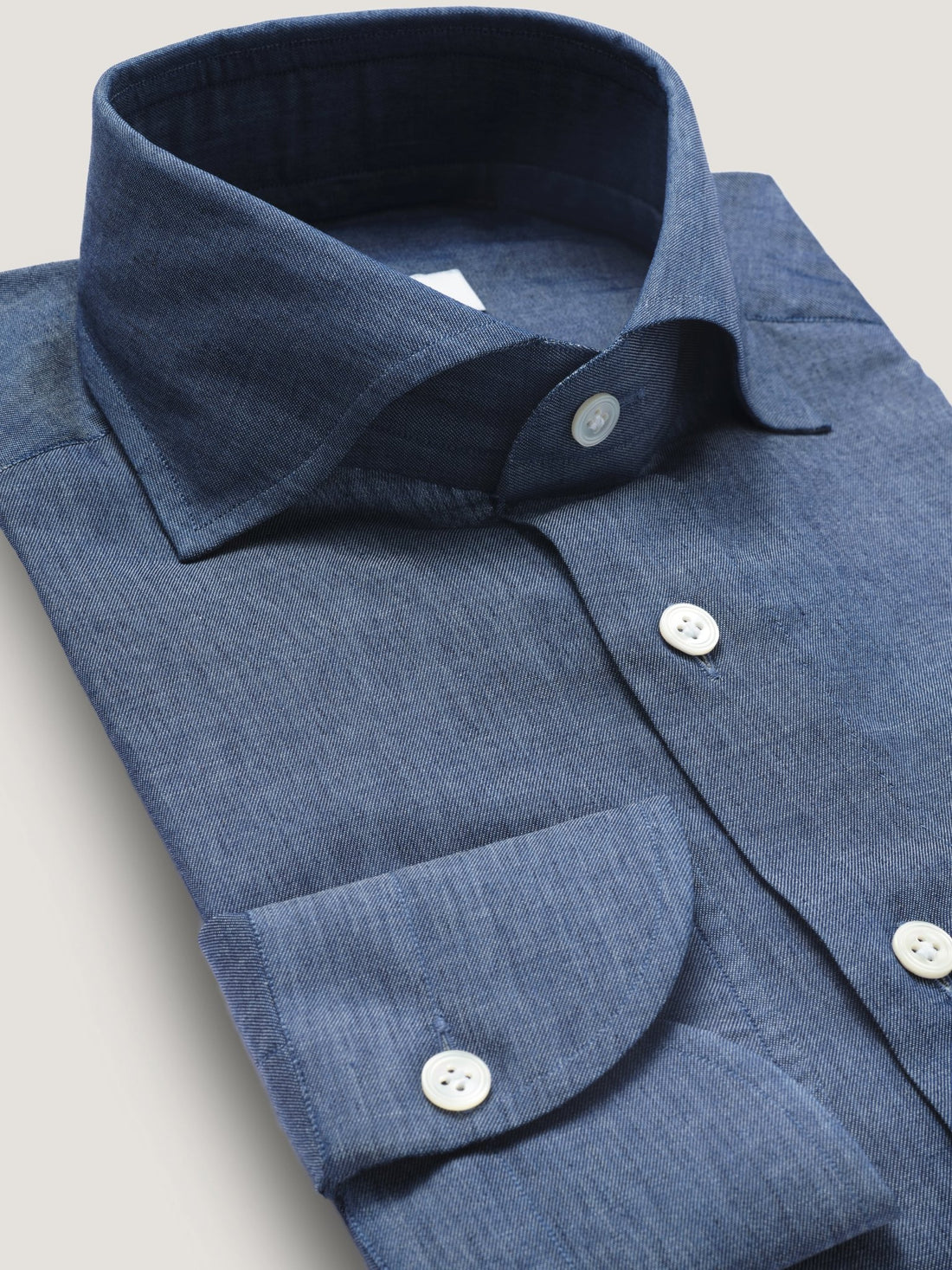 Royale Blue Luxury Shirt in Superfine fabric
Overview
Our Royale Blue Luxury Shirt is a shining example of fine workmanship and fashionable taste. This luxury shirt is the height of refined elegance and unrivaled comfort and is slightly lighter thanks to its high count 170/2 fabric construction. This eye-catching item works well with both jacket- and jacket-free outfits.

Distinctive Features
For the discriminating gentleman looking for ultra-premium quality, the Royale Blue Luxury Shirt is the best choice. The fabric is made by the renowned Italian fabric maker Carlo Riva on a vintage shuttle loom, guaranteeing its high-end prestige and superior quality.

Style & Workmanship
Medium Cut Away Collar
The collar of the shirt is a Medium Cut Away Collar, one of the most aesthetically pleasing collar designs that goes with many different outfits.

Black Line Workmanship
This piece represents our Black Line of craftsmanship, featuring approximately 16 hours of dedicated handwork:
The shirt will fit you like a glove thanks to our exclusive house cut.

Each shirt is made to order by beginning with a hand-drawn pattern and ending with a precise hand cut.

Our dedication to artisanal excellence is shown in the fact that we hand-sew the front, sleeves, and collar.

Extra reinforcement is provided by a hand-sewn gusset, guaranteeing extended durability.
Exclusive Fabric
100% Luxury Cotton
Our Royale Blue Luxury Shirt is made from 100% Luxury Cotton, making it extremely soft, comfy, and breathable.

Sizing Options
This Luxury Cotton Shirt is available in the following sizes:
European Sizing (EU)
EU 37
EU 38
EU 39
EU 40
EU 41
EU 42
EU 43
EU 44
EU 45
EU 46
EU 47
United Kingdom / United States Sizing (UK/US)
UK/US 14.5
UK/US 15.0
UK/US 15.5
UK/US 15.75
UK/US 16.0
UK/US 16.5
UK/US 17.0
UK/US 17.5
UK/US 18.0
UK/US 18.25
UK/US 18.5
We recommend choosing the larger size if you are between sizes to ensure the most comfortable fit.
This shirt is crafted on a Made-to-Order basis, a process that underscores our commitment to sustainability by avoiding the accumulation of excess inventory. For those who seek an extra level of personalization, we offer a Custom Made option. This allows modifications to all sizes and design details for a nominal surcharge of just 25%, ensuring your shirt perfectly matches your unique style.
CARE
SHIPPING, EXCHANGES AND RETURNS
Title
Shirt: Wash at 30 degrees celsius (86 degree Fahrenheit). No Tumble Dryer
Jacket: Dry Clean Only
Shipping
Shipping is FREE when 2 shirts (or more) or just 1 Jacket is selected. So anything above EUR 500 value involves free shipping. We use Fedex/DHL/DPD based on the location you are based. 
Refunds and Exchanges
100Hands accept refund or exchange of goods within 14 days of the receipt of the order. Shipping costs are non-refundable. 
Made to Order / Custom: We want to ensue we provide the best service so in case you are not happy with the fit of the product, we would be happy to provide free alteration or remake the whole product at our cost.
Add extra product information, such as size guides or technical data.