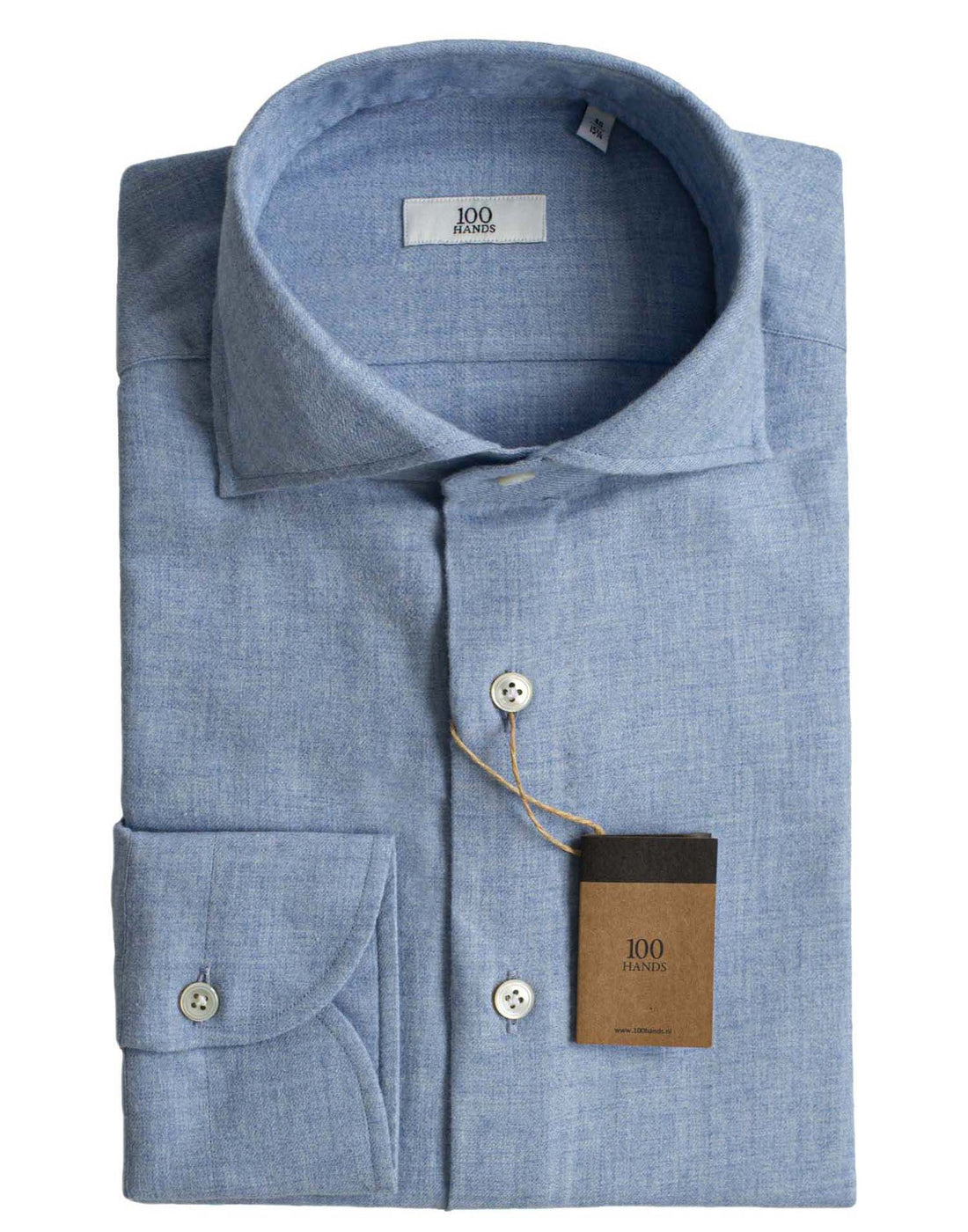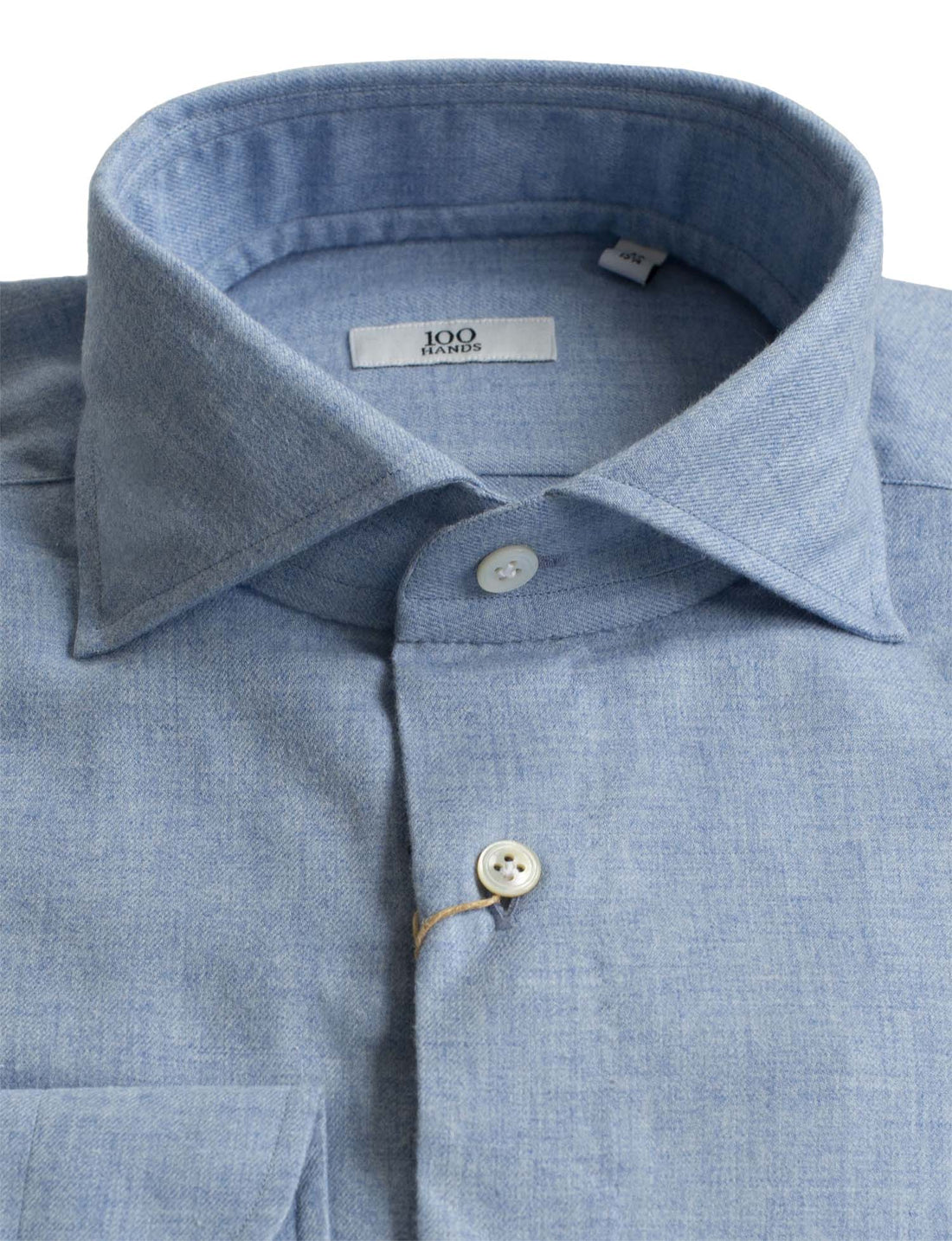 Luxury Cashmere Cotton Shirt
Dispatch: 2-3 working days
Overview
With our Luxury Cashmere Cotton Shirt, you'll enjoy unmatched comfort and enduring elegance. This cashmere shirt, made from a distinctive cashmere-cotton blend, retains its luxurious, beautiful texture even after thirty washes. It is the ideal complement to our Traveler Jackets, creating a sophisticated and comfortable ensemble.

Style & Workmanship
Softer Medium Cut-Away Collar
This shirt has a softer medium cut-away collar, a timeless design that emanates a contemporary, casual elegance. It is versatile and can be worn with a variety of tie knots or without a tie for a more casual appearance.

Black Line Workmanship
Our Black Line Workmanship, involving approximately 16 hours of handwork, is a testament to our commitment to quality and craftsmanship.
Each shirt is handmade from our house pattern and cut by hand.

The shirt's fronts are hand-sewn, enhancing its durability and aesthetic appeal.

The sleeves are sewn and attached by hand.

Both the inside and outside of the collar are stitched by hand.

The gussets are hand-stitched, providing additional reinforcement and durability.
Exclusive Fabric
Light Blue 15% Cashmere - 85% Cotton
This shirt is crafted from an exclusive light blue fabric blend of 15% cashmere and 85% cotton. The addition of cashmere lends a luxurious softness to the shirt, while the cotton ensures durability and breathability. This unique blend ensures the shirt remains beautiful and rich, even after multiple washes.
Sizing Options
This handmade cashmere shirt is available in the following sizes:
European Sizing (EU)
EU 38
EU 39
EU 40
EU 41
EU 42
EU 43
EU 44
EU 45
EU 46
EU 47
United Kingdom / United States Sizing (UK/US)
UK/US 15
UK/US 15.5
UK/US 15.75
UK/US 16.0
UK/US 16.5
UK/US 17.0
UK/US 17.5
UK/US 18.0
UK/US 18.25
UK/US 18.5
If you are between sizes, we suggest that you order the larger size for the best fit.
Made-to-Order
This shirt is made-to-order, minimizing unnecessary inventory and demonstrating our dedication to sustainability. Custom Made is available for individuals that want further customization. This permits all sizes and design elements to be modified for a 25% premium, ensuring your shirt reflects your distinctive style. 
CARE
SHIPPING, EXCHANGES AND RETURNS
Title
Shirt: Wash at 30 degrees celsius (86 degree Fahrenheit). No Tumble Dryer
Jacket: Dry Clean Only
Shipping
Shipping is FREE when 2 shirts (or more) or just 1 Jacket is selected. So anything above EUR 500 value involves free shipping. We use Fedex/DHL/DPD based on the location you are based. 
Refunds and Exchanges
100Hands accept refund or exchange of goods within 14 days of the receipt of the order. Shipping costs are non-refundable. 
Made to Order / Custom: We want to ensue we provide the best service so in case you are not happy with the fit of the product, we would be happy to provide free alteration or remake the whole product at our cost.
Add extra product information, such as size guides or technical data.