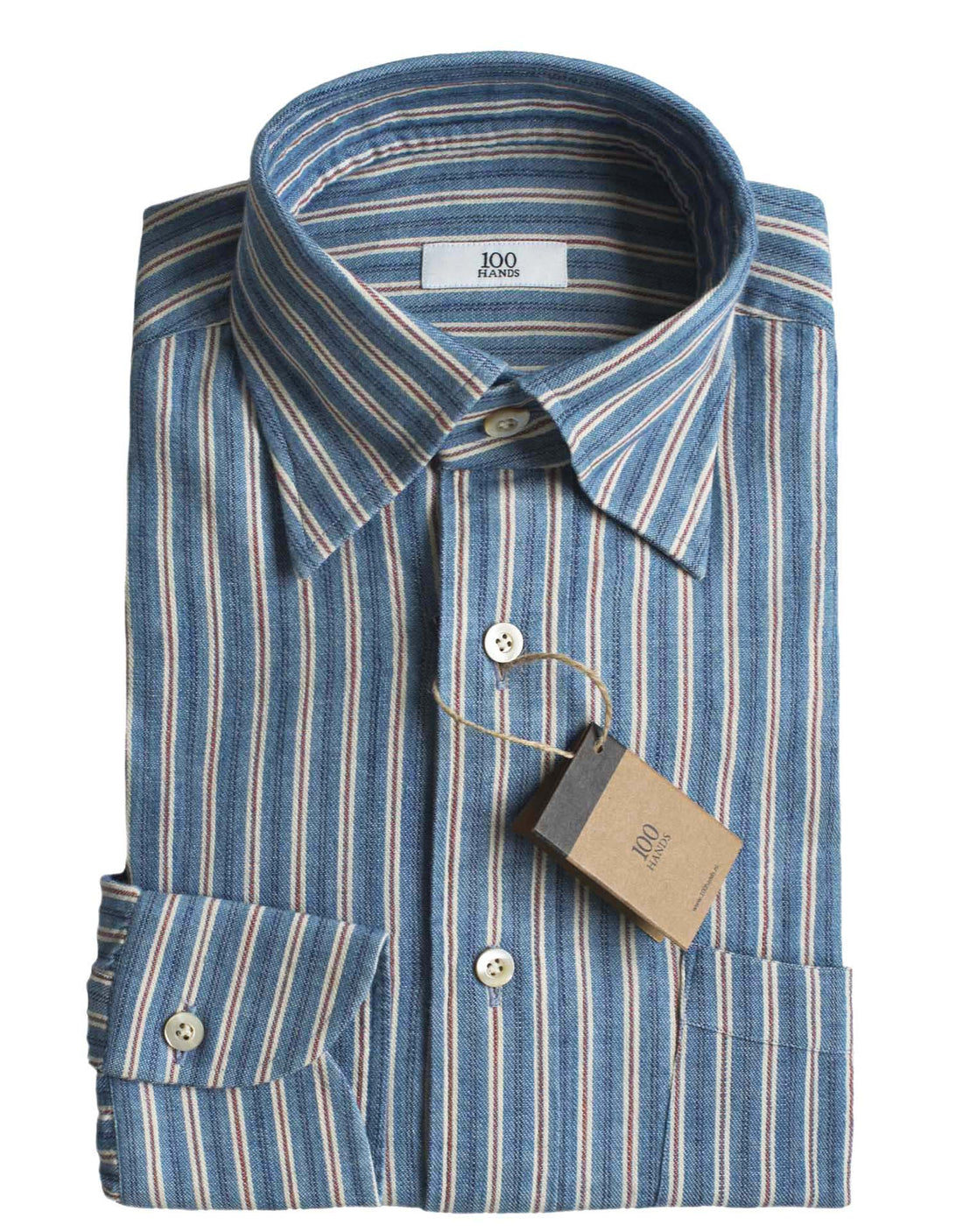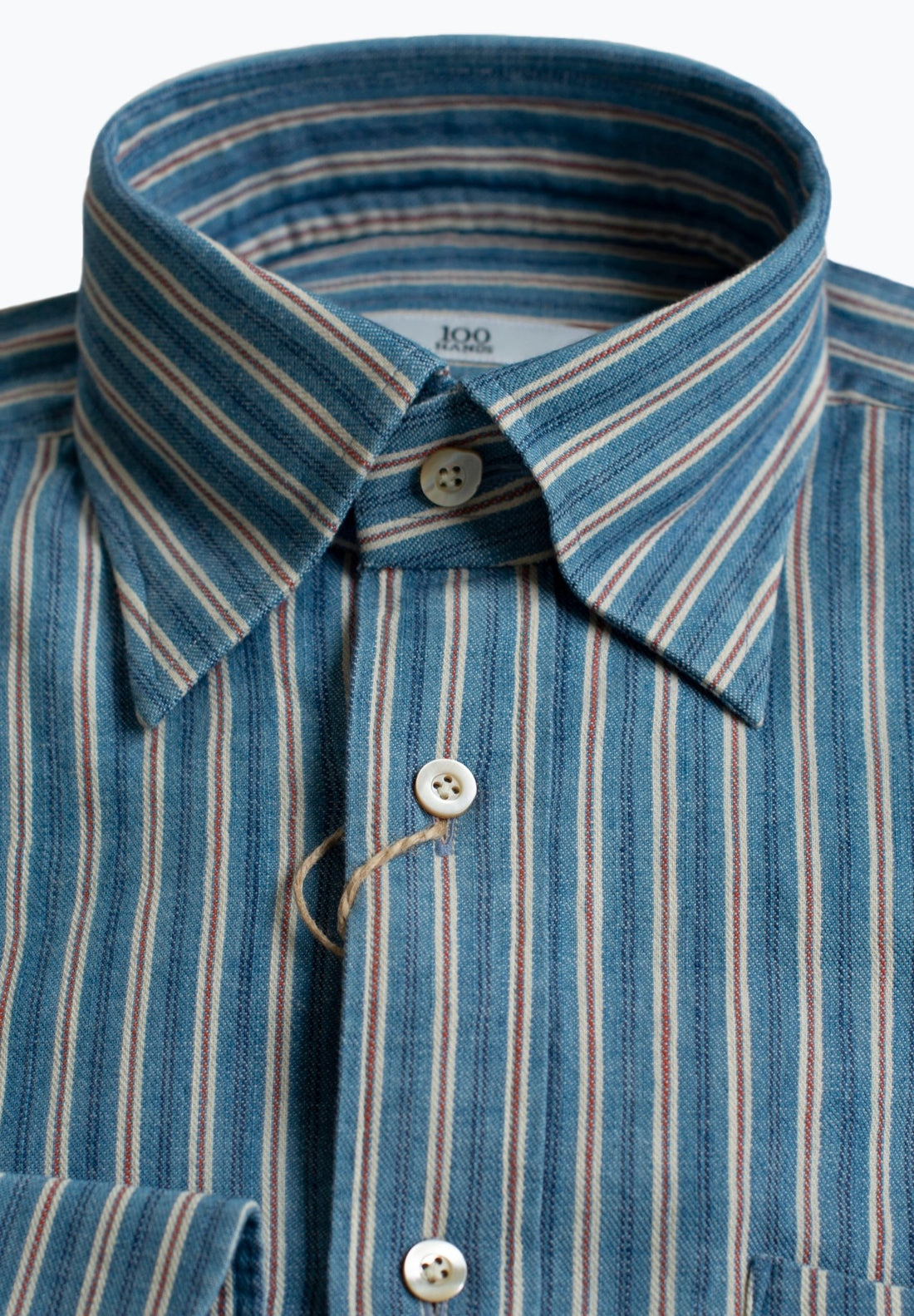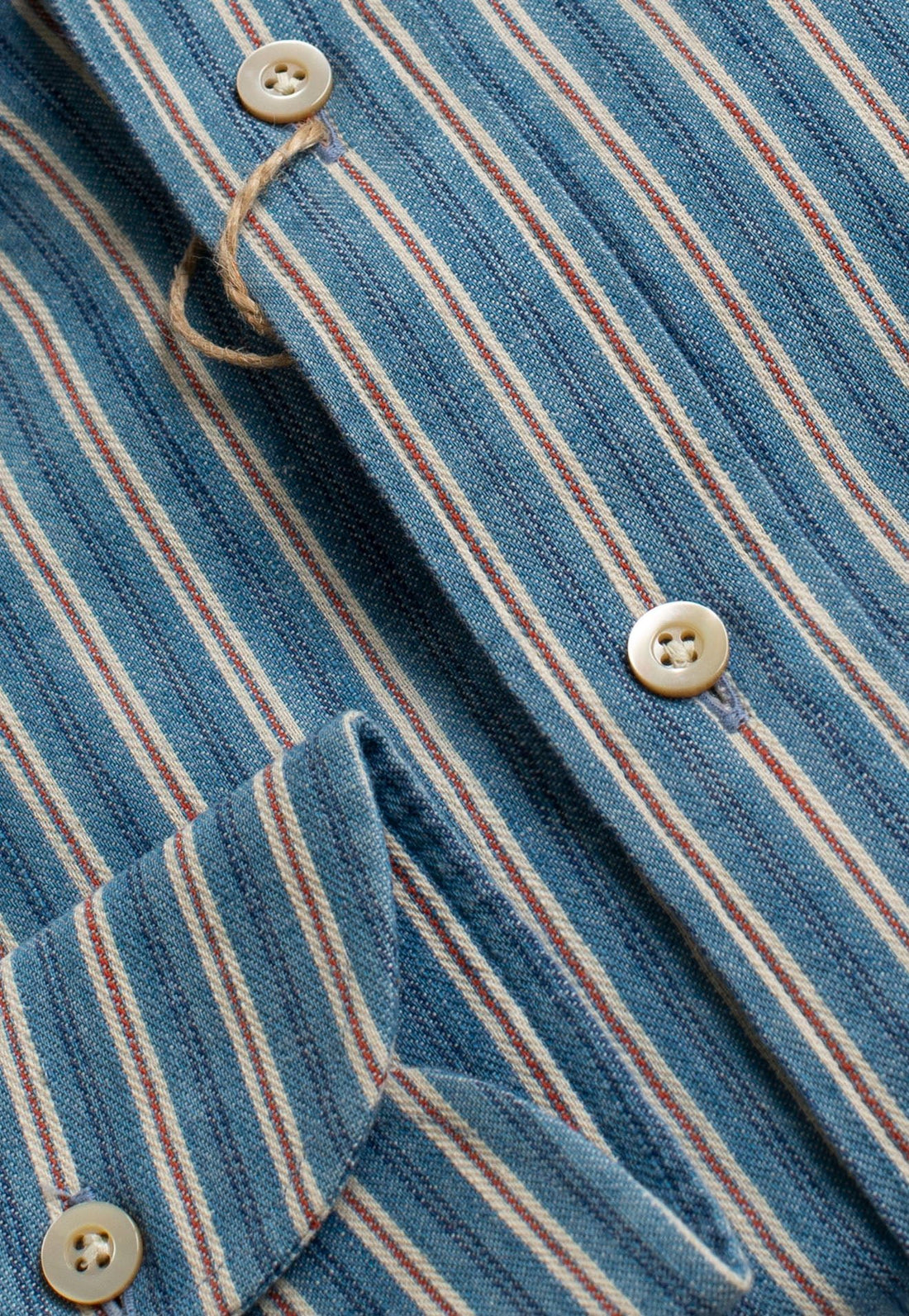 Japanese Red Striped Denim Shirt
Overview
Our Japanese Red Striped Denim Shirt is a contemporary twist on a timeless classic. The soft red stripe makes this striped shirt stand above the crowd, and its popularity in recent months has positively surprised us.

Distinctive Features
This shirt is perfect for individuals who are looking for a casually distinctive option, as it combines contemporary style with a sense of retro flair. Made without a pocket so as to keep the design as simple and uncluttered as possible.

Style & Workmanship
Hidden Button-Down Collar
The shirt has a hidden button-down collar that adds a touch of class to an otherwise relaxed look.

Black Line Workmanship
Our Black Line craftsmanship is prominently featured in this shirt, demonstrating our commitment to quality with approximately 16 hours of intricate handwork:
We employ our signature house cut to provide the best possible fit.

Each shirt is made to order from a design that is sketched by hand and then cut out by hand.

The front, sleeves, and collar are all hand-sewn, as are the linings, demonstrating our commitment to quality.

Shirts with a hand-sewn gusset are more likely to last longer than those without one.
Exclusive Fabric
Japanese Indigo, 100% Cotton
Japanese Indigo, a 100% cotton fabric known for its quality and comfort, is used to make this shirt. The bold red stripe gives this everyday garment a distinctive look.

Sizing Options
This 100% cotton shirt is available in the following sizes:
European Sizing (EU)
EU 38
EU 39
EU 40
EU 41
EU 42
EU 43
EU 44
EU 45
United Kingdom / United States Sizing (UK/US)
UK/US 15.0
UK/US 15.5
UK/US 15.75
UK/US 16.0
UK/US 16.5
UK/US 17.0
UK/US 17.5
UK/US 18.0
In case you are between sizes, you should opt for the larger one to ensure the fit is relaxed and comfortable.
Our dedication to sustainability is reflected in the fact that this shirt is Made-to-Order rather than kept in stock. We have a Custom Made option for individuals that want something truly unique. With this option, you can have your shirt tailored to your exact specifications for an additional 25% fee. 
CARE
SHIPPING, EXCHANGES AND RETURNS
Title
Shirt: Wash at 30 degrees celsius (86 degree Fahrenheit). No Tumble Dryer
Jacket: Dry Clean Only
Shipping
Shipping is FREE when 2 shirts (or more) or just 1 Jacket is selected. So anything above EUR 500 value involves free shipping. We use Fedex/DHL/DPD based on the location you are based. 
Refunds and Exchanges
100Hands accept refund or exchange of goods within 14 days of the receipt of the order. Shipping costs are non-refundable. 
Made to Order / Custom: We want to ensue we provide the best service so in case you are not happy with the fit of the product, we would be happy to provide free alteration or remake the whole product at our cost.
Add extra product information, such as size guides or technical data.