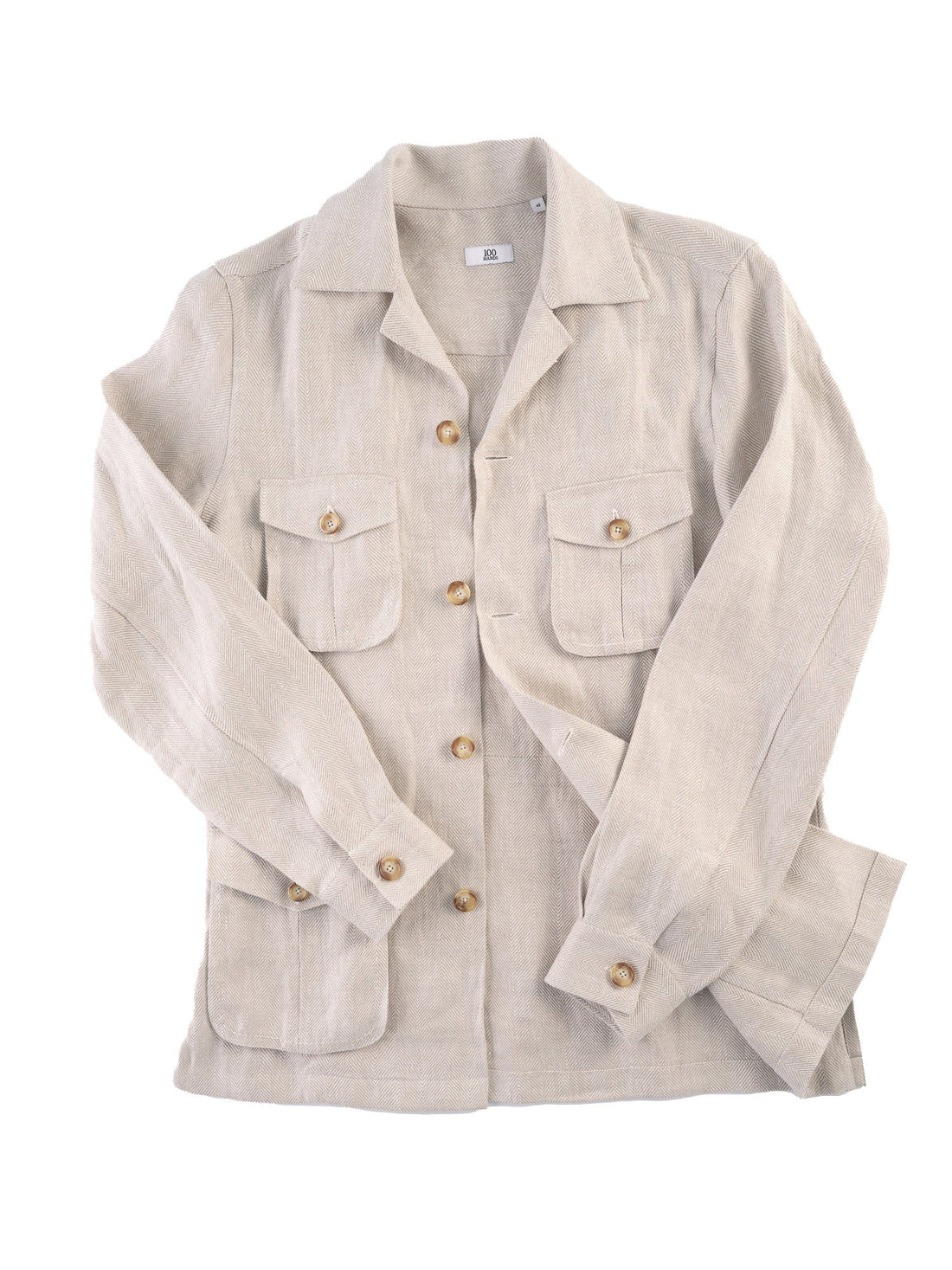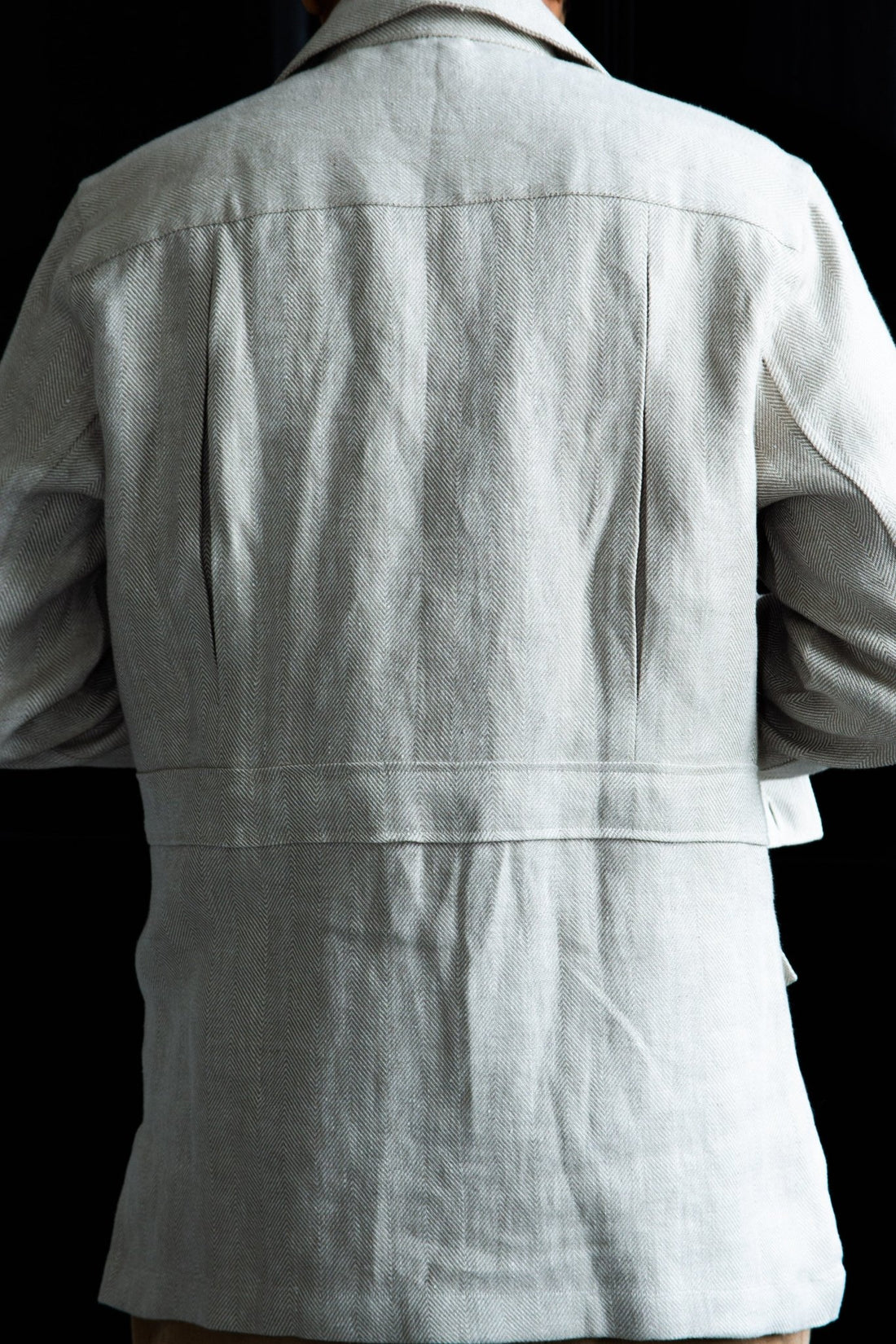 Ivory Wide Herringbone Irish Linen Jacket
0
Ireland's Best for 2022's Bestseller
This exceptional Summer Jacket has been recognized as our best seller for 2022. It is the epitome of class and ease. It is exquisitely made, with a one-of-a-kind coloration and exquisite details like inverted pleats and a belt. This item is part of our best-selling Model 101 series and successfully combines fashionable design with practical functionality.
Seamlessly Adaptable

Carry yourself with the same air of confidence in both formal and casual settings. This jacket is the sartorial holy grail because it combines the refined sophistication of a tailored blazer with the comfortable allure of a cashmere sweater and the rugged cool of an M65 jacket.
Artisanal Craftsmanship
Over 40 hours of painstaking handiwork went into this item, making it the pinnacle of exceptional craftsmanship with its careful finishing and top-tier quality. We are very proud of the following handcrafted features:
Versatile fit catering to two sizes with the same jacket
Painstakingly hand-turned and hand-sewn jacket fronts
Sleeves hand-attached and hand-stitched
Exquisite hand-embroidered pockets
Hand-sewn along all body sides
Optimum comfort provided by a fully unlined and unconstructed silhouette
Four ample inverted bellow pockets for added utility
Single internal pocket for secure storage of essentials
The Fabric: The Softness of Ireland
This linen jacket is made of 100% Irish linen, which is sourced from the beautiful fields of Ireland and is known for its durability. This jacket is made soft and inviting by the garment washing process at our 100Hands atelier, deftly contradicting the common perception of Irish linen as being a little rough around the edges.

Sizing Options:
EU44 | US/UK 34
EU46 | US/UK 36
EU48 | US/UK 38
EU50 | US/UK 40
EU52 | US/UK 42
EU54 | US/UK 44
EU56 | US/UK 46
EU58 | US/UK 48
Made-to-Order
We emphasize conscious production and environmental sustainability, and hence, this jacket is available for crafting on a made-to-order basis. For those desiring a personal touch, our custom-made service allows you to alter all sizes and design details, for a nominal surcharge of 25%.
CARE
SHIPPING, EXCHANGES AND RETURNS
Title
Shirt: Wash at 30 degrees celsius (86 degree Fahrenheit). No Tumble Dryer
Jacket: Dry Clean Only
Shipping
Shipping is FREE when 2 shirts (or more) or just 1 Jacket is selected. So anything above EUR 500 value involves free shipping. We use Fedex/DHL/DPD based on the location you are based. 
Refunds and Exchanges
100Hands accept refund or exchange of goods within 14 days of the receipt of the order. Shipping costs are non-refundable. 
Made to Order / Custom: We want to ensue we provide the best service so in case you are not happy with the fit of the product, we would be happy to provide free alteration or remake the whole product at our cost.
Add extra product information, such as size guides or technical data.