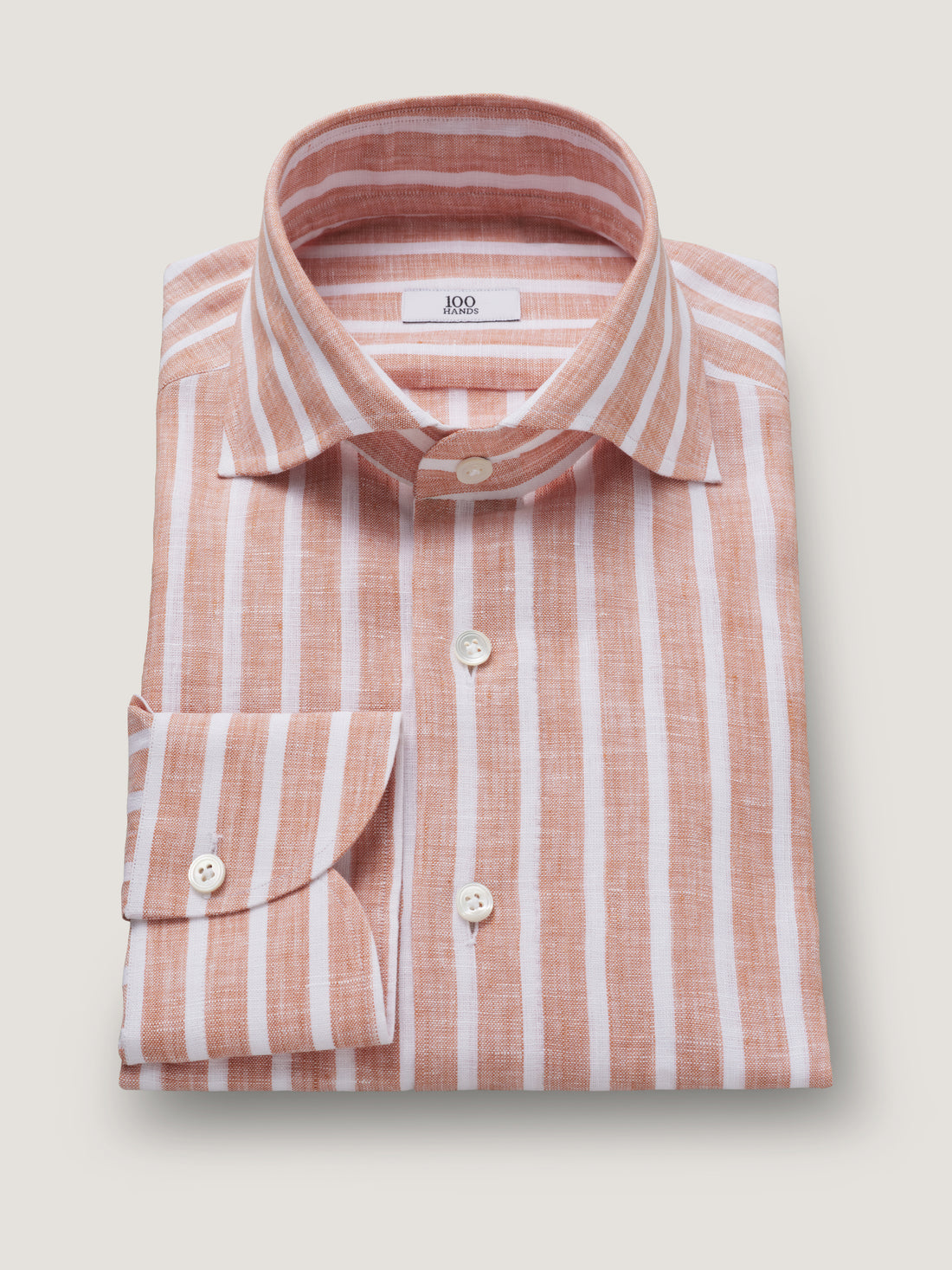 Terracota Brown Wide Stripe Irish Linen Shirt
Overview
Personally, we love this soft earthy Terracota color in linen as it provides a beautiful texture to the shirt. The shirt is perfect to wear on the warm days or on holidays as its super breathable and the pattern is very chic.
The three colors introduced in this wide striped linen shirt are: 
1) Beige Linen
2) Terracota Linen
Style & Workmanship
We kept the style very neutral by using our most sold collar - medium cut away collar for it so it can be worn in any format.
Black Line Workmanship

Our Black Line Workmanship takes approximately 16 to 18 hours of work per shirt. It has quite a lot of handmade features, including:
Each pattern is hand drawn to ensure best fit
Both side of the Front are Hand sewn which is part of our brand DNA
Collar is attached by Hand
Sleeves are set by hand as well to provide additional comfort and movement
More Handwork Details Available:

For a full list of our handwork details, feel free to contact us.



Exclusive Fabric
100% Irish Linen
The linen flax is from France and its woven in Ireland in a very old school manner. Thereafter its garment washed to give a more softer hand feel. 
Sizing Options
This linen shirt is available in the following sizes:

European Sizing 
EU 37
EU 38
EU 39
EU 40
EU 41
EU 42
EU 43
EU 44
EU 45
United Kingdom / United States Sizing
UK/US 14.5
UK/US 15.0
UK/US 15.5
UK/US 15.75
UK/US 16.0
UK/US 16.5
UK/US 17
UK/US 17.5
UK/US 18.0
If you are doubtful, for linens, its always best to take one size larger for the best fit.
Made-to-Order
We avoid unnecessary inventory by making this shirt Made-to-Order (made on request but in standard size). We offer Custom Size for a 25% surcharge, where you can change all the measurements.
CARE
SHIPPING, EXCHANGES AND RETURNS
Title
Shirt: Wash at 30 degrees celsius (86 degree Fahrenheit). No Tumble Dryer
Jacket: Dry Clean Only
Shipping
Shipping is FREE when 2 shirts (or more) or just 1 Jacket is selected. So anything above EUR 500 value involves free shipping. We use Fedex/DHL/DPD based on the location you are based. 
Refunds and Exchanges
100Hands accept refund or exchange of goods within 14 days of the receipt of the order. Shipping costs are non-refundable. 
Made to Order / Custom: We want to ensue we provide the best service so in case you are not happy with the fit of the product, we would be happy to provide free alteration or remake the whole product at our cost.
Add extra product information, such as size guides or technical data.