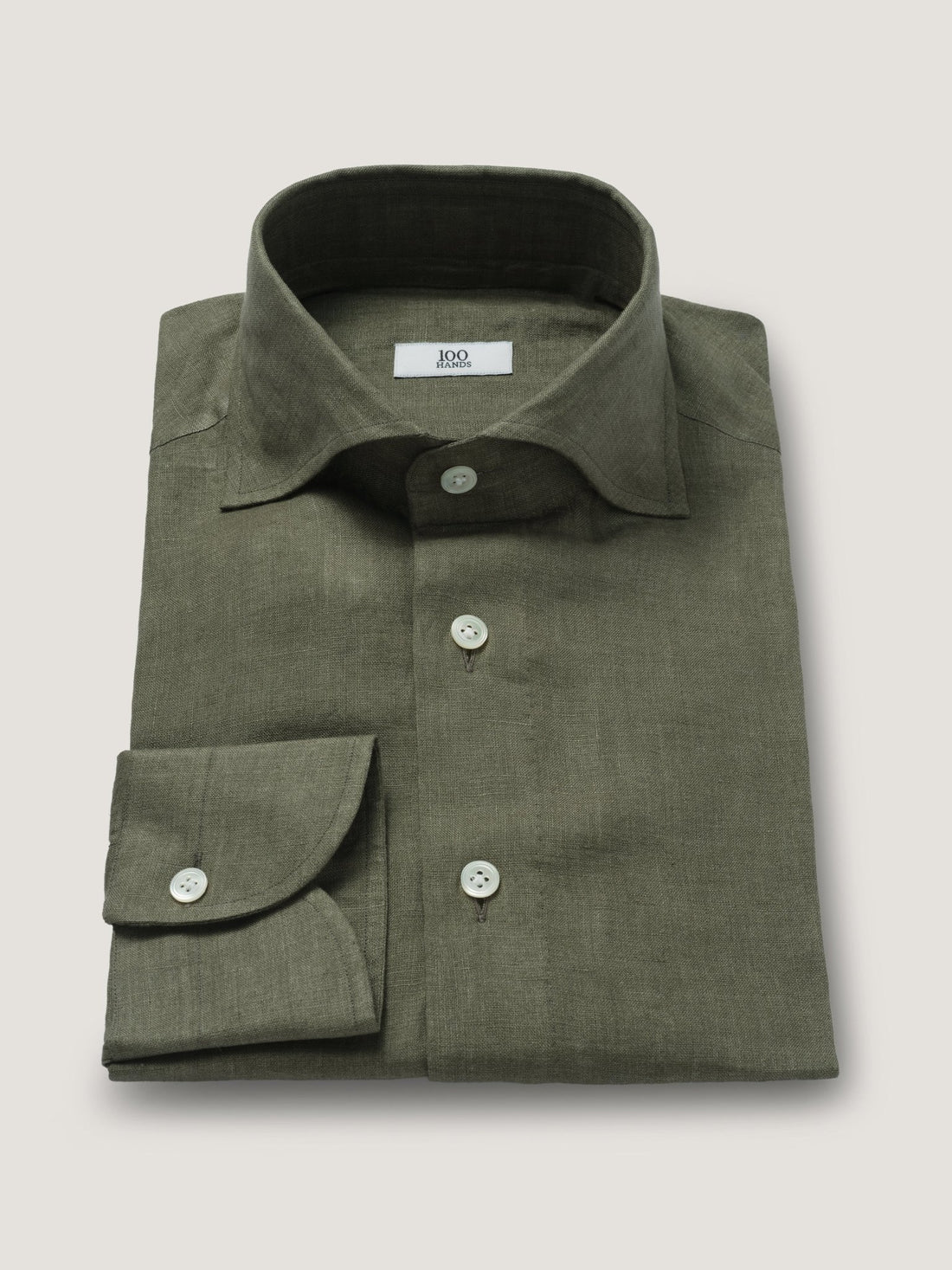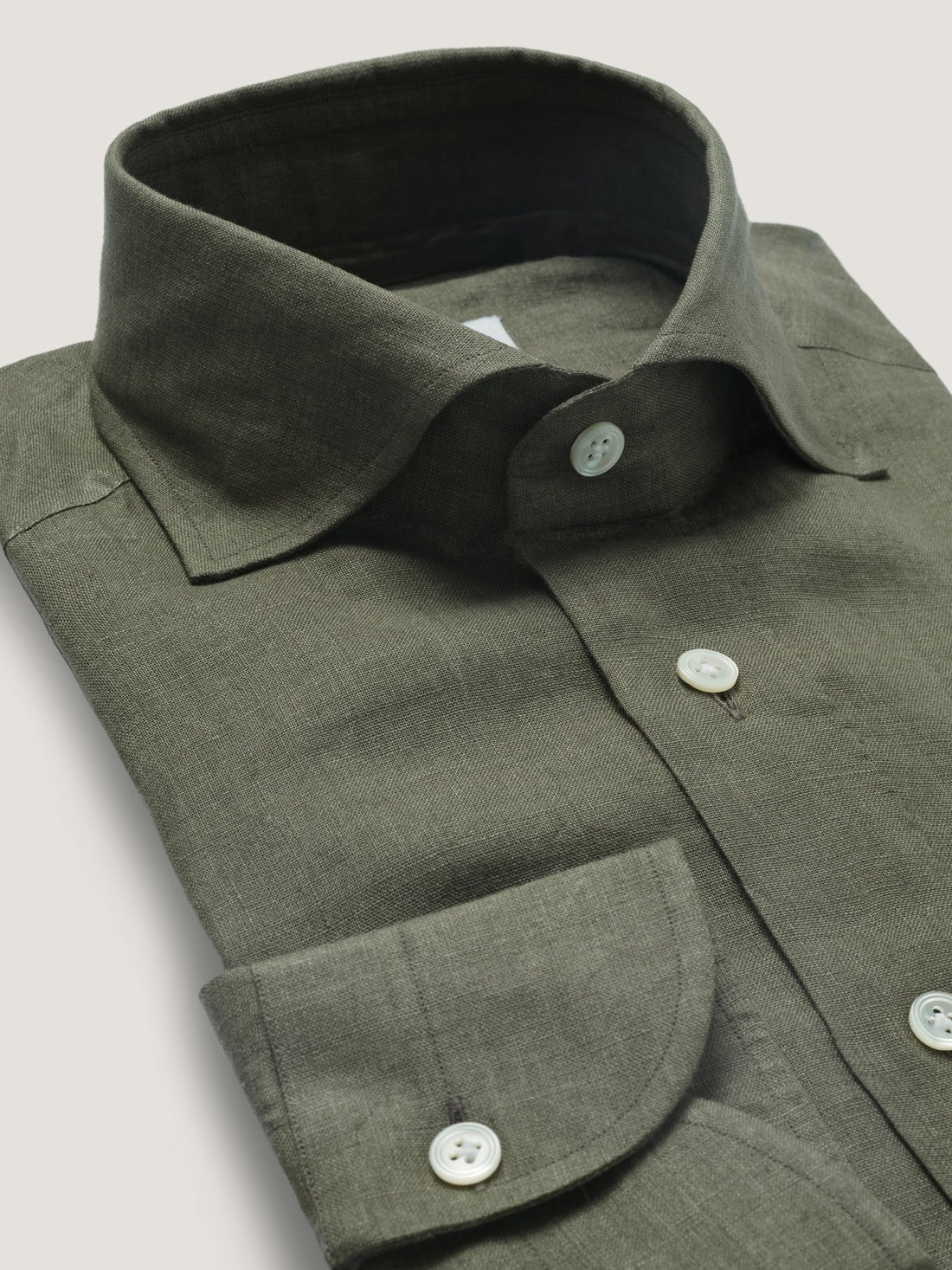 Bestseller Olive Green Linen Shirt
As 100Hands celebrates its 9th year, we look back and cherish the classics that have become an integral part of our journey. Among those, our Olive Green Linen Shirt stands out, a testament to timeless style and unparalleled craftsmanship.
A Story of Color and Craft:

There's a reason why this fabric has graced our collection since the beginning. It's not just a shirt; it's a narrative woven over years. The allure of this piece can be attributed to:
a) The Olive Green Mystique:
Capturing the precise shade of olive green is akin to chasing perfection. It's a color that's evocative, stirring emotions and memories. Our rendition strikes that impeccable balance, neither too bright nor too muted, making it versatile and timeless.
b) Softness Meets Structure:
Linen is highly regarded because to its versatility, including its delicate drape and sturdy construction. This fabric captures that ideal, as it provides a satisfyingly sumptuous yet reassuringly familiar feel.
Artisanal Washing:
Every shirt undergoes a meticulous garment wash in our specialized Washing Atelier, enhancing its texture and feel, and ensuring it remains a cherished piece in your wardrobe for years to come.
Style:

The shirt features a Medium Cut Away Collar, one of the most adaptable and well-liked collar options in the world of fashion.
Workmanship:

The Black Line remains emblematic of our commitment to detail and artisanal craft.
Beginning with our Special house cut, every shirt promises an impeccable fit.
The journey starts with a hand-drawn pattern, transitioning to a piece that's individually hand-cut.
Artisans with years of experience hand sew both the fronts, ensuring precision and finesse.
Sleeves are crafted with equal attention and hand-sewn before being seamlessly attached.
The collar, a crucial element defining a shirt's character, is hand sewn on both the inside and outside, ensuring durability and elegance.
Finally, the hand-sewn gusset reinforces the shirt's longevity, making it a piece to cherish.
Exclusive Fabric:

Sourced with discernment and care, this is a 100% French Linen shirt, promising quality, comfort, and an unmistakable aura of luxury.
Available Sizes:
EU37 | UK/US 14.5
EU38 | UK/US 15
EU39 | UK/US 15.5
EU40 | UK/US 15.75
EU41 | UK/US 16.0
EU42 | UK/US 16.5
EU43 | UK/US 17.0
EU44 | UK/US 17.5
EU45 | UK/US 18.0
EU46 | UK/US 18.25
EU47 | UK/US 18.5
Made to Order:
We make the Bestseller Olive Green Linen Shirt to order to meet our environmental sustainability and customer style standards. This purposeful choice keeps our inventory small, eliminating waste and overproduction. Our custom-made service lets customers customize all sizes and intricate design features for a customized touch.

This customized experience costs 25% more. It invites you to create a unique item that reflects your style. We love being part of your path to wearing something made just for you.

CARE
SHIPPING, EXCHANGES AND RETURNS
Title
Shirt: Wash at 30 degrees celsius (86 degree Fahrenheit). No Tumble Dryer
Jacket: Dry Clean Only
Shipping
Shipping is FREE when 2 shirts (or more) or just 1 Jacket is selected. So anything above EUR 500 value involves free shipping. We use Fedex/DHL/DPD based on the location you are based. 
Refunds and Exchanges
100Hands accept refund or exchange of goods within 14 days of the receipt of the order. Shipping costs are non-refundable. 
Made to Order / Custom: We want to ensue we provide the best service so in case you are not happy with the fit of the product, we would be happy to provide free alteration or remake the whole product at our cost.
Add extra product information, such as size guides or technical data.