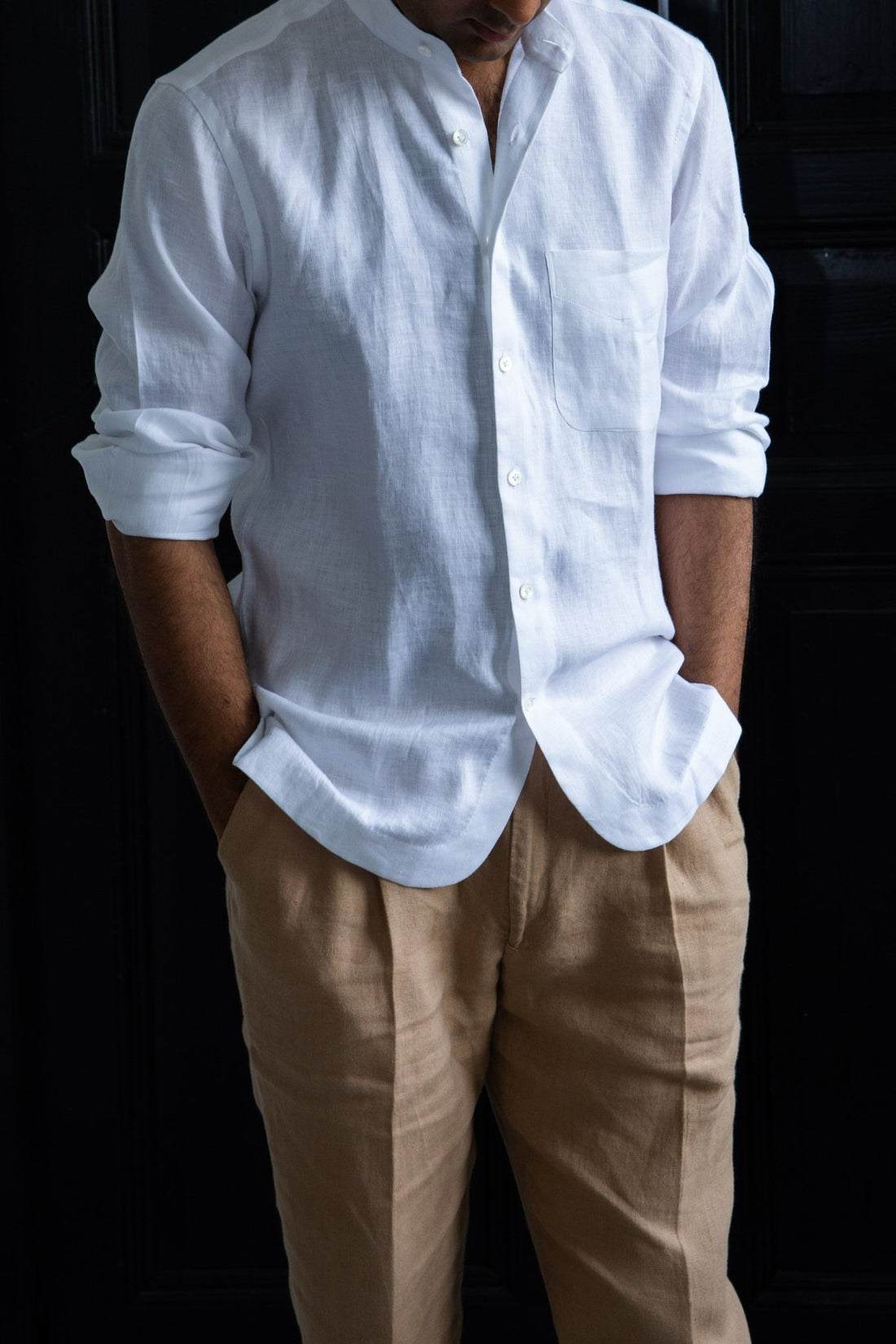 Signature Curved Bottom Luxury Linen Shirt
Overview
We're excited to share with you our Signature Curved Bottom Super Luxury Linen Shirt, a one-of-a-kind garment that breaks the mold of expected fashion trends. In 2020, our Master Tailor reimagined the traditional shirt shape by adding a Signature Curved Bottom, giving the relaxed shirt a fresh new look. This luxury shirt was made using the fabric from Louis Vuitton Group subsidiary Solbiati, and it has received widespread admiration and adoration from our retail partners across the world.

Style & Workmanship
Mao Collar with a Signature Curved Front
This shirt's trademark curved front and stylish Mao collar give it a distinctive appearance, and the soft curve of the bottom hem adds an unconventional touch, making it a unique addition to your wardrobe.
Black Line Workmanship

Our Black Line Workmanship is a testament to the dedication and skill that goes into the creation of each shirt. With approximately 18 hours of handwork put into each piece, it truly is a labor of love.
Each shirt is handmade using a Pattern of our proprietary house cut.
Our hand-rolled bottom hems are a signature part of the shirt's construction and finish.

The side seams are hand-sewn, increasing the garment's durability.

The plackets on the sleeves are hand-sewn to provide a snug and polished fit.

The shirt's durability and good looks are improved by the fact that both fronts are hand-stitched.

The sleeves are hand-stitched and connected, guaranteeing a snug and comfortable fit.

The collar of this shirt is hand-sewn on the inside and outside, increasing its longevity and improving the look.
More Handwork Details Available: For a full list of our handwork details, feel free to contact us.
Exclusive Fabric
100% Super White Linen
The shirt is crafted from 100% Super White Linen, a fabric renowned for its softness, Made from luxuriously soft, breathable, and long-lasting Super White Linen, this shirt is a perfect combination of comfort and style. 
Pockets
For convenience, this shirt has a single chest pocket. During checkout, you'll have the option to specify if you'd want your shirt without pockets.

Sizing Options
This luxury linen shirt is available in the following sizes:

European Sizing (EU)
EU 37
EU 38
EU 39
EU 40
EU 41
EU 42
EU 43
EU 44
EU 45
United Kingdom / United States Sizing (UK/US)
UK/US 14.5
UK/US 15.0
UK/US 15.5
UK/US 15.75
UK/US 16.0
UK/US 16.5
UK/US 17
UK/US 17.5
UK/US 18.0
If you are between sizes, we recommend ordering the larger size for the best fit.
Made-to-Order
We avoid unnecessary inventory by making this shirt Made-to-Order. We offer Custom Made for extra customization. For a 25% extra, you can customize all sizes and design features to meet your style. 
CARE
SHIPPING, EXCHANGES AND RETURNS
Title
Shirt: Wash at 30 degrees celsius (86 degree Fahrenheit). No Tumble Dryer
Jacket: Dry Clean Only
Shipping
Shipping is FREE when 2 shirts (or more) or just 1 Jacket is selected. So anything above EUR 500 value involves free shipping. We use Fedex/DHL/DPD based on the location you are based. 
Refunds and Exchanges
100Hands accept refund or exchange of goods within 14 days of the receipt of the order. Shipping costs are non-refundable. 
Made to Order / Custom: We want to ensue we provide the best service so in case you are not happy with the fit of the product, we would be happy to provide free alteration or remake the whole product at our cost.
Add extra product information, such as size guides or technical data.