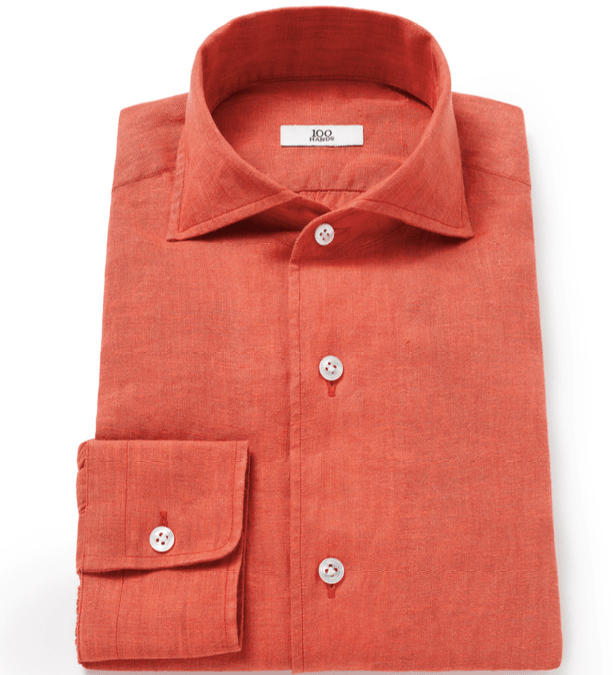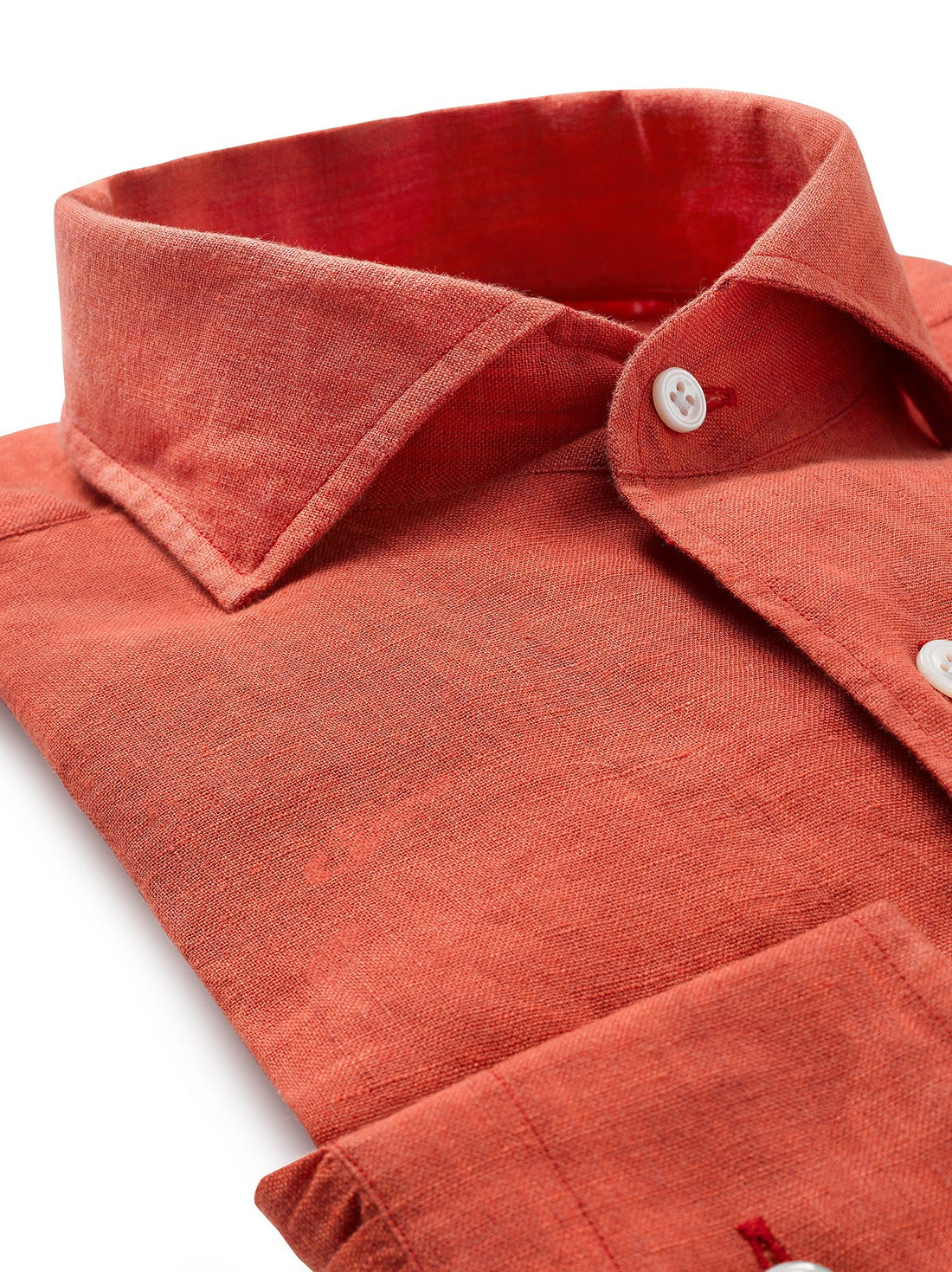 Salmon Linen Shirt in One Piece Collar
The allure of a shirt in today's world of quick fashion is more than skin deep. It's the way it makes you feel, the skill with which it was made, and the history it conveys. The sun-kissed color of our Salmon Linen Shirt makes us think of vacations and the carefree fun of summer. It has a lovely color, but there's a story behind how it was made that needs to be uncovered.


Style

Drawing inspiration from classic designs while infusing contemporary aesthetics, this made to order shirt features our One Piece Signature Collar in a medium cut away style. The collar, seamless and sleek, accentuates the neck, lending an air of casual elegance perfect for beachside dinners or urban brunches. Its sun-soaked shade complements a range of skin tones, ensuring that it doesn't just add to your wardrobe but elevates it.
Workmanship

Dedicated to preserving the art of traditional shirt-making, our Black Line edition represents approximately 16 hours of artisanal handwork. Each shirt is a testament to:
A specially curated house cut ensuring a fit that flatters and comforts.
An individually hand-drawn pattern and subsequent hand cutting, retaining the fabric's natural feel.
Both fronts of the shirt are stitched with precision by our skilled craftsmen.
Sleeves are attached with a technique that ensures mobility without compromising form.
The collar, both inside and out, is hand sewn, ensuring it sits perfectly every time.
Every gusset is also painstakingly stitched by hand, a nod to our dedication to detail.
Exclusive Fabric

Crafted from 100% Irish linen, we've taken an extra step, garment-dyeing it in-house to achieve that perfect salmon shade. As with all things beautiful, the color matures with time, expected to lighten by approximately 10%, enhancing its vintage appeal. Despite its rich hue, the fabric remains practical, ensuring minimal color bleed during washes.
Sizes
EU38 | Uk/US 15
EU39 | Uk/US 15.5
EU40 | Uk/US 15.75
EU41 | Uk/US 16.0
EU42 | Uk/US 16.5
EU43 | Uk/US 17.0
EU44 | Uk/US 17.5
EU45 | Uk/US 18.0
Made to Order

We produce this business shirt on demand, adhering to our standards of environmentally responsible manufacturing. This keeps our stock low, which cuts down on waste and excess production. In addition, for an extra 25%, our custom-made service allows for customization in sizes and design elements, giving you a say in making a unique piece that reflects your own particular taste.

CARE
SHIPPING, EXCHANGES AND RETURNS
Title
Shirt: Wash at 30 degrees celsius (86 degree Fahrenheit). No Tumble Dryer
Jacket: Dry Clean Only
Shipping
Shipping is FREE when 2 shirts (or more) or just 1 Jacket is selected. So anything above EUR 500 value involves free shipping. We use Fedex/DHL/DPD based on the location you are based. 
Refunds and Exchanges
100Hands accept refund or exchange of goods within 14 days of the receipt of the order. Shipping costs are non-refundable. 
Made to Order / Custom: We want to ensue we provide the best service so in case you are not happy with the fit of the product, we would be happy to provide free alteration or remake the whole product at our cost.
Add extra product information, such as size guides or technical data.