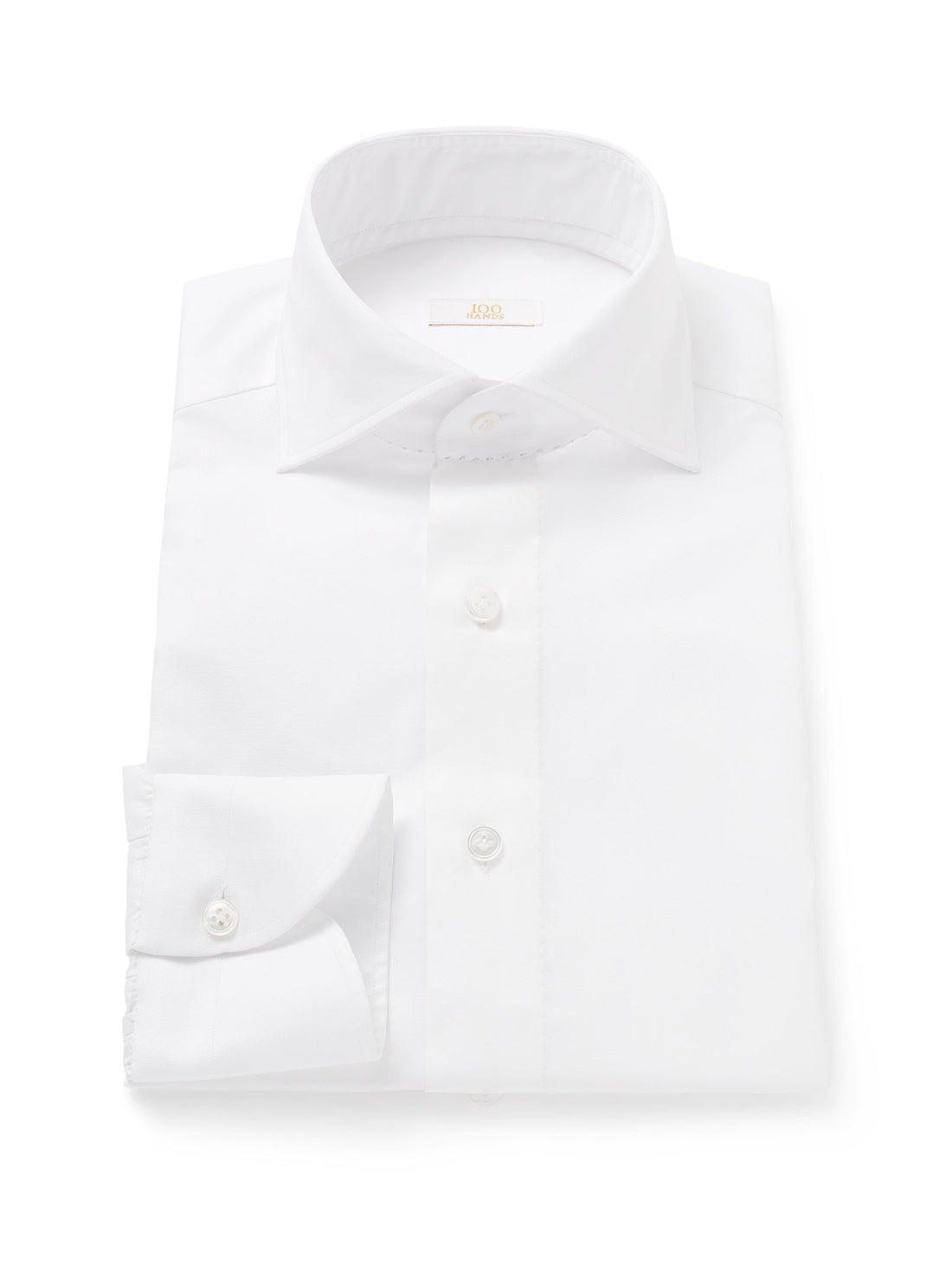 Premium Gold Line White Shirt
3
Overview
We are proud to present our Premium Gold Line White Shirt, the pinnacle of classic elegance and fine tailoring. Our renowned 170/2 superfine fabric, known for its longevity, softness, and ability to retain its richness even after multiple washing, was used to create this beautiful piece. This luxury cotton shirt is part of our Gold Line, so you know it was made by the best of the best.

Style & Workmanship
Medium Cut Away Collar and Single Rounded Cuff
This shirt has a single rounded cuff and a medium cut-away collar for a stylish, modern look that works for any event.

Signature Gold Line Workmanship
Each Premium Gold Line White Shirt reflects around 34 hours of painstaking handwork, making it the peak of our craftsmanship:

We employ our own proprietary house cut to make sure every shirt fits just right.

To ensure the best possible fit, each shirt is made using a template that is designed by hand and then cut out by hand.

Each buttonhole is expertly hand embroidered to ensure a high quality end result.

The bottom hems of this shirt are hand-rolled, which both increases their endurance and gives the shirt a more polished look.

The side seams and sleeve plackets are also hand-sewn to guarantee their longevity and quality.

The shirt's fronts, sleeves, and collar are all sewed by hand, from the inside out, to demonstrate our dedication to quality and precision.
Exclusive Fabric
170/2 Twill 100% Giza45 Cotton
Our Premium Gold Line White Shirt is cut from 170/2 Twill constructed from one hundred percent Giza45 Cotton, widely regarded as the finest cotton in the world. This fabric is known for its rich feel and long lifespan thanks to its combination of softness, durability, and breathability.

Sizing Options
This premium cotton shirt is available in the following sizes:
European Sizing (EU)
EU 37
EU 38
EU 39
EU 40
EU 41
EU 42
EU 43
EU 44
EU 45
EU 46
EU 47
United Kingdom / United States Sizing (UK/US)
UK/US 14.5
UK/US 15.0
UK/US 15.5
UK/US 15.75
UK/US 16.0
UK/US 16.5
UK/US 17.0
UK/US 17.5
UK/US 18.0
UK/US 18.25
UK/US 18.5
If you are in between sizes, we advise going with the larger size for the best fit.
CARE
SHIPPING, EXCHANGES AND RETURNS
Title
Shirt: Wash at 30 degrees celsius (86 degree Fahrenheit). No Tumble Dryer
Jacket: Dry Clean Only
Shipping
Shipping is FREE when 2 shirts (or more) or just 1 Jacket is selected. So anything above EUR 500 value involves free shipping. We use Fedex/DHL/DPD based on the location you are based. 
Refunds and Exchanges
100Hands accept refund or exchange of goods within 14 days of the receipt of the order. Shipping costs are non-refundable. 
Made to Order / Custom: We want to ensue we provide the best service so in case you are not happy with the fit of the product, we would be happy to provide free alteration or remake the whole product at our cost.
Add extra product information, such as size guides or technical data.