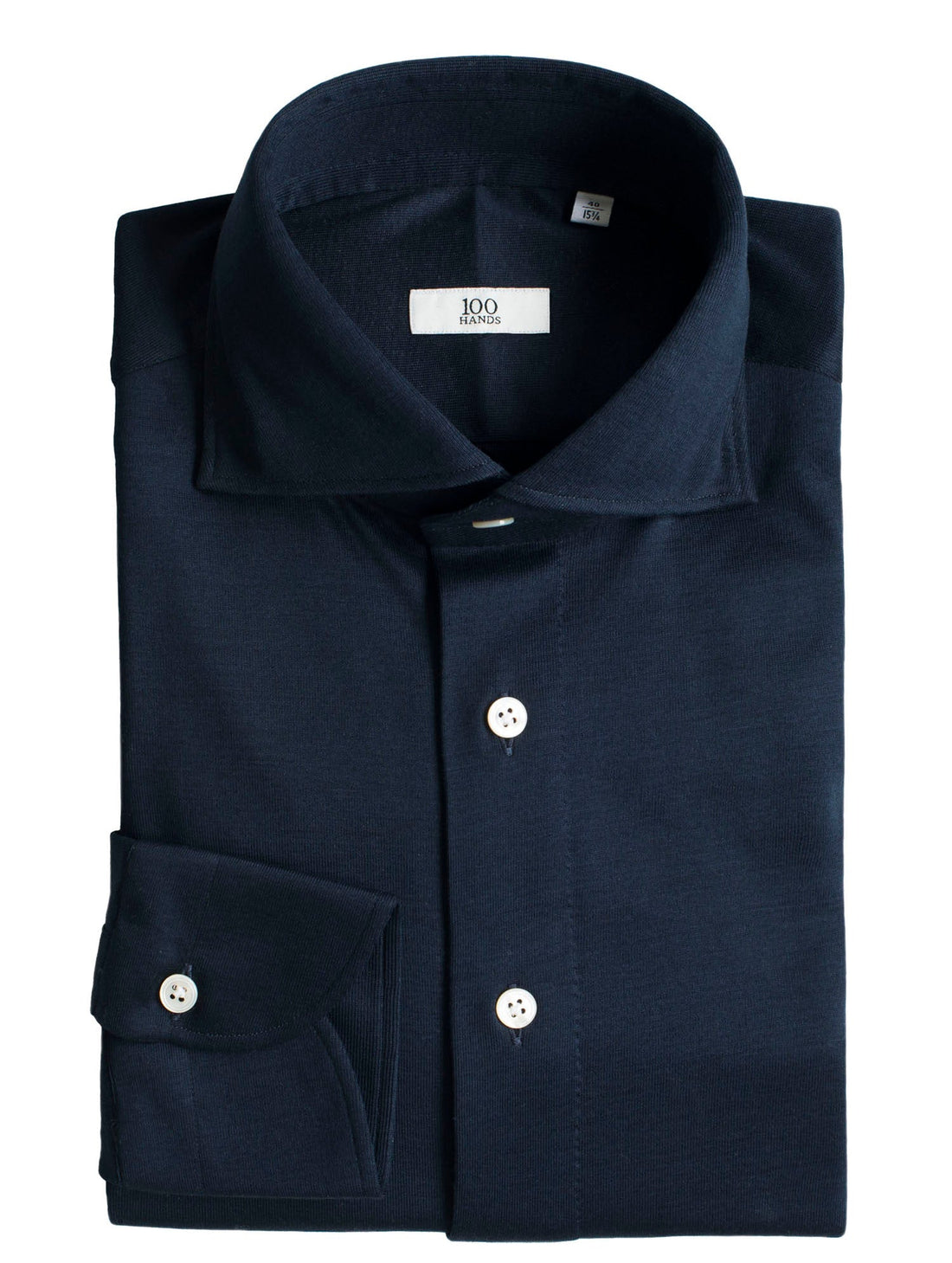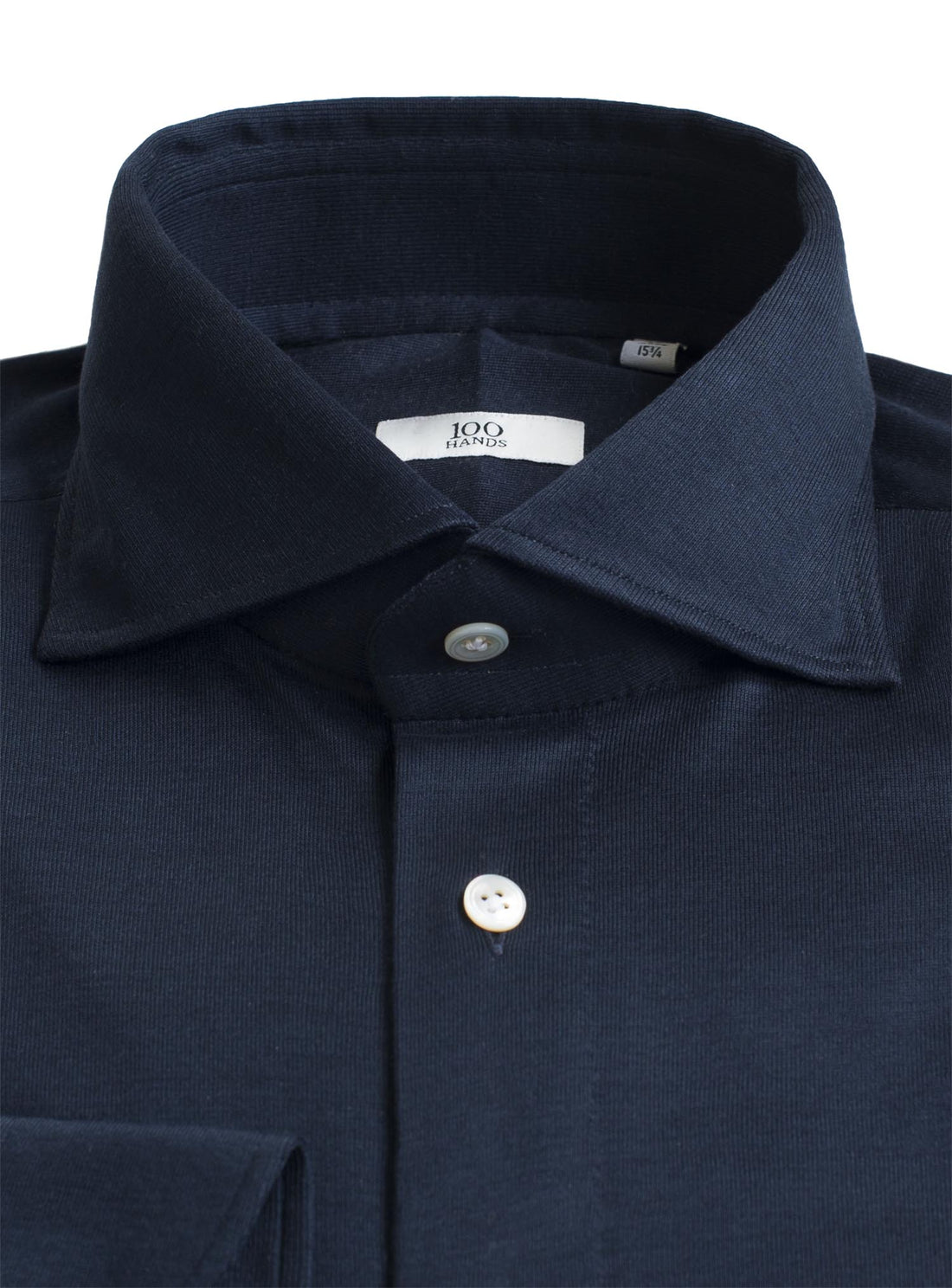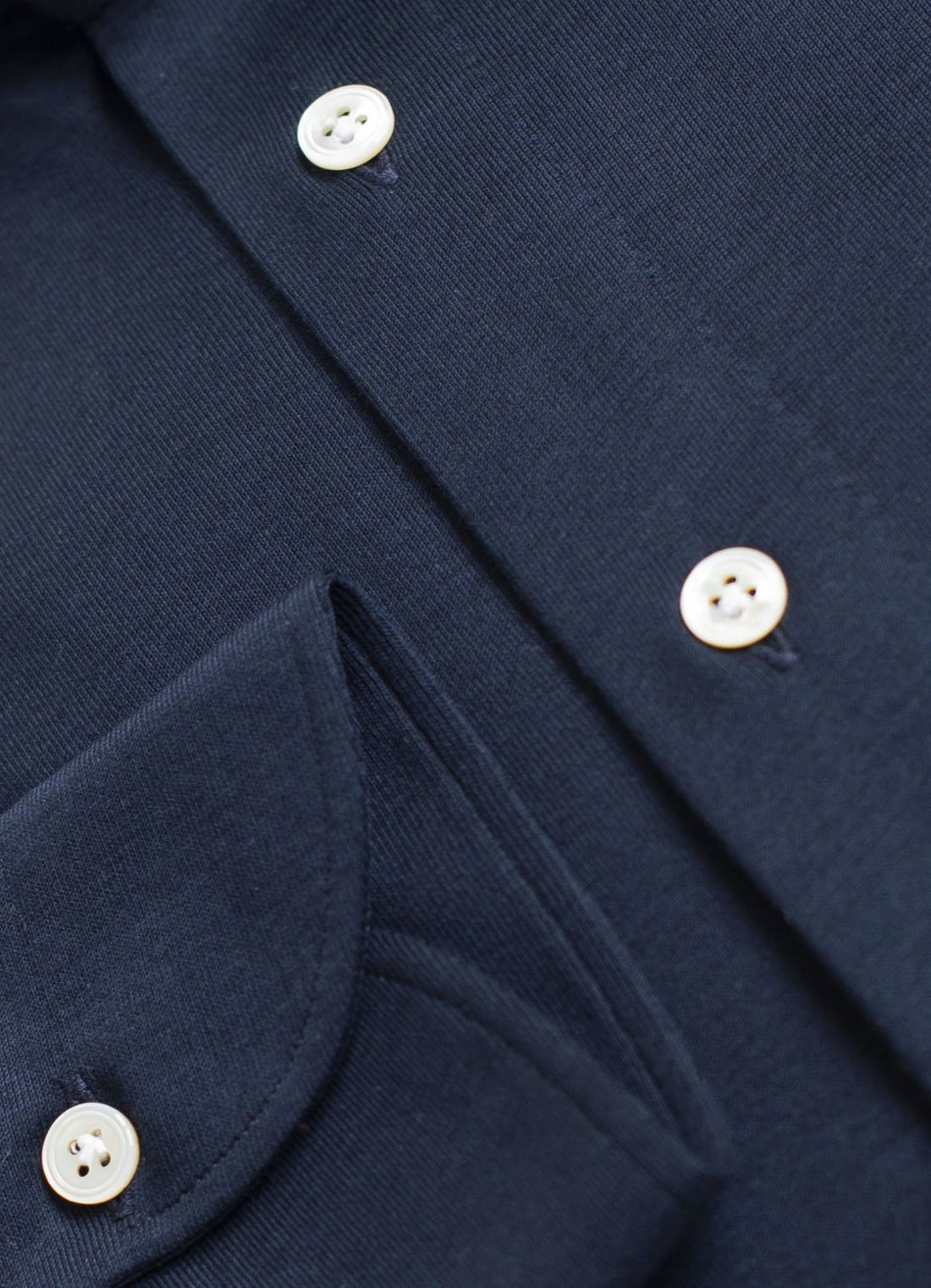 Loro Piana Navy Jersey Shirt
The Loro Piana Navy Jersey Shirt is the epitome of year-round versatility thanks to its ultra-soft touch and refined design. As a result of this fabric's widespread appeal, we've received numerous requests to produce more colorways.

Style
This Loro Piana shirt has a complete front opening and a modest cut-away style. It has a contemporary cut that works equally well with dressy and informal attire.

Craftsmanship
This shirt from our Black Line collection required about 16 hours of careful handiwork to complete. Our meticulous attention to detail guarantees a snug, long-lasting fit:

Special house cut for optimal fit results
Hand-drawn pattern and individually hand-cut
Both fronts hand sewn
Sleeves hand-sewn and attached
Collar hand-sewn on the inside and outside
Hand-sewn gusset for enhanced durability
Fabric
Exclusively made from Loro Piana Navy Jersey, this 100% cotton shirt exudes a sense of refined luxury and softness, elevating your daily wear to new heights.
Sizing
The Loro Piana Navy Jersey Shirt is available in the following sizes:
EU38 | UK/US 15.0
EU39 | UK/US 15.5
EU40 | UK/US 15.75
EU41 | UK/US 16.0
EU42 | UK/US 16.5
EU43 | UK/US 17.0
EU44 | UK/US 17.5
EU45 | UK/US 18.0
EU46 | UK/US 18.25
EU47 | UK/US 18.5
Made to Order
In keeping with our commitment to environmental responsibility, each Loro Piana Shirt is produced on demand. This method keeps our stock low and prevents us from overbuying or underselling. Additionally, for a 25% upcharge, we provide a custom-made service that allows for sizing and design customization. 

CARE
SHIPPING, EXCHANGES AND RETURNS
Title
Shirt: Wash at 30 degrees celsius (86 degree Fahrenheit). No Tumble Dryer
Jacket: Dry Clean Only
Shipping
Shipping is FREE when 2 shirts (or more) or just 1 Jacket is selected. So anything above EUR 500 value involves free shipping. We use Fedex/DHL/DPD based on the location you are based. 
Refunds and Exchanges
100Hands accept refund or exchange of goods within 14 days of the receipt of the order. Shipping costs are non-refundable. 
Made to Order / Custom: We want to ensue we provide the best service so in case you are not happy with the fit of the product, we would be happy to provide free alteration or remake the whole product at our cost.
Add extra product information, such as size guides or technical data.