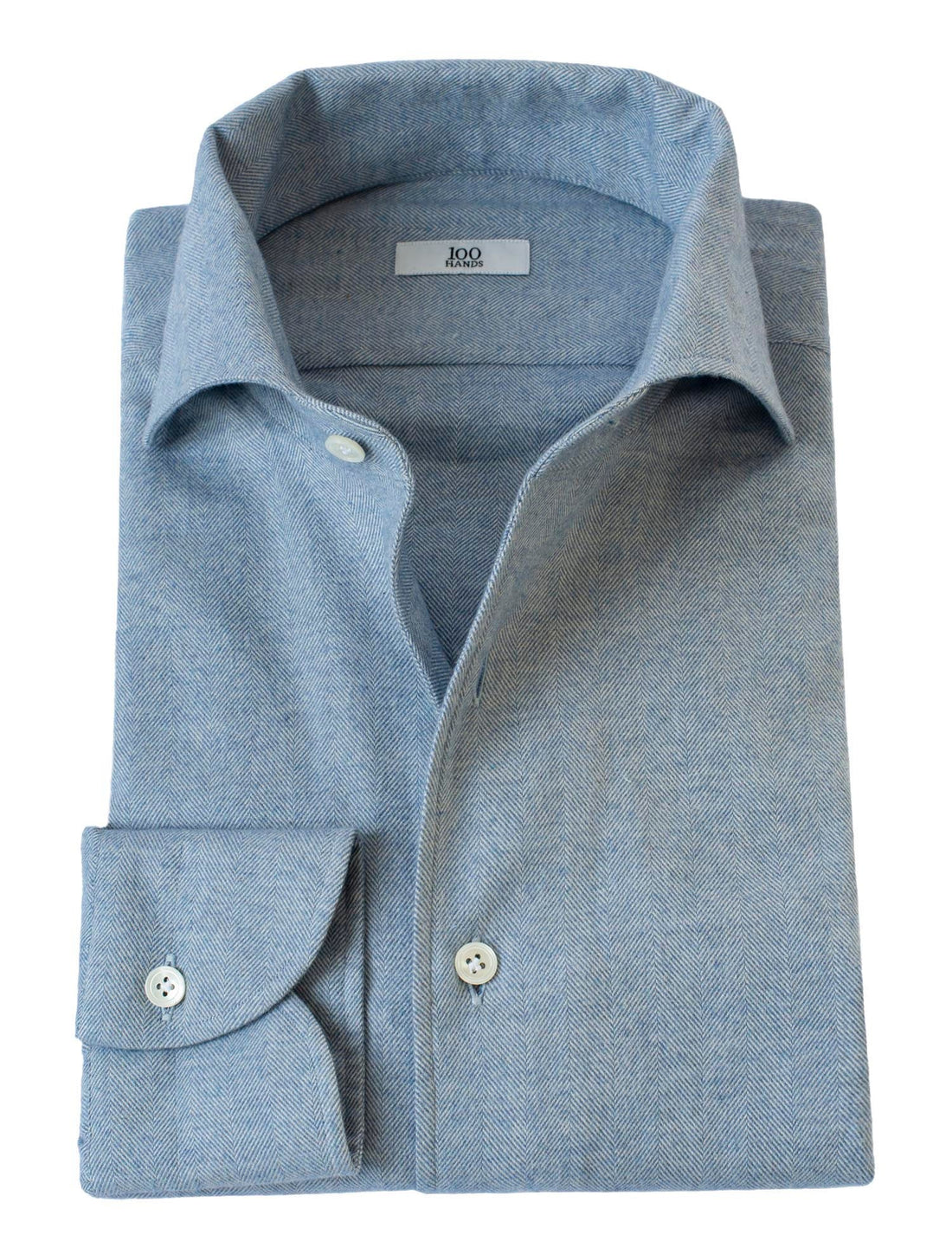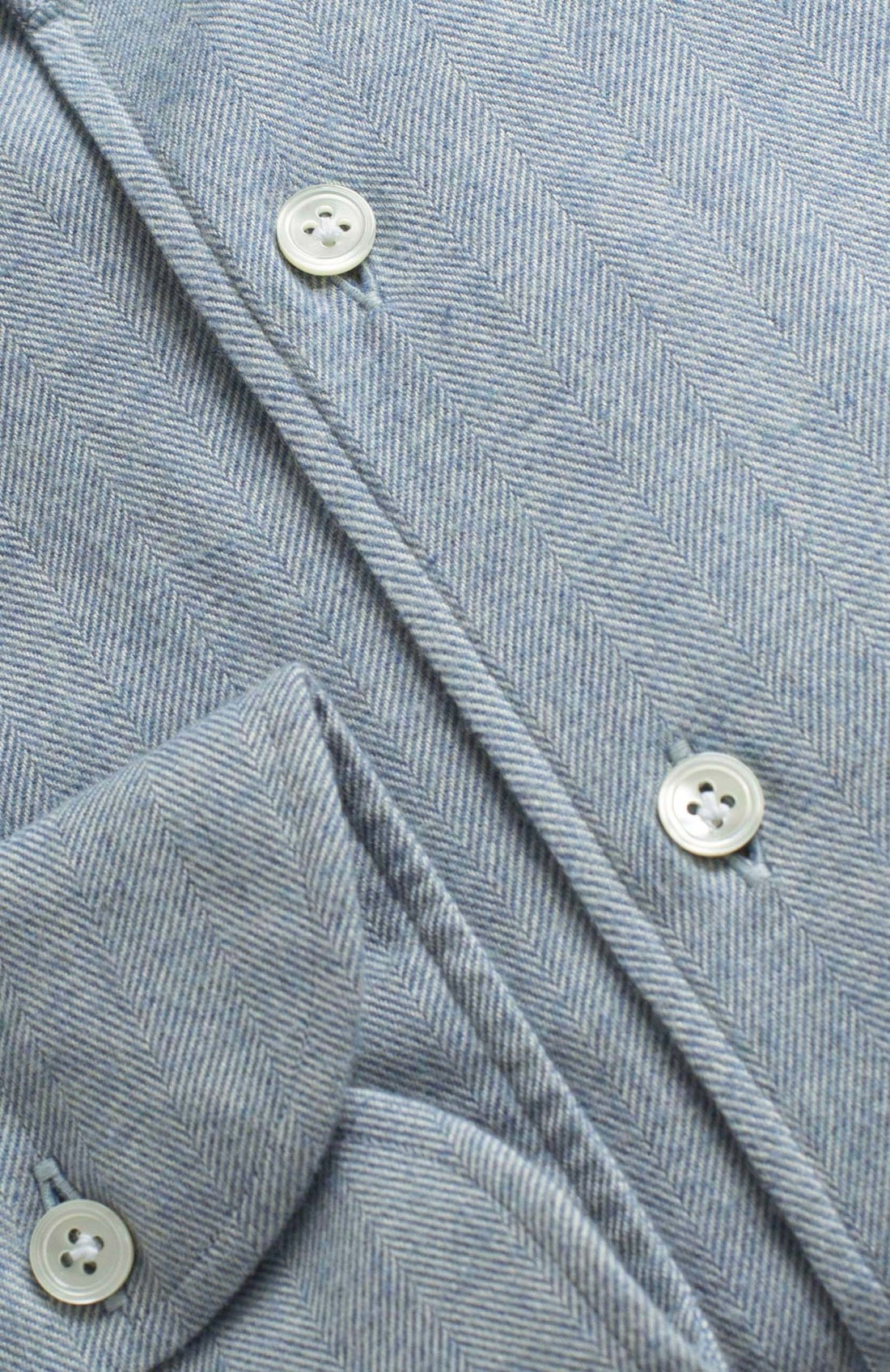 Bestseller: Baby Blue Flannel in Wide Herringbone Handmade Shirt
Overview
This handmade shirt is made from soft, brushed cotton and has a slight stretch for maximum comfort. This shirt exemplifies adaptable elegance, and it comes in three more colors (light grey, earthy brown, and dark grey) at your request.
Style and Worksmanship
One Piece Cut Away Collar
The one-piece cut-away collar of this shirt is a signature of contemporary style. You can wear this style with or without a tie to get a range of professional looks.

Black Line Workmanship
About 16 hours of careful handwork goes into our signature Black Line Workmanship, which we consider to be the cornerstone of quality and commitment. This level of care means that each shirt is a one-of-a-kind work of art.

Our one-of-a-kind house cut will flatter your figure and make you look great in anything you wear.
The shirts are made to order and cut one by one.

Both the left and right fronts of the shirt are hand-stitched, demonstrating the skill and care of our tailors.

The sleeves are hand-sewn and connected for a more comfortable and tailored fit.

Our collars are hand-sewn from start to finish, so they are strong and stylish.

Extra reinforcement and durability are added by hand-sewing the gussets.
Exclusive Fabric
Light Blue 100% Brushed Cotton
This sky-blue shirt is made from soft, brushed cotton. This fabric is highly sought after for the comfort it provides the wearer thanks to its suppleness and adaptability. Because of the fabric's wide herringbone pattern, it exudes an air of refined masculinity and would be a welcome addition to any gentleman's closet.

Sizing Options
This made-to-order shirt is available in the following sizes:
European Sizing (EU)
EU 37
EU 38
EU 39
EU 40
EU 41
EU 42
EU 43
EU 44
EU 45
EU 46
EU 47
United Kingdom / United States Sizing (UK/US)
UK/US 14.5
UK/US 15
UK/US 15.5
UK/US 15.75
UK/US 16.0
UK/US 16.5
UK/US 17.0
UK/US 17.5
UK/US 18.0
UK/US 18.25
UK/US 18.5
For the best fit, if you find yourself between sizes, we recommend selecting the larger size.
Made-to-Order
This shirt is Made-to-Order to reduce inventory and promote sustainability. Custom Made is available for more customization. This lets you customize all sizes and design aspects for 25%, ensuring your shirt suits your distinctive style. 
CARE
SHIPPING, EXCHANGES AND RETURNS
Title
Shirt: Wash at 30 degrees celsius (86 degree Fahrenheit). No Tumble Dryer
Jacket: Dry Clean Only
Shipping
Shipping is FREE when 2 shirts (or more) or just 1 Jacket is selected. So anything above EUR 500 value involves free shipping. We use Fedex/DHL/DPD based on the location you are based. 
Refunds and Exchanges
100Hands accept refund or exchange of goods within 14 days of the receipt of the order. Shipping costs are non-refundable. 
Made to Order / Custom: We want to ensue we provide the best service so in case you are not happy with the fit of the product, we would be happy to provide free alteration or remake the whole product at our cost.
Add extra product information, such as size guides or technical data.