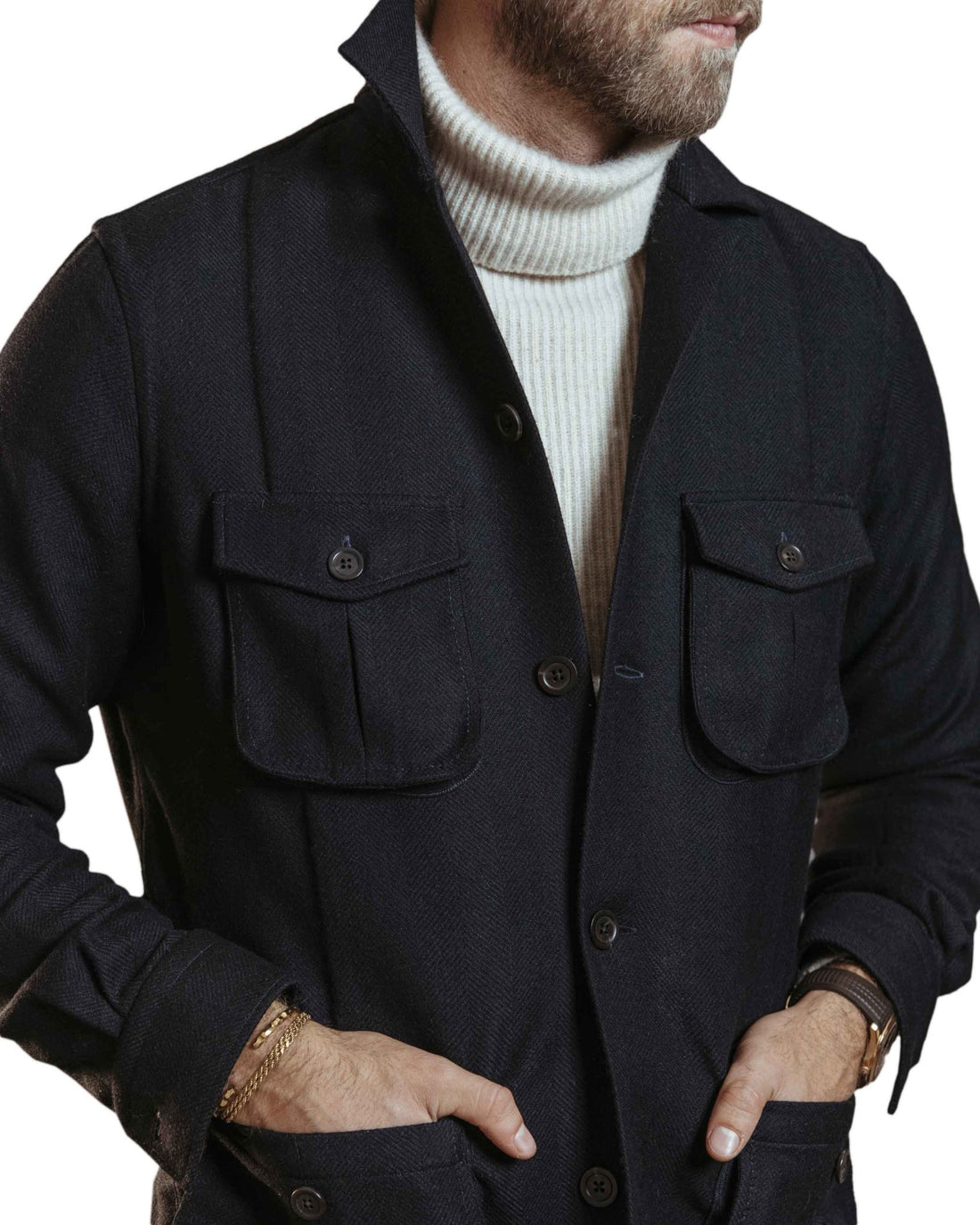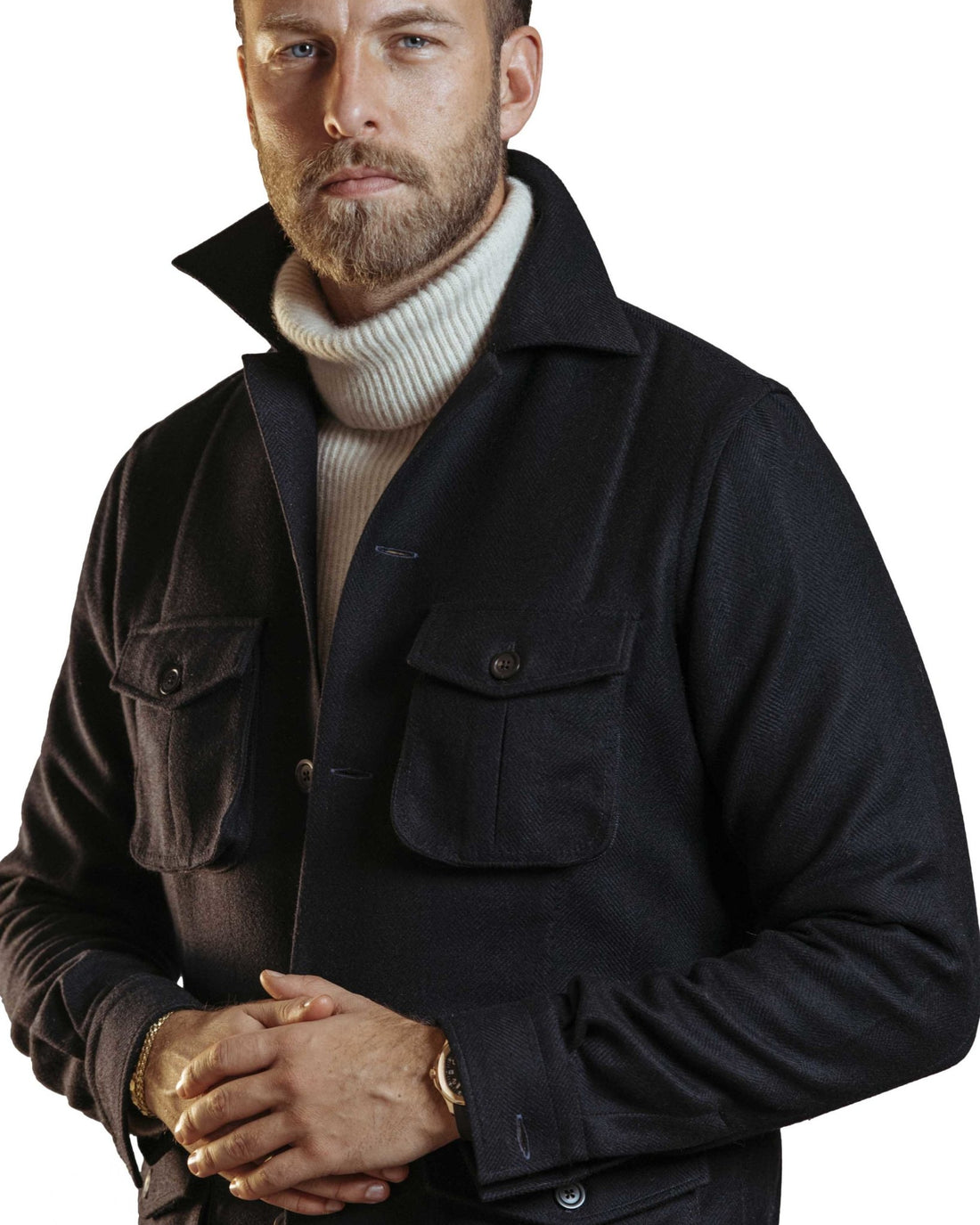 Andreas Weinas Loro Piana Jacket (Navy)
Overview
The Andreas Weinas Loro Piana Jacket is the result of a special partnership between the Italian luxury goods label and fashion icon Andreas Weinas, whose signature minimalist aesthetic is perfectly embodied in this design.

Loro Piana's dedication to quality control from their raw material suppliers all the way through to the finished product is what makes their textiles so luxuriously smooth, long-lasting, and impervious to pilling. 
Unique Features
This jacket is an excellent example of a fashionable combination of adaptability, elegance, and comfort. It has the lavish feel of a cashmere sweater, the formality of a jacket, and the utility of an M65, so it acts as a versatile piece that can be worn officially with a tie or informally with jeans and a t-shirt.

Workmanship
Showcasing meticulous handcraftsmanship, this jacket is the culmination of over 40 hours of dedicated workmanship to deliver the highest level of quality and finish:
Exceptional Fit: The jacket is designed to fit two sizes, thanks to its exceptional fit.
Hand-Sewn Elements: The jacket's fronts are hand-turned and sewn. The sleeves and all sides of the body are also hand-attached and sewn, reflecting the commitment to superior craftsmanship.
Hand-Embroidered Pockets: The jacket's pockets are hand-embroidered for an elegant detail.
Unconstructed Design: The jacket is fully unlined and unconstructed, maximizing comfort.
Functional Pockets: The jacket features four bellow round inverted pockets for extra space and an inside pocket for your wallet or phone.
Exclusive Fabric
The jacket is made from Loro Piana Luxury New Zealand 100% wool. The fabric is soft, subtle, and very warm, with a weight of 490 grams/meter.
Sizing Options
This wool jacket is available in the following sizes:
European Sizing (EU)
EU 46
EU 48
EU 50
EU 52
EU 54
EU 56
EU 58
United States/United Kingdom Sizing (US/UK)
US/UK 36
US/UK 38
US/UK 40
US/UK 42
US/UK 44
US/UK 46
US/UK 48
A garment constructed from Loro Piana fabric is an investment in timelessness, superb craftsmanship, and supreme comfort.

Made-to-Order production ensures a more eco-friendly method by reducing wasteful stockpiling. We're happy to provide a Custom Made option, where you can specify your own dimensions and design elements for an additional 25%. Together, we can make your vision a reality while protecting the planet.
CARE
SHIPPING, EXCHANGES AND RETURNS
Title
Shirt: Wash at 30 degrees celsius (86 degree Fahrenheit). No Tumble Dryer
Jacket: Dry Clean Only
Shipping
Shipping is FREE when 2 shirts (or more) or just 1 Jacket is selected. So anything above EUR 500 value involves free shipping. We use Fedex/DHL/DPD based on the location you are based. 
Refunds and Exchanges
100Hands accept refund or exchange of goods within 14 days of the receipt of the order. Shipping costs are non-refundable. 
Made to Order / Custom: We want to ensue we provide the best service so in case you are not happy with the fit of the product, we would be happy to provide free alteration or remake the whole product at our cost.
Add extra product information, such as size guides or technical data.