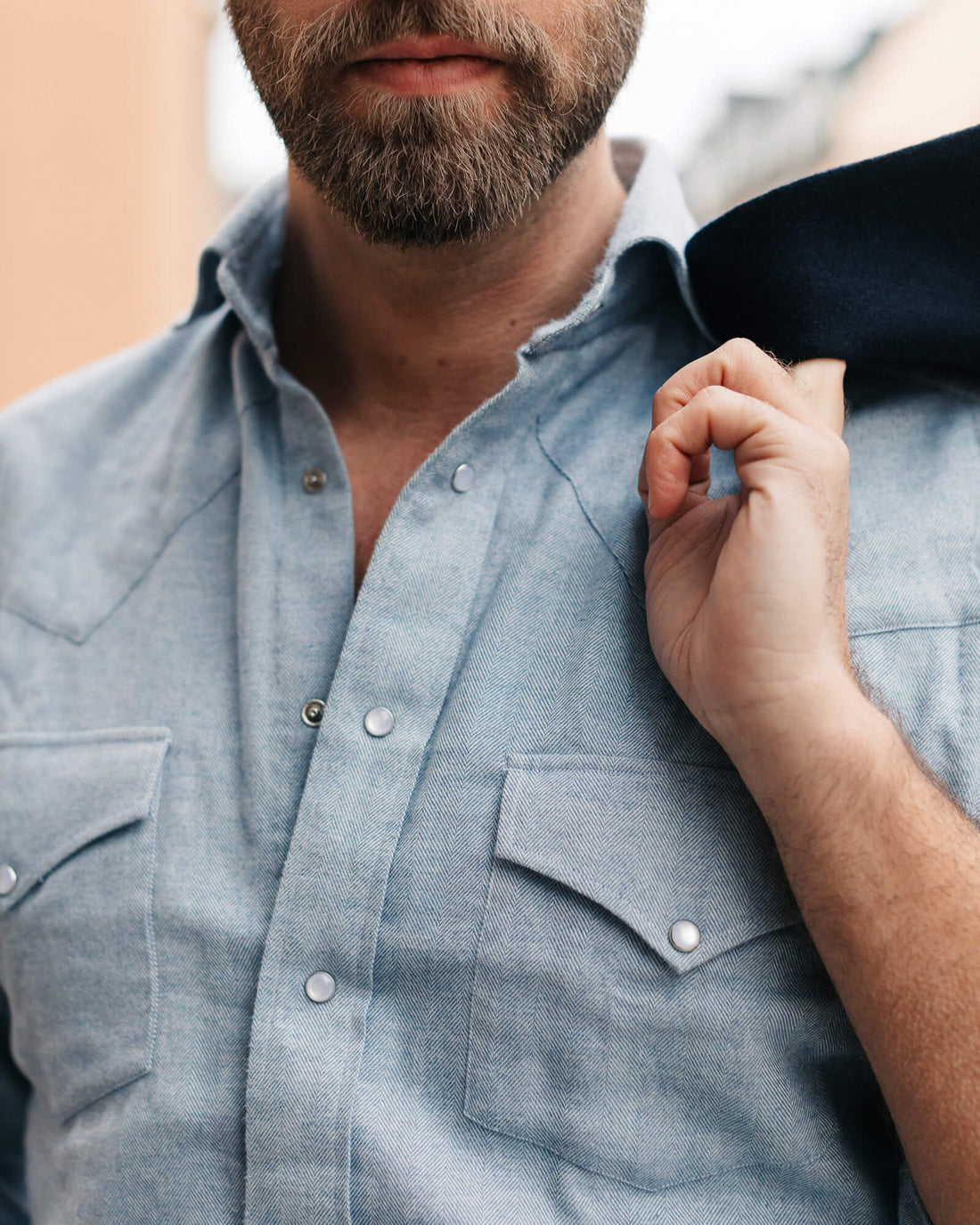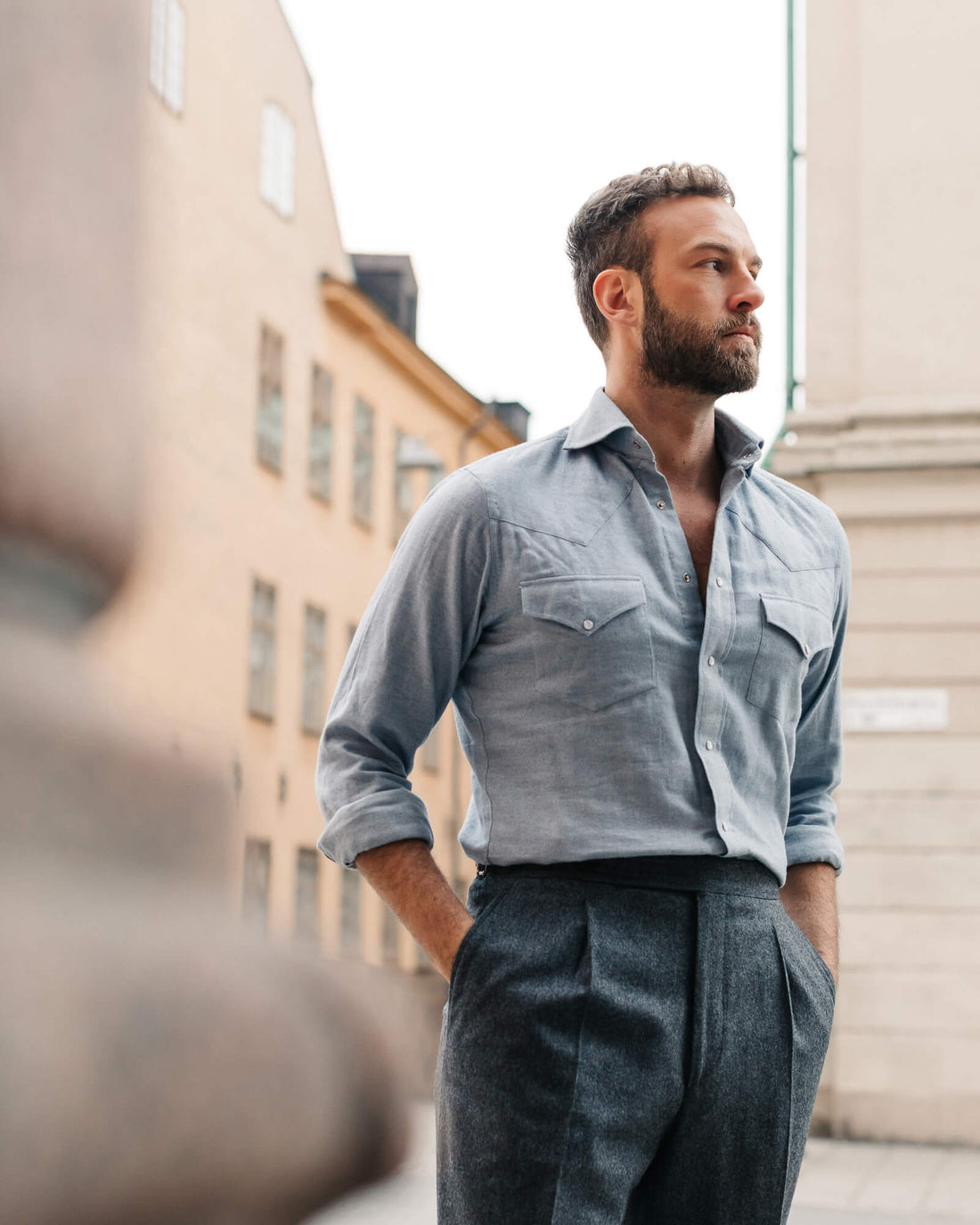 Baby Blue Wide Herringbone Western Shirt / Overshirt
It's not often that you find something that so expertly combines seemingly opposite aesthetic traditions. Our goal was to design a flannel Western shirt that invokes high-end without veering into the loud or garish, both of which are common themes in several high-end niches.

Style
This cotton shirt stays faithful to the classic Western aesthetic at its core. But with very minor tweaks, it becomes much more appealing. For example, the collar has taken on a more modern form. The cuffs have one snap button instead of the standard three, which is a departure from traditional Western fashion.
This not only makes things look cleaner, but it also allows for more options in terms of outfits. The Baby Blue Wide Herringbone Western Shirt can be worn on its own or as an underlayer under a more formal jacket.

Workmanship
Our commitment to craftsmanship is epitomized in the Black Line edition. Representing roughly 16 hours of laborious handwork, each shirt narrates a story of dedication and skill.
Our house cut is designed with an emphasis on aesthetics and comfort.
The design process begins with a hand-drawn pattern followed by a precise hand-cut technique, ensuring every shirt resonates with our brand's ethos.
The sleeve placket is stitched with utmost precision, a testament to our attention to detail.
Both shirt fronts are sewn manually, aligning with our devotion to traditional methods.
Sleeves, sewn and then attached, promise mobility without compromising on structure.
The collar, an essential aspect of any shirt, receives special attention with both its interior and exterior meticulously hand-sewn.
Exclusive Fabric
This 100% Cotton Shirt stands out thanks to its Herringbone Baby Blue Flannel texture, exuding an aura of understated luxury.
Sizes:
EU37 | 14.5 UK/US
EU38 | 15.0 UK/US
EU39 | 15.5 UK/US
EU40 | 15.75 UK/US
EU41 | 16.0 UK/US
EU42 | 16.5 UK/US
EU43 | 17 UK/US
EU44 | 17.5 UK/US
EU45 | 18.0 UK/US
Made to Order
This Western shirt is made-to-order as part of our ongoing commitment to eco-friendly clothing production methods. This not only encourages moderate consumption but also guarantees the least amount of waste.
We offer a 25% upcharge for customers who want to work with us to alter the dimensions and particulars of the design of their order to make it really one-of-a-kind.
CARE
SHIPPING, EXCHANGES AND RETURNS
Title
Shirt: Wash at 30 degrees celsius (86 degree Fahrenheit). No Tumble Dryer
Jacket: Dry Clean Only
Shipping
Shipping is FREE when 2 shirts (or more) or just 1 Jacket is selected. So anything above EUR 500 value involves free shipping. We use Fedex/DHL/DPD based on the location you are based. 
Refunds and Exchanges
100Hands accept refund or exchange of goods within 14 days of the receipt of the order. Shipping costs are non-refundable. 
Made to Order / Custom: We want to ensue we provide the best service so in case you are not happy with the fit of the product, we would be happy to provide free alteration or remake the whole product at our cost.
Add extra product information, such as size guides or technical data.